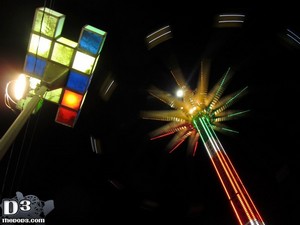 I first went to the Orange County Fair in Middletown, NY in 2007. This turned out to be the only time I would visit until this year. I would plan to go, only to have those plans fall through in one way or another. For example, I was set on going to the fair last year but ended up taking a spill off my bike that resulted in road rash that didn't get better until late July. This year was also threatened as my car's brake line blew just before the 26th, the day I had planned to go to the fair. But, alas, it all came together in the end.
I left for the fair at around 3:30pm. I had roughly an hour and twenty minute ride ahead of me. This ballooned to two hours thanks to traffic. The toll from NY Thruway to NY-17 was particularly painful as six or so lanes crunched down to two. I arrived at 5:30pm and redeemed my pre-sale pass at the ticket booth. The pass was $26 bucks and paid for an unlimited rides wristband and admission ($25 and 8$ without the pass.) The ride positions changed a bit from last time, but had about the same rides. The fair had:
Top Spin
Zyklon
Enterprise
Sky Flyer
Musik Express
Giant Wheel
Wave Swinger
Himalaya
Fireball
Fire Ball
Cliff Hanger
Haunted Mansion
Super Slide
Double Decker Carousel
Scooter
3x Funhouses (Monkey Maze, Club Scene, Cuckoo Haus)
Several kiddie rides (Mini Indy, Mini Himalaya, Fire Chief, Family Swinger, Dinosaur, Go Gator, Happy Swing, Red Baron, etc.)
Euro Bungee
Zip Line upcharge
A few shows (Trapeze show, wolf exhibit, Jungle Habitat upcharge, freak show)
Band stage
An incredible number of games
An innumerable amount of food stands
Fireworks
Various race track events
Petting Zoo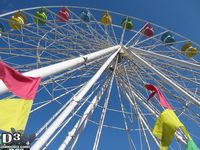 Strates Shows was running the midway once again. This was a similar lineup to the North Brunswick Youth Sports Festival only with a couple of substitutions; namely that Starship 2000 and Zipper were replaced by Top Spin. The layout of this fair is interesting. It looks like the main purpose of the fairgrounds is a tiered, grass lot for the adjacent Orange County Speedway. The result are rides perched on hills and stuffed into tight spaces. A couple rides, namely Zyklon and Monkey Maze, seemed to be placed in areas by themselves. The grass lot is boarded by a row of stables and a barn structure. On the other side is a paved lot with some more rides and games.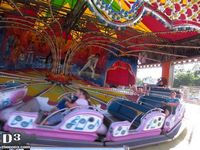 I did a walk around and ended up at the far end of the fairgrounds. Top Spin was down by the time I got there, so I hopped on Musik Express. It's worth noting the wristbands. Strates uses wristbands with bar codes now (picture), much like some smaller amusement parks do. The ride op packs a bar code scanner that they'll shoot at a rider's wristband. If the light turns green, they're good to go! Anyway, this Musik Express is run at a blistering speed. Easily faster than any other I've been on. It's so fast that it almost feels like the cars are catching a tiny bit of air over the hills. They have a seemingly ignored, "no single riders" sign, but riding with someone would be kind of scary. It goes so fast that I could see some people that sit on the right side ending up in the lap of their riding partner by the end of the cycle!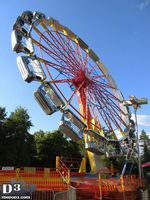 I walked back up the midway and got on Enterprise next. Due to the tight space, the back wall was omitted at this spot. I'm not sure what it is with Enterprise rides these days, but none seem to revolve as fast as they used to. This one and Dorney Park's Enterprise seem to go just fast enough to keep the cars from wavering around too much. While rising, it feels like you're on a freaking Paratrooper with the cars swaying around a good deal. At night, I got to see the new LEDs on the sweeps. They cycle through different patterns much like the Giant Wheel's LEDs. It's really something!
I walked around to the upper portion of the midway and saw that Himalaya was loading, so I scrambled up the steps and got on. This is an older Reverchon model with the sleigh looking cars. It didn't go nearly as fast as Musik Express but it speeds up really quickly. It reminds me of those Mini Himalaya rides where the ride accelerates to its top speed almost immediately. The ride lasted a good three minutes with the ride op varying speeds. Near the end of the ride, he slowed it down to a crawl, only to crank it up immediately for a quick go around before ending for good.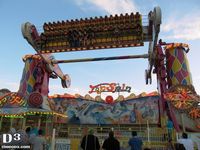 I made my way to the back of the midway once again and saw that Top Spin was running, so I packed away anything that could fall out and got on. After riding so many theme park Top Spin rides, I instinctively walked to the far side of the gondola before plopping down into a front row seat. As far as Top Spins can go, this had a modest cycle, yet scores better than any theme park counterpart. The ride has two flipping portions with the first portion flipping the gondola about five times. After the second set of flips, the arms rock back and forth a bit before going over the top and braking the gondola so that riders are slowly pointed downward. When you see this ride in person, it's really no wonder that it can't travel on US roads. It is just a massive piece of machinery.
I was getting pretty hungry, so I stopped at a pizza joint and picked up a couple of slices and a soda. While I ate, I split my time between browsing Reddit on my phone and watching a game jointee attempt to reel in players. I think I got it now: every couple is addressed by calling the guy "Romeo" and asking him to win a prize for the "little lady." Families were urged to get "Dad" to win a prize for the kids. Groups of teens were somewhat ignored, probably because they have no money, yet lone people walking by were asked to play. There was a Monster Truck show going on at the Speedway and every so often the jointee would be drowned out by roaring engines. At one point, the Speedway was showcasing a jet car  which caused the jointee, and just about everyone around there, to whip their heads around to see what was causing this jet engine sounding roar.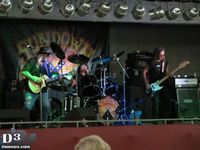 I walked around a bit to get some photos and check things out. I was surprised to see that there didn't seem to be a lot of typical "county fair" type aspects about this fair. They didn't really have animals other than the petting zoo and Jungle Habitat show. There were some agricultural and arts related things but not nearly as much as some smaller fairs I've been to. I stopped for a bit to watch a southern style rock band named Sundown play. This band was actually playing the last time I was at this fair! While walking around afterwards, I saw a big plume of smoke rising from the Speedway. I had a feeling it was part of the show, but some people thought otherwise as they jogged past with cell phone cameras ready. Turns out that the jet car lights another car on fire as part of its show.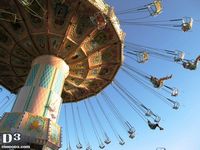 I eventually ended up at Sky Flyer and took a spin. This one was set on the highest part of the tiered lot and had a pretty good view of the fair from the top. Afterwards, I headed for the other swing ride, Wave Swinger. This particular one has chest straps along with the standard lap restraint. Compared to other Wave Swingers, this one goes very fast! Like Sky Flyer, this too was set atop a hill. This made it feel a lot higher than it really was. My final ride of the night was a second go on Top Spin.
I eventually headed out at around 10:30pm and managed to make it home in about an hour and ten minutes. Hey, not bad!
Here's two videos for you all. First is a video of Top Spin.
And second is a video of the fair in general.
Finally, here's a batch of photos!