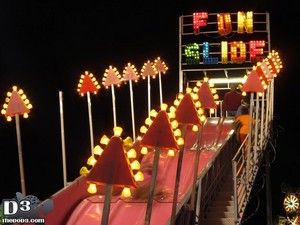 After leaving St. Matthias, I headed back towards Bound Brook to stop by at the Bound Brook Fire Dept. Carnival at Billian Legion Park, about 15 minutes away from carnival #1 that night. I made this my second stop because the fair closed later than St. Matthias, at 12am. Or was it 11pm? I don't know, I was supplied with a revolving door of hours at my NJ Carnivals site. Whatever the case, it was later.
I managed to find street parking on this road in front of the carnival that had been made one way for the event; one lane was thru traffic while the other was made into parking spots. Blue Sky Amusements was doing the event, fresh off their stint in New Providence. The fair had…
Zipper
Riptide
Starship Gravitron
Sizzler
Gondola Wheel
Chair Jet
Fun Slide
Carousel
At least two funhouses
A plethora of kiddie rides
More food than you can shake a kabob at
Games, games and more games
Beer tent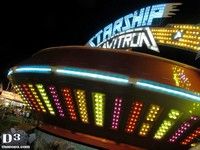 The lot was probably double the size of OLP, but with everything spaced farther apart. Upon entering the fair I was met face to face with Starship Gravitron, BSA's flashy Gravitron ride. Technically I heard it first as it was blaring music over the midway. Seemed like a lot of electronic was being played that night with some dance remixes of popular songs thrown in. No drum and bass though…heh, that'll never happen!
Next door was Sizzler, your typical Wisdom scrambler style ride. This one in particular revolves at a blistering speed compared to most others. The outer sweeps move so fast that not only are they noticeably faster than the center rotation, but they continue to revolve after the center portion has been slowed down. This is how you run a Sizzler, no doubt.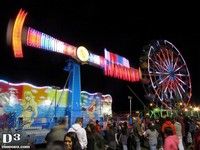 Zipper and Chair Jet were on the far end of the lot. Zipper had a mass of people waiting in what I guess could be called a "line." The beer tent was next to Zipper, I'm sure some people needed a drink after getting off that sucker. The far end of the fair featured Riptide and the Gondola Wheel along with a handful of kiddie rides.
I only stayed for maybe a half an hour, after all I had just seen three days worth of BSA the week prior! While walking out I noticed that a crude sign had been put up noting that the fair would be opening on Sunday. I'm pretty sure it rained a couple of days beforehand which forced the fair to close, so Sunday was added as a makeup day of sorts. I wonder how well they do on these appended days?
Here's some photos!