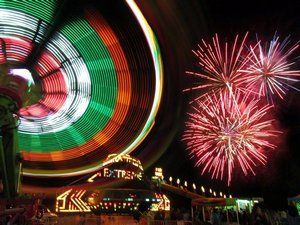 I was made aware of the St. Vincent de Paul carnival in Stirling, NJ by two different people trying to get the word out on my NJ-Carnivals site. This was their first annual event so they wanted everybody talking about it. It's funny because I always thought that the Long Hill area had a place doing a carnival already but was just so poorly promoted that my Googling could simply never turn it up. There's one now, I guess.
Since I live fairly close by, I started seeing signs for the event pop up about a week prior while on my bike rides. I eventually headed over on Saturday, May 31st. The rides were brought in by McCafferty Enterprises, a show I haven't seen since the now axed MusicFest back in 2011. While the midway was smallish, they had quite a few things lined up at this event. The fair had…
Hang Glider
Gravitron
Round Up
Dizzy Dragon
Fun Slide
Merry-go-Round
2x Funhouses
A handful of kiddie rides
A selection of greasy treats
Numerous games
Live music, beer garden, money wheel
Fireworks!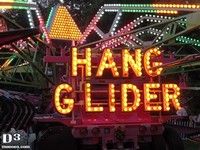 Like I said, I hadn't seen McCafferty since 2011, and to be honest they were  a sightly rough show back then. Seems like they've done a lot of work as their rides look pretty nice now! Hang Glider in particular, a Dartron Cliff Hanger ride, actually looked brand new and was decked out with LEDs everywhere along with a purple and green color scheme. They ran that thing on a really long cycle.
Round Up was to the left of Hang Glider and had a green and white color scheme with a painted logo on the front. In contrast to Hang Glider, this ride was run on a short cycle. Gravitron was across the way. This is Blue Sky Amusement's old Gravitron and it kind of still looks like it did when I saw it last, only with more lighting. Still has Alf on the flash, got to keep that!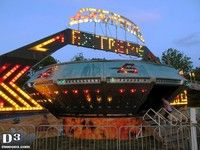 Fun Slide and Dizzy Dragon rounded out the larger rides…if you can call those "larger." Like I said, it was small midway, but they really didn't need a big midway, especially in their first year. Some kiddie rides were lined up in front of the games area including two funhouses. One of which was an indoor funhouse with rotating barrel and such, the other was an open air version with bridges and a slide at the end. The games were brought in by Paladin Amusements and featured about three variations of "knock over the X" among other things. There was also a high striker, watergun game, and shoot out the star.
The fair had a few other attractions including live music. When I was there, a band called Silent Q was playing. It was a three piece acoustic guitar band that covered various songs. I checked them out for a couple of minutes, mostly to get video; they played The Middle by Jimmy Eat World. Man, I remember when that band was hugely popular back when I was in high school. I always liked the song Sweetness more, however…but I digress.
They had a beer garden next to the band area, one serving craft beer along with the usuals. Craft beer? How could I resist? I had like 10 minutes until the fireworks so I had one beer while watching the band. I don't remember what I had, but it was pretty good. Wasn't a Bud or PBR, that's for sure. While there, I was present to see one of the organizers announce the Giant 50/50 winner by calling them up in front of everyone. She said that they won X thousand dollars, everyone cheered, then she hesitated before going something like "…at St. Vincent de Paul…the 50/50…..Stirling, NJ…you got a 50/50 ri…..no, Stirling…New Jersey…" Haha, I swear, it was something straight out of Curb Your Enthusiasm!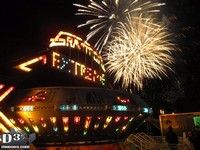 I made my way back to the midway for the fireworks. Now, I had no clue where they were going to shoot them off but I was hoping it was somewhere…well, over there. they indeed were, and I positioned myself behind Hang Glider for some shots before moving near Gravitron. The fireworks lasted about 15 minutes. They were done by Garden State Fireworks, the same people that do the elaborate Mount Carmel Festival fireworks in Berkeley Heights. One of the fireworks before the finale had a massive, delayed salute attached to it (salute, ie. those fireworks that just go "boom") that made everybody "whoaaaa" in unison; I actually have it in the video below.
After the fireworks I kind of speed walked out of the fair as I saw that a lot of people were also leaving after the fireworks. The streets of Stirling are pretty narrow and I did not want to get caught in a potential traffic jam! Cool little fair overall, they did a great job for their first year.
Here's some photos:
And here's a video!