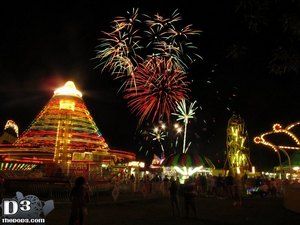 Mid-July marks what is the third closest fair to my locale, The Mt Carmel Festival. This event is put on annually by the Mount Carmel Society of Berkeley Heights, NJ to celebrate the July 16th, Our Lady of Mt Carmel feast day. I don't know how long the actual carnival has been done for, but the fireworks show to end the feast day has been a staple of the festival since the 1930s.
This year, the carnival went from July 12th to July 16th. I stopped by at the carnival two days and then setup outside of the carnival on the final day for the fireworks. The midway was done by Ace Amusement and the fair had:
Zipper
Trabant
Hurricane
Round-Up
Rock-o-Plane
Gravitron
Jitterbug Swing
Ferris Wheel
Monkey Maze funhouse (not the Owen manufactured one)
Bear Affair
Fun Slide
Kiddie rides (Dragon Wagon, Flying Elephants, Mini Jet, Tank Ride, Hampton Umbrella ride, Circus Train, Teacups, etc)
Food…lots of it!
Beer garden
Quite a few games
Several vendors
Band stage
Fireworks
Mosquitoes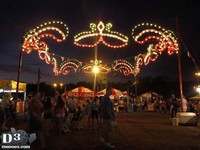 The fair has gotten pretty large in recent years! I remember when it was nothing more than a handful of rides and a line of vendors. Although. one thing the fair still has after all these years is mosquitoes. People know it too as a light bouquet of bug spray could be smelled throughout the midway on more crowded nights. The reason for this is that the field is right next to a creek.
On Sunday night, the fair was moderately crowded. Zipper and Trabant seemed to be the two busiest rides on the midway. Zipper was acquired by Ace Amusements last year. It had some artwork on the panels and one of those cool, sparkling bulb signs. The LEDs on the bull-wheels were all lit but the ones on the frame were mostly out. The ride ops had an interesting loading procedure in that they would load a pod, rotate the boom to the opposite side, load another pod, then move the pods up one and repeat.
Trabant looked awesomely retro with its original red and yellow/gold color scheme. The ride even had an intact center ornament and ornamental fencing; pieces that are usually axed due to being nonessential for operation. The ride was run forwards and backwards on a modest cycle. Next door was Hurricane, which was down the first night I went but running the second. This looks like a Dartron model, as opposed to an older, Hrubetz model. Not bad looking with multicolored turbo lighting on the sweeps. I didn't particularly like the floodlights at the top, but that's completely a photo taking gripe.
Gravitron sat on the west side of the midway. This looked exactly like the Gravitron that was at the Warren Lions Expo last year, presumably a McDaniel Brothers Shows piece. I don't know if Ace bought it or if it was booked in or what. A funhouse called Monkey Maze sat next to Gravitron. It looked like a re-theme of some other funhouse rather than an Owen made Monkey Maze.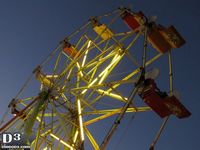 In the center of the midway was an Eli-Bridge Hy-5 ferris wheel. Now, I distinctly remember this having pink, florescent light tubes last season that were searingly bright. They've been replaced with yellow tubes; it looks really nice now! This wheel spins noticeably faster than most others, but while walking by in one instance, I noticed it was spinning a little faster than usual. It ended up that the load was unbalanced, causing the wheel to speed up as the heavier side descended. It wasn't that the wheel had more people on one side, it just happened to have more adults on one side. The kids sure seemed to be having a blast nonetheless!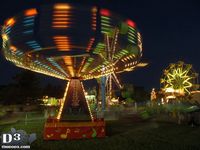 On the east side of the midway was Rock-o-Plane. This particular one had LEDs on the center ornament and sweeps. The ride was also decked out with a speaker, blasting a list of top 40 songs. Next to it was Jitterbug, a small swing ride. I thought this was a Childress swing but it's apparently a High-Lite rides, 20 seat Chair Swing. A turbo light clad Hrubetz Round-Up rounded out the major rides. Ace actually has a pretty nice Round Up. It doesn't lift that high but it looks, well, ace!
There were a bunch of kiddie rides; one of note was Tank Ride. It may be a Herschell Tank Ride, but I'm not 100% sure. It had machine guns mounted on the front. I wonder if they made sound at one point? I remember all kiddie rides back in the day seemed to have some sort of buzzer or bell that could be activated but pushing a button or trigger. You don't see those anymore…probably because it would drive ride ops completely nuts.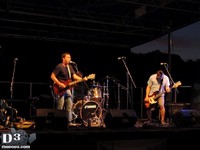 The fair is held in a pretty large field but everything was kind of crowded together as the back of the field was reserved for parking on the first four nights, and then seating on the final night. In the past, the back of the field was also used by vendors and such. There were a lot of food vendors, mostly stick joints (a simple stand set up with wood supports and a canopy) selling everything from pizza to kabob. Vendors with glow stick items were popular at this fair considering the nighttime fireworks show. A band stage was setup on the fourth and fifth day showcasing several local bands. The band playing on Sunday night was doing hard rock. Unfortunately, I don't know their name or I'd give them a plug.
Here's some more photos from the fair:
The final day of the festival is closed out by a fireworks show by Garden State Fireworks. Actually, fireworks start at around 8am during a procession from Little Flower church to the Mt Carmel Society Hall. The actual show starts at around 11pm and runs for about 40 minutes. It's less of a 'show' and more like a fireworks exhibition.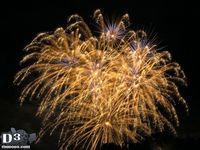 During the display, you don't really see normal, one color 'penoy' type fireworks unless shot en-masse. Most will change two or three colors, have sparkling effects, or contain something to make it unique. Other shells break into a puff of smoke only to reappear as a wide, shower of stars. One shell, which I wish I got a shot of, broke into half blue stars along with three or four long comets giving it a flower type appearance. Also, many of the shells contained massive 'bottom shots,' basically a timed salute that is attached to the original shell. I don't know how large these suckers were, but some were powerful enough to set off car alarms.
One of the noteworthy aspects of this show are multi-break shells. This is where multiple shells are piggy-backed on each other to form one giant shell. The shells then explode at certain intervals. I've never seen one dud multi-break during these displays which is pretty amazing considering how easily something can go wrong with these types of fireworks. It just goes to show how experienced Garden State Fireworks is in firework building. Shoot, I can't even get two stinking packs of jumping jacks to light properly. Here's a couple of photos from GSF's Facebook of past shows in Berkeley Heights if you're wondering what these things look like: Shells – Setup
The finale lasted roughly three minutes. I like how in this finale, they shoot off large, color fireworks along with salutes. Usually shows will end with nothing but loud bangs which, while noise is good, isn't much to look at. Although, technically this too ended with loud bangs…only they shot them all in one, giant volley. Now that's what I'm talking about!
Here's some photos that I took during the fireworks display:
Here's a 12+ minute video of the fireworks. Make sure to crank up the volume if you have some good speakers!
Finally, here's a video I put together of the carnival!
And one more video without music that I uploaded in 2020!