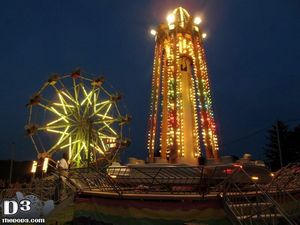 I hadn't been to this fair in a couple of years, so I decided to take the ride over to Chester, NJ on Thursday, July 18th, to check out the first day of festivities at Morris Counties 4-H carnival. In the past, Dreamland Amusements, Amusements of America, and Tolve Presentations have all had the spot, so I was eager to see what the revolving door of shows would bring this year.
The drive was about 35 minutes but felt longer for some reason. As I came over the hill near Chubb Park, I spotted a multi-colored Hurricane. Oh for God sakes, Ace Amusements was doing this fair as well. Obviously a fine choice for this event, but I had just seen them on Sunday and Monday in Berkeley Heights. I like to have some variation in these trip reports, you know? Entrance to the fair was free, but parking was $5. They call it a $5 'donation' so I'm guessing the money goes to local 4-H clubs. The fair had:
Hurricane
Round-Up
Jitterbug Swing
Ferris Wheel
Bear Affair
Fun Slide
Monkey Maze funhouse
Kiddie rides (Tank Ride, Dragon Wagon, Circus Train, and a few others)
Racked Berry-Go-Round and tiny, half set up swing ride
Animals
4-H happenings
An assortment of games
A couple of vendors
Several food stands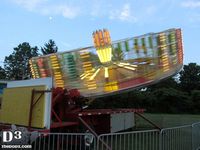 It's a pretty small event. I's always been small, actually. The fair was basically dead on the night I went and like my previous trip in 2011, it was also hot and humid despite being 8pm. I did a quick once around the midway before checking out the 4H stuff. Hurricane and Round Up were the two major rides with most others being family attractions. While getting photos of Hurricane, I noticed that the ride op glanced over in my direction and then did a double take after seeing me. Heh, yep, it's me again.
Unlike the Mount Carmel Festival, the midway was really spread out here with huge open spaces between rides. Then again, maybe it just seemed that way considering that there was about 500 people at the fair. About half of the fair patrons that night were in the stage tent where a talent show was being held.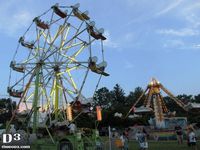 I made myself stay for at least one act in an effort to get a nice, holistic feel for the festivities. I was treated to two teenagers dancing and lip syncing to Gangnam Style. Ugh, what was I really expecting here?
I went over to the animal tents next. One tent had farm animals like goats and a calf. Two of the goats were getting restless and play fighting with each other while another hung out in the corner, taking in the spectacle. An adjacent tent had roosters, chickens and other bird-life. Reptiles, rabbits and rodents were represented in another tent as well as dog and dog-related activities in yet another. You can bring you dog to this fair and a handful of fairgoers took up this offer.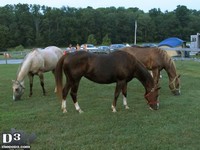 I headed into the arts tent to check out the photos and drawings. Looks like they give everyone ribbons now. If a person entered something, anything, they got a red ribbon that said "great work" or something like that; quality need not apply. This "catch all" award could go to the decently framed scenery photo as well as some kid's magnum opus of macaroni pieces stuck to paper with glue and snot. First to third (possibly more) did have their own ribbons, however. I went over to the horse ring next. Nothing was really going on other than some horses grazing on grass as seen in the exciting photo to the left.
I did a walk around the rides area once more to grab a few more pictures before leaving at 9:30pm. Despite how this trip report sounds, I did enjoy the fair. It has a more homey feel than some other fairs. The area is also pretty nice, that helps!
Here's the remaining photos of the Morris County 4-H Fair.