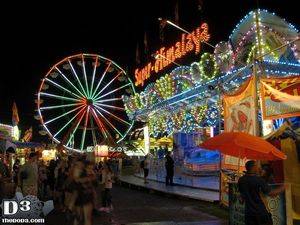 From August 2nd to August 11th, the official state fair of New Jersey ran up in the boondocks of northern NJ. While other areas of New Jersey may play the "Jersey" stereotype straight, the area around the Sussex County Fairgrounds are true to the "Garden State" nickname.
The New Jersey State Fair and Sussex County Farm & Horse Show contains just about everything you'd expect at a typical state fair including animals, agricultural exhibits, shows, food, shops, and of course amusement rides. Once again, Reithoffer Shows had the midway and the fair had:
Wild Claw
Super Himalaya
Power Surge
Zipper
Fire Ball
Gentle Giant (Big Wheel)
Sizzler
Starship 2000
2x Scooter
Haunted Mansion
Avalanche
Pharaoh's Fury
Tornado (Wisdom)
Merry Go Round
2x Super Slide
Mini Wave Swing
4x Funhouses (Cuckoo Haus, Crystal Lil's, Rock n' roll Funhouse, Jungle of Fun)
Quite a few kiddie rides (Flying Tigers, Rio Grande Train, Kite Flyer, Bumble Bee, Crazy Bus, Mini Indy, a bunch more)
A vast selection of games
An incredible number of foodstuffs and vendors
Animals of various sizes
Agricultural exhibits
Horse show
A number of shows (K9's in Flight, Bounce and Ooo La La, Robinson's Racing Pigs, music tent.)
Various attractions (Commerford's Petting Zoo, Elephant rides, pony ride, several sideshows.)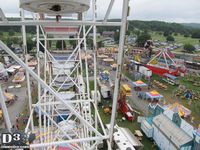 The amount of things to do and see (and buy) at this fair was vast. This really is a whole day kind of thing if you want to see everything which is why I met with two of my cousins at around 10:30AM on August 8th to head up to the fairgrounds. The day we picked had a threat of rain…what else is new? The day before had a 70% chance of rain but it didn't verify, so I was hoping for a similar outcome on this day. We each bought a megapass ahead of time which included admission and an all day wristband (as opposed to the noon – 6pm wristband at the fair.)
We arrived at around 11:30am. Due to the rain threat, I suggested that we hit some rides before moving onto the rest of the fair. We hopped on Sizzler first which is your standard Wisdom Scrambler type ride. The ride lasted a good two minutes while traveling at a brisk speed. The bars were idiot proof, so no matter how hard one tried, you weren't getting out until the ride op came around with his unlocker tool, thing, metal object.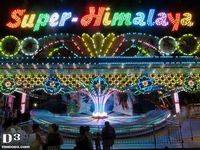 Next up was Haunted Mansion, an Owen dark ride. I'll tell you what, I kind of liked this for the simple fact that those gross, faux spiderwebs weren't hanging from the ceiling (that thousands of other faces had traveled through.) The facade was better than the actual ride, I think. Next up was Super Himalaya, a Bertazzon Himalaya ride. This was, hands down, the nicest Himalaya I've seen yet. The artwork is cool, the lighting is great, and the ride went fast forwards and backwards. I hate being one of those "bulb count" types (now, that is; try reading some of my earlier trip reports!) but I honestly don't think one light was out on the entire ride.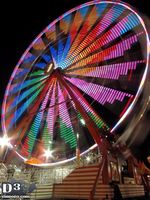 We took a spin on the ferris wheel next, officially named Gentle Giant by Reithoffer. It's a Chance Giant Wheel, 90 foot model I believe…it ain't no Century Wheel, I know that much! At night, this ride has a wonderful LED light show, as many giant wheel rides do nowadays. After making a loop around the midway, we got on Scooter, a Majestic bumper car ride. I never noticed how hard these things can bump if you get a good, head on collision. I also never noticed how unforgiving a lapbar is in a head on crash.
Despite not going on Starship 2000, I should note that they were doing some work on the back wall while we were at the fair. They had all of the lighting panels off (laying behind the ride) and seemed to be putting some new artwork on the ride. It'll be interesting to see that ride when it's all said and done.
Zipper was our last stop before heading off to the other areas of the fair. We ended up getting one of the best Zipper rides we've ever been on thanks to luck and a lot of cage rocking. Several times, I was able to get the pod forcefully backflip over the top. In one instance, the flip was so forceful that the pod flipped two additional two times while providing some rare, upsidedown positive G force. Jeez! On another occasion, the pod basically whipped around a turn while facing downward. I have no clue how it stayed that way but the scene from inside the pod was that of ground coming toward us at an incredible rate.
There was a lot of fair to cover, so we headed down to the back of the fairgrounds. We stopped at a large greenhouse to see the vegetable and plant show. The show wasn't ready when we visited the fair last year and I was none too happy about it. Where else are you going to see blue ribbon chives? I mean, come on! I'm not exactly sure how they judge some of these things. There was an entire table full of onions that looked exactly the same, basil that had been awarded ribbons, and even hay forage that was somehow graded and awarded with various honors. There were also some hay stuffed scarecrows on display which were also judged. The first place winner was a pair of scarecrows in a judo throw, but it looked a bit like something else upon a quick glance.
We headed out in back of the greenhouse to view the large expanse of nothingness going on. Well, there was actually a farmers market and a Wild Bill's root beer stand. While my cousin filled her Wild Bill's cup from two years ago (you can bring them back every year and pay $5 for all day refills) we talked to the guy running the stand for a bit. Considering the location and lack of things to draw people over there, it wasn't surprising to hear that he was doing very poorly this year. On top of that, Pepsi, who bought the rights to sell their product at the fair, wouldn't let them sell their root beer! Talk about getting hosed!
Next, we walked around the show area, first stopping by at the petting zoo and then the chainsaw artist's tent. We saw that a show was going on nearby and headed over. It turned out to be the Bounce, Ooh La La, and Daniel show. This is a family of street performers that do all sorts of juggling and balancing tricks. Their grand finale was each one balancing on something while doing tossing juggling clubs to each other.
A dog show, K9's in Flight, was starting up afterwards, so we grabbed a seat on the bleachers. Apparently these guys do halftime shows at professional sporting events along with the fair circuit. The show featured a few dogs doing frisbee catches, including a pitbull that could jump, like, six feet high along with doing back flips…all while not clamping down on someone's neck! Amazing! The dock diving portion had a pair of dogs jumping as far as they could into a pool. I think the longest jump was 26 feet, in other words, better than most humans.
Robinson's Racing Pig was starting next, so hey, why not check them out? This not only featured racing pigs, but diving and swimming pigs as well. As always, the pigs get different, punny names such as "Brittany Spareribs", "Lindsey Loham" and "Dale Oinkhart Jr."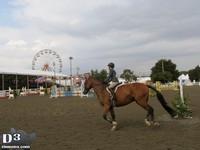 We walked over to the horse ring next to see some some equestrian action. Well, action really isn't the right word; it would be like saying "golfing action." Needless to say, I didn't really know what the hell was going on, whether it was an official contest or practice or what. The competitors started by each doing some gate jumping. Next they all did dressage where the rider had to make the horse gallop, trot, stop for 5 seconds, then come back. While walking back, I saw some kid petting a horse near a fence with her family. The teenage rider said something like "maybe you'll have a horse when you'll get older" to the kid. The parents' facial expression was something along the lines of "haha, yeah right!"
Our next stops were some of the buildings in the center area of the fair such as the Snook Agricultural Museum, animal barns and art and photography exhibits. I just had to check out the photography and artwork exhibits. There were some really good photos on display along with some photos that looked like they had been taken with old cell phones. I'd enter a photo myself (shoot, I took like 360 pictures, one must be good enough to be displayed) but you have to be a Sussex county resident to enter one. Bah, I thought this was the New Jersey State Fair, not Sussex County Fair! (Fun fact: it used to be just the "Sussex County Farm and Horse Show", so it kind of was the Sussex County Fair before 1999.)
Outside of the crafts building was a honey bee exhibit where an older gentleman got into a booth containing thousands of bees. A bunch of bees were crowding at the top of the booth, due to a queen flying up there previously, so the guy's solution to getting them back into their intended area was to scoop them up with his bare hands and then shake them off onto the bee box like he was shaking some water off of his hands! Was this a honey bee show or did I stumble across the toughest man alive sideshow or something?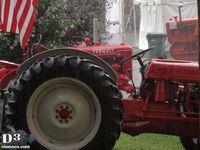 We noticed some dark clouds rolling in, so we decided to grab something to eat and hide out under a canopy, building, or anything with a roof. It did eventually rain, but only for about five minutes. We strolled over to the commercial vendor tent after eating and just as we got in was when the skies opened up for real! It ended up raining for 20 minutes. While it rained, I perused some of the vendors, namely the poster and hot sauce vendor. Didn't get anything, but saw some interesting items.
We ventured out after the the rain had let up and checked out the antique car show. There were some pretty neat cars including a 60's Corvette Stingray 427, an old Ford pickup, and a couple of 60's era Volkswagen Beetles. We stopped in the music tent next which had a polka band playing of all things. Little did I know that it was the 34th Annual Polish Night featuring a polka contest. Well I'll be damned!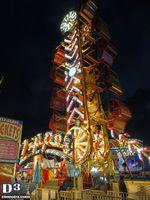 We went over to the midway again for some final rides. We  got on Zipper and once again got a great ride. We also went on Super Himalaya again, only this time I hopped into a car with one of my cousins. Needless to say, one of us got crushed, and it wasn't me. I mean, I try to hold onto the bar the best I can but it's more fun to crush to my cousin. Uh, I mean, the gravity is too strong.
We took a spin on the other Scooter ride to cap off the night. Thanks to the rain, the floor had become a mess of grease and water. This caused cars to fishtail and spin out when hit. It was a lot of fun! I grabbed a milkshake before heading for out at about 9:30pm. Awesome fair as always!
I have a ton of photos from this trip. I'll break them up into groups. First we have the rides:
Next is a small gallery of food and game joints because I'm sure someone wants to see them.
And finally, a giant gallery of random photos from the fair including 4-H stuff, shows and other happenings.