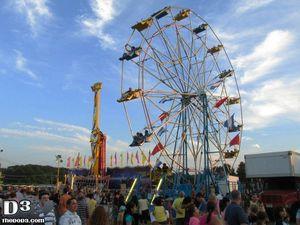 Middlesex County Fair, celebrating it's 75th year now, is exactly what it says on the tin: the county fair of Middlesex. Aside from the New Jersey State Fair, this is probably the most all around agricultural fair I've been to with a good mix of rides and things to do and see. My friend and I had so much fun last year, that we decided to meet up at the fair again this year on August 10th .
I arrived at about 2:30pm after getting caught in some traffic and taking a wrong turn. Let's face it, Route 18 is almost as bad as Route 22. Admission was $7 and the midway was done by Skelly's Amusements; the fair had:
Cliff Hanger
Pharaoh's Fury
Zipper
Xtreme (Super Sizzler)
Typhoon (Ali Baba)
Round Up
Swinger
Gravitron
Ferris Wheel
Mardi Gras funhouse
Fun Slide
Carousel
Dizzy Dragon
Dragon Wagon
Euro Bungee
Several kiddie rides (Hampton Jeeps, Hampton Motorcycles, Peter Paul, Boat ride, Hog Wild, etc)
A plethora of games
A number of vendors
Several shows (Hilby the Skinny German Juggle Boy, Barnyard Express, Robinson's Racing Pigs, Agricadabra, UWA Elite Pro Wrestling, Pirates of the Columbian Caribbean.)
4-H happenings
Prize ribbons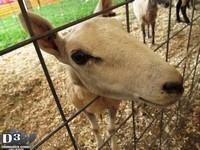 After meeting up with my friend, we headed up the fairgrounds and checked out the wrestling for a couple of minutes. This was a small, independent federation putting on several shows a day at the fairgrounds. When we arrived, a tag team match was finishing up. One guy got pinned after a nasty suplex.
We walked around to the animal barns next. There were two barns with one housing all of the small animals (chickens, rabbits, amphibians) and one housing the larger ones (goats, sheep, cows.) You could apparently feed the larger animals as evident by how each one would rush over to anyone standing near their fence.
Barnyard Express was in mid-show as we exited the barn, so we stayed and watched until the end. The highlight of the show for the kids was the goat milking and piglet; the highlight for us was watching things go awry. For instance, Farmer John's border collie tried to play flight with a goat and had to be put back in his cage. In another instance a bunch of kids bum rushed the stage and tried to pet the piglet.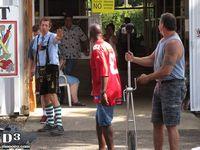 After the show, my friend heard some music playing across the way and immediately recognized it as Hilby the Skinny German Juggle Boy's music (he had bought Hilby's DVD last year, God knows how many times he's watched it.) When we got over there, Hilby was in his final act of riding a six foot high unicycle and juggling various items. Two "volunteers" (read: forced into the show) held his unicycle while Hilby struggled to mount the bike. One guy touched his leg while attempting to stabilize him which prompted Hilby to jump off and back away, saying that if he was going to do that then he should at least buy him a smoothie first.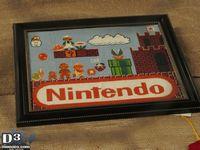 Next, we walked around the agricultural area. I'm not exactly sure what I was expecting, but it was simply a row of tables jam packed with information on how to grow plants, collect rainwater, compost, get rid of pests, etc. After a bit of milling around, we headed into the arts and crafts building. One of the cooler things was a Super Mario framed stitchery piece. To our surprise, it nabbed a second place award instead of first! It became apparent why as the first place piece was artwork of an American flag with dog tags. Ah, riding the patriotism train to first place, I see!
My friend had to drive down to south Jersey that night, so he left at around 5pm, which left me to my devices for a while. I walked around the ride area, snapping photos and taking video (something I rather do on my own as to not bore whomever I'm with.) The rides were similar to last year with the addition of Swinger, a Watkins swing ride. I think Hog Wild was also new. It looked like it was a Zamperla manufactured Rio Grande Train ride only with motorcycles instead of train cars.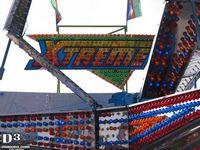 As it got later in the day, the rides began to sport massive lines. Xtreme, a Wisdom Super Sizzler, had a line jutting out into the center of the midway. I never noticed how old school Super Sizzler rides are. There's a lot of "in plain sight" motors and wires (most of which are hidden on standard Sizzler models.) Something that seemed odd was how the motors that turn the sweeps are mounted on the sweeps itself. The tire drive runs against a rim mounted on the center boom. Here's a photo to illustrate what I'm trying to say. In contrast, standard Sizzlers have the tire drive on the boom and the rim on the sweeps, like this!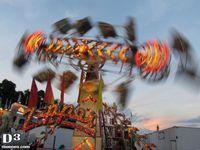 Zipper sat in the middle of the midway with makeshift rope lines setup all around it. These queues would come in use as the crowds got heavier. Cliff Hanger was setup facing the path this time around and seemed to be the most popular ride the night I went. Personally, I'm not a huge fan of the ride. Ever since I got a 6+ minute ride on one, I've shied away from these things. I guess I could handle a typical "wristband cycle" though. Typhoon, an ARM Ali Baba sat next to the wheel this year. The ride looked great but the restraints looked really unforgiving; they were just metal bars with no padding at all!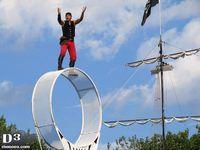 I walked around a bit more, stopping again to watch some pro wrestling. I stayed for one and a half matches with the second one being a title match between champion Kyle "The Beast" Winant and Crazy Ivan (along with his valet, Aida Marie.) In the end, The Beast retained the title. All was right in the kayfabe world. Too bad it was a family friendly show; some chair shots would have been a nice touch. Pirates of the Columbian Caribbean was nearing the end of the show as I walked by. This was an acrobat and high wire show with, surprise, a pirate theme! A couple of guys did the "wheel of death" before the entire troupe did various high wire walks. Some were 'simple' single person traverses while others saw a person being carried across in a chair.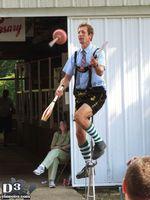 I then watched Hilby again, this time staying for the the entire show. The guy does similar jokes and tricks every show (even last year) but it never seems to get old. Of course, if something does deviate from the norm, he's quick to make a joke about it. Some kid got an un-inflated tube balloon for his participation (an anorexic Poodle according to Hilby) and attempted to blow it up. Hilby, knowing that those tube balloons are tough to blow up, offered the kid a dollar, then ten dollars if he could blow it up. The kid tried and tried, even while Hilby was busy making a real balloon animal for him. Eventually the kid's mother, or some random person if we take Hilby's word for it, walked up and swiped it from his mouth.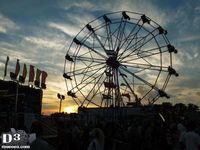 I took a walk around the midway again. It was really filling up as the night went on. The food vendor gauntlet just ahead of the midway was jam packed full of people. The rides were now tickets only (the wristbands lasted until 4pm I think) but plenty of people were still riding. Skelly's actually has some pretty reasonable prices; 75 cents for a ticket with rides taking 5 tickets max. They were also selling "mega passes" for $40 bucks which allowed unlimited rides for the entire duration of the fair. That's a new one on me (or maybe I just didn't pay attention last year.)
I eventually headed out at around 8:15pm. As I exited (probably out of a driveway I wasn't supposed to go down) I passed a long line of cars heading south on Cranbury Road. Hey, I remember being stuck in that two years ago!
Here's a bunch of photos from the trip.
I also took some video!