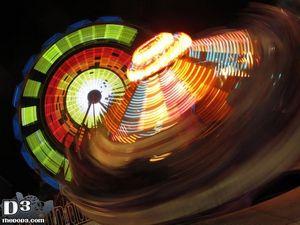 I stopped over at the St. Bartholowmew's Italian Festival in Scotch Plains, NJ on September 1…yes this report is a month old! Let me just say, I've been pretty good with trip reports this season, so I can fudge a bit now, right? Anyway, this is an annual, Labor Day weekend carnival put on by the church and local UNICO group and is in its 39th year now. In terms of rides, it's a pretty modest event, but there's quite a bit of other things to do (and eat!)
The area was dodging storms all evening and I eventually made the quick drive over after one storm had passed. Another storm was on its heels, so I had about an hour to check out the fair. The midway was done by Majestic Midways and the fair had:
Sky Diver
Wipeout
Ring of Fire
Scooter
Sizzler
Ghost Town
Barnyard
Monkey Mayhem
Numerous kiddie rides (Bumble Bee, Surf City, Baja Buggy, Samba Balloon, Carousel, Hampton ride)
Many, many games
A vast selection of foodstuffs
Beer garden
Performance stage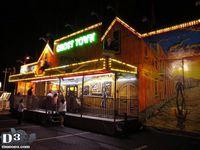 Similar lineup to last year, only with a couple of noteworthy changes. The biggest one was a dark ride called Ghost Town. It looked a lot like a western themed Owen Haunted Mansion. The bats flanking the awning above the station were replaced by buzzards and the artwork featured skeleton and zombie cowboy's engaged in some OK Corral showdown. Seems like this replaced Cuckoo Haus. Maybe they traded it in as that is also an Owen ride.
Another neat ride, albeit a family/kiddie ride, was Barnyard. It's basically a gondola modeled after a barn that spins and tilts on different angles. The ride's theme is a barn being lifted up by a tornado with the backwall featuring cartoon animals flying around.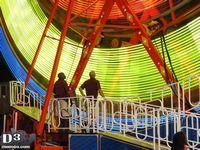 Skydiver was down when I first arrived, but operating within a half an hour. Seemed like they were having some trouble with getting the wheel to park, but it was sorted out quickly. Wipeout was positioned in the center of the midway making it stand out quite a bit more than if it was tucked into a corner. Scooter and Ring of Fire sat at the back of the midway. Ring of Fire wasn't running as fast as it was at the Hillsborough Rotary Fair, but still faster than any other Ring of Fire I've seen. Sizzler was in it's usual spot, tucked into the inward corner of the school building.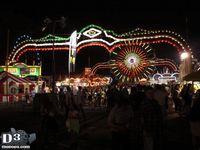 The fair has a vast food and game area along with two beer gardens; one of which surrounding a music stage. The games were the usual chance wheels, knock over the X, watergun games that you see at fairs around this area. I noticed the larger watergun game had a Paladin Amusements logo, a local business that rents out carnival games, so I assume they brought in most of the games. Food consisted of your usual carnival foodstuffs with stick joints set up selling sausage sandwiches, pizza, and zeppolies.
I stayed for about an hour before that storm I talked about at the beginning was getting uncomfortably close. As I walked back to the car, I could see lightning illuminating the top of the storm to the sound of a constant rumble of thunder. It hit during the drive back but only lasted about 10 minutes. Still, torrential rain with dark, windy roads aren't really my cup of tea.
Here's a video of Ring of Fire!
And here's a photo gallery!