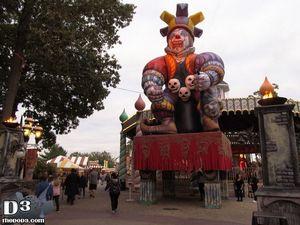 I decided to head down to Six Flags Great Adventure on Friday, the 27th. I got to the park at around 6pm (5:30pm opening) and was greeted to a modest amount of cars in the parking lot. I made my way through the security gate, having to open my jacket and have my glasses case looked in. I obviously looked like a common ne'er-do-well.
Once in the park, I made my way to El Toro, only to find the train stuck on the lift. I thought about heading to Kingda Ka to take advantage of the early lines, but started on my usual, clockwise trek around the park instead. First stop was Bizarro, which had a station wait. The flamethrowers were working today and if you look up while coming through the dive loop, it looks like they're shooting at you! The trains were all stacking, which seems to be the norm nowadays. The ops seemed efficient enough; I think it's the riders taking too long to do, well, everything!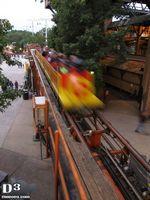 I walked into Frontier Adventures Bone Butcher Terror-tory next and hopped on Runaway Mine Train after seeing half filled trains going out. I took a second to last car, third row seat. I leaned into the diving turn over the water and managed to not flop around the seat for a change. I think I've finally figured out the bumps and moguls on RMT. It just takes time, like Scream Machine. I saw that El Toro was now running, and got in the station wait line. I think I took a second to last car, front seat. The back three rows had a several train wait while the middle cars had a one or two train wait.
I ventured down the main path and eventually ended up in Lakefront. I saw that Swashbuckler was loading, so I hopped on that. I love how some giant spider made its web between the center ornament and one of the sweeps on Swashbucker. Free Fright Fest theming! Sky Screamer had a one cycle wait, so that was my next stop. While at the top, I noticed that Six Flags looks pretty colorful at night during Fright Fest! I also noticed that Fender Benders had a short line and decided head over after I got off Sky Screamer.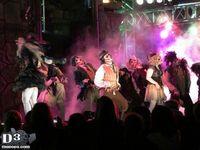 Fender Benders did indeed have a one cycle wait, but the ride ops were held up by some sort of guest discrepancy that stymied everything. I got into a car tucked behind a car facing the wrong way. Of course, no one got in that one, so I had to back up and maneuver my car around it right from the get go. I headed to Movietown next and stopped at Dead Man's Party for a bit, which was in mid-show. During the last song, I slipped away and hopped on Batman, which had an open gate wait. I literally walked in, saw a bunch of open queue lanes, noticed an open gate leading to an empty row, and dashed in to take a seat. Nice.
Nitro was next, which had a wait by the 30 minute sign, meaning that it was a ~15 minute wait. I originally got in line for the last row, but ended up taking a second to last row after two seats were open. Nitro seems to be a little rougher now, or maybe it was just that particular train. Not really rough, more like a persistent vibration.
Skull Mountain was my next stop which had a fairly barren station wait. I originally took a second to last car, back seat spot (a couple of people had secured the last car back seat), but switched places with a couple of kids who wanted to ride in the same car as their friends. So, I was now in the back car, front seat. During the ride, one of the kids I traded places with pulled out a cellphone and tried to take video. Boy, I bet that must have been some wonderful footage.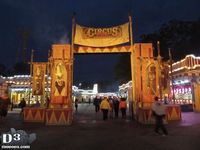 I made my way to the other side of the park to hop on Kingda Ka, but stopped off on Deja Vu along the way. I'm pretty sure this Scrambler takes longer to load than to ride. That's about how it was when I ran a Scrambler though, especially when people don't know the heavier person goes on the outside rule. On the way back, I walked through Straw-Man Stalkers, the revamped lakeside terror trail. I like it more than the old terror trail that was there, there were quite a few dudes hiding around there. At some points, I couldn't even see where I was walking thanks to the thick fog.
I made it to Kingda Ka at around 9:30 and waited about 10 minutes to be let into the station. I got in line for the second row and eventually switched places with a girl who wanted to ride with her friends (she originally tried to hail over two people from the line, but I intervened by saying that I would gladly wait one less train.) Well, this plan bit me in the ass. I hopped into the seat, pulled down the harness before realizing that another "I want to ride with friends" discrepancy broke out for the front row, leading to a single rider quickly jumping into the front seat. If I waited, I would have gotten an easy front row seat. Oh well.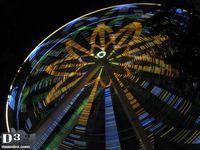 My final ride of the night was Green Lantern, which had one train running. Erg. That thing feels like it takes forever to make one circuit. I waited two trains from a second row seat. This, Kingda Ka and Superman are the three rides I take my glasses off for. Kingda Ka because it goes 128mph, Superman because you lay facing down, and Green Lantern because it has quite a bit of headbanging for a B&M. Speaking of Superman, it looked like it had a station wait, but I passed because screw Superman. Plus, I didn't have my glasses on, the queue could have been in the switchbacks for all I knew!
I ended up leaving at around 10:20pm. Wonderful night at the park! I hope other Friday visits are as good.
I didn't take too many pictures on this trip as it got dark early and was cloudy when it was light out. Nonetheless, here's a modest photo dump.