Updated 11/12/18
Seems like in recent years I end up taking my first trip to Six Flags Great Adventure in September for Fright Fest. I get a season pass each year despite only going a handful of times, but it's still worth it. I might go for the gold membership next year as it's about the same price as a season pass (with tax added) and has some extra perks like membership entrance and rewards program.
I went to Fright Fest two times so far in 2018: September 29th, October 14th. I'm planning to also head over on Sunday, the 28th to get some last photos and video and a spin on some of the rides in the El Toro side of the park, which close during Holiday in the Park.
Fright Fest Shows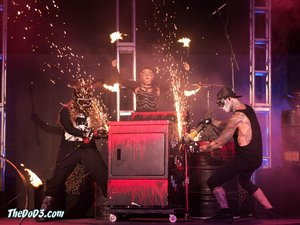 The new show this year was Blood Drums, a street drumming show with an industrial element to it. This show took the place of Ignite and was located in the area between Fender Benders and Giant Wheel. I've actually seen Blood Drums before at Dorney Park during their Halloween Haunt. Apparently Dorney is also doing the show again this year, along with an assortment of other Cedar Fair owned parks.
Blood Drums features a trio of musicians that make music using steel kegs, tire rims, and barrels along with traditional things like snares, timpanis, and rotary grinders…err, yeah. Along with the drummers were a pair of fire dancers that added some extra flare to the show. I'm always a sucker for street drumming/Stomp style shows so I liked this one quite a bit. They were all jamming out pretty hard, but the shorter of the two dudes looked like a kid in a candy store when he got to grind the crap out of a tire rim, shooting sparks into the air.
Unleashed returned to the Showcase Theater with a slightly modified show. It's a circus type thrill show with balancing acts, coordination routines, and a trampoline segment. The final act, the aforementioned trampoline routine, was the only carryover from last year's show which in turn had new stunts and a new setup in fact. Keeping it fresh!
Dead Man's Party was over in Batman Arena once again and featured new songs along with almost an entirely new cast of dancers it looked like. Some new songs this year were 'Beautiful People' by Marilyn Manson along with a new outro song which sounded familiar. I couldn't help noticing that 'No One Lives Forever' by Oingo Boingo was gone which was like the Dead Man's Party anthem…like more-so than the literal Dead Man's Party song near the beginning of the show! I sat in the pit area to get some photos with my new 45mm 1.8 Olympus lens. That lens is sharp as heck, but it's easy to mis-focus during this show with all the flashing lights and movement.
Trip Reports
September 29th, a Saturday, was mostly just a trip to redeem my season pass as I had to do it by September 30th to get the gold pass upgrade – a must since it includes season parking. Being a Saturday I knew it was going to be crowded. This was confirmed when I had to park in the Hurricane Harbor parking lot and walk three quarters of a mile to the entrance…literally. Funny enough, the park didn't look insanely packed when I got in there and the lines didn't seem to be outrageous. This trip I really just walked around and watched some shows, took in the spooky atmosphere, nothing too exciting. I left at around 9:30pm.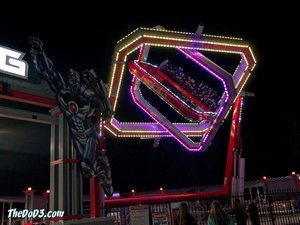 October 14th, a Sunday, wasn't as crowded. I hit some shows to take photos and then went on a few rides before leaving. I took the Sky Ride from Bone Butcher Terror-tory (aka Frontier Adventures) before heading over to Cyborg Cyber Spin. With the log flume closed for the season and the Safari closed at night, that area is super quiet after 6 or 7pm. I remember several years ago they had Doc Swan's show over there, which drew more people into the area.
Cyborg Cyber Spin was the new addition for 2018; it's an ABC Rides manufactured Tourbillon. The ride is placed near the entrance to the wide thoroughfare that used to be Old Country – to the right of Showcase Theater. I waited one cycle and ended up in a middle seat. The ride flips on three axis but it seemed like we were flipping mostly in a traditional head over heels manner. It felt like the motors were struggling to really get the ride going. Don't know if the coldness had something to do with it or if it's just been like that all season. I felt a little nauseous on it when flipping, but it seemed to vanish when the ride tilted sideways. Strange.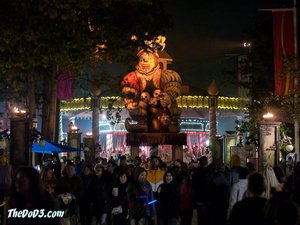 After Cyber Spin, I walked across the park to El Toro. At this point, around quarter after 9, the coaster had a station wait with a two train wait for the row that I chose – last car/front seat. El Toro has a strict no loose articles policy now and people with their cell phones out in the station were told to leave the line. I actually did have a couple loose articles on me, but they were tucked in my hoodie's zipper pocket which was in turn underneath a jacket. I'm such a rule breaker, I'm horrible. After not riding El Toro since last year, the drop gave me some serious butterflies in stomach feeling.
October 28th was the final Sunday of Fright Fest. When I pulled into the lot they had parking attendants directing the cars into spaces. That's actually the first time I had ever seen something like that; usually it's just a free-for-all and people park wherever.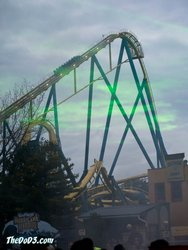 The park was kind of crowded when I got there; I noticed that El Toro had a full queue while most other rides had average to long-ish lines. I saw a lot more annoying individuals at the park this time around. Among other things, I saw one person throw their drink in the air when one of the ghouls startled them, showering the drink over the crowded thoroughfare. There was also an omnipresent pot smell throughout the park. Not saying that pot smokers are neer-do-wells, but the ones that would sneak some into a Six Flags kind of are. Considering that it was a Sunday, I can only imagine what it must have been like on one of the final Saturdays, when the park is jammed beyond belief.
I saw Blood Drums and Doc Swan's show once and Dead Man's Party twice on this trip; normally I wouldn't bother with some of these shows as I had seen them already, but I had a few ideas for shots that I wanted in the video below. For the second DMP show I sat in front, between the two platforms. Truthfully, sitting here is way too close to enjoy the show as so much happens across the stage, but it was pretty good for photography!
Doc Swan's show took place in front of Twister once again. His show was similar to last years but with a few differences and some new gags. I didn't realize it before, but Doc actually does a show for families during the day over in the Golden Kingdom arena. I'm going to venture a guess in that he doesn't stick a screw driver in his nose or swallow razorblades in that show.
That weekend they were also doing the Fright Fest Coffin Challenge in which competitors spent 30 hours in a coffin to win $300 bucks and a Gold Pass for 2019. The coffins were setup on the lawn area next to The Dark Knight coaster. When I stopped by to check things out, they were allowing the participants to stretch a bit and, presumably, use the bathroom or something.
Here's a video taken over my three visits to the park during Fright Fest.
And here's some photos from the first two trips…
and some more photos from my October 28th trip, including lots of Dead Man's Party photos in this batch.