I took a two part trip to New York City on Sunday, September 16th. During the afternoon I planned to go to Coney Island before heading back to Manhattan at dusk to do a walk through of the San Gennaro festival. First was two hours of travel time: 1 hour on NJ Transit to Penn Station and another hour on the Q train to Coney. I got there at around 3:30pm, a little later than I was hoping.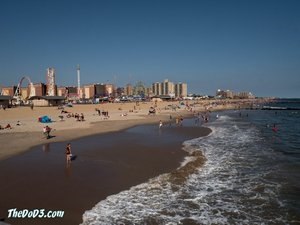 There's been a few changes since the last time I've been here, notably the addition of several rides at Luna Park. Two brand new rides in 2018 were Coney Clipper and AstroTower. Coney Clipper took up the spot of the old Water Mania family water ride. Clipper is a Zamperla Galleon with some custom signage as far as I can tell.
AstroTower, named for the old Astro Tower observation tower ride that Astroland and subsequently Luna Park owned (and removed) was placed over in the little annex between Stillwell & W 15th Ave. AstroTower is a Zamperla…you know, I really don't need to clarify the manufacturer as basically everything in Luna Park is Zamperla. Anyway, AstroTower looks similar to a Flash Tower model but with a revolving tower like on their vertical swing rides. This style of drop tower doesn't seem to be featured on their site, so maybe they're doing a trial run in Coney? The drop sequence didn't look so hot, more like raising and lowering quickly rather than "launching" or "dropping."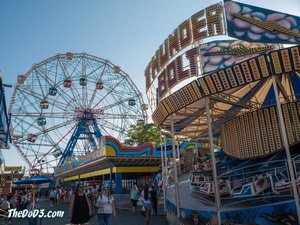 Not new this year (but new for me) was Endeavour, Zamperla's take on Enterprise. One thing I always thought would be great is an Enterprise with open air pods, and this is exactly that. The one at Luna Park is a 24 seat model, where riders sit in single seats. Zamperla does make a 48 seat version now with pairs of seats, good for bigger parks.
I did a walkthrough of Deno's Wonderwheel Park. Not too much seems to have changed here since my last visit other than a new attraction called Stop the Zombies, which is situated between the Wonder Wheel and Bumper Cars. Looks like it's a 3D motion simulator type attraction with a laser gun element to it. Deno's bumper cars are worth nothing, they're actually Astroland's old bumper cars. The cars are still set to run at a decent speed, not like the painfully slow bumper cars you see a lot these days. Not as fast as the Astroland days, when they'd hit so hard that the cars would catch air.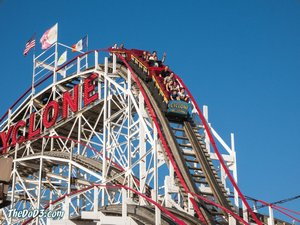 As for the other areas, 12th Street Amusements was closed for the season. Nice to see those rides are still around at least being that they're among the last vestiges of "classic" Coney Island. Rides on the side of the street was always something I liked about Coney Island. Eldorado Auto Skooter was going, but there weren't too many riders when I peeked in. I came across an article recently about how New York City's best soundsystem may be the Eldorado's. It does pack a damn punch when it's cranked up. Would love to hear some old school jungle on that sucker; those deep, sub basslines would probably crack the sidewalk! Speaking of music, the block behind Nathans was holding some sort of concert which was blasting EDM complete with an MC hyping the crowd. Not sure who was playing – hell, I don't even know what venue that is.
I took a walk down the boardwalk for a bit, walking down near Brighton Beach before doubling back. I walked out onto the pier to get some photos. This pier is officially named "Steeplechase Pier," though I'm not sure if its connection to Steeplechase Park goes any further than the name. While strolling along the boardwalk, I couldn't help but to notice the more than occasional whiff of pot. Not a surprise considering that the laws on marijuana possession were relaxed earlier this year in the city. Wonder if we'll see marijuana lounges on the boardwalk along with the traditional bars once weed is legalized in NY?
I hung around Coney for a few hours before hopping on the Q back to Canal for part two of my trip.
Here's the photos:
And a video, which I posted last month on Youtube: