I had not been to Coney Island in literally years so I decided that I'd head over one Sunday before the area's parks closed for the season. I also decided to make this a dual trip, stopping at the San Gennaro festival in Little Italy on the way down to Coney. To get into the city I took the bus from Union, NJ to Port Authority near Times Square. Once in I milled around the Times Square area for a few minutes looking up like a true tourist.
San Gennaro Festival
I eventually made my way to the subway and had the option of taking the N, Q or R down to Canal St. in Chinatown. I ended up taking the N and was at Canal in maybe 10 minutes. The festival, in its 88th year now, is pretty much a giant street fair with food, games, food, vendors, food, a few rides and food. The festival was a bit crowded but nothing like how it is on Friday or Saturday nights when Mulberry street is disgustingly crowded.
I walked to the end and back, taking in the sights and grabbing a slice of pizza along the way. Little Italy was once a sizable chunk of Manhattan but is now basically Mullberry St. with Chinatown taking the area over. I hear that Little Italy is more of an area catering to tourists nowadays with Arthur Ave up in the Bronx sometimes referred to as the "real" Little Italy. Still, it's nice walking through Manhattan's Little Italy and the restaurants are still pretty good (to me at least.) Although if you might want to check out Forlini's a couple blocks away on Baxter which has great Italian food and an atmosphere that reminds me of something straight out of Goodfellas.
The festival also had a few rides set up on Hester St. The Festival Wheel was the only big ride at the festival. If anything it's kind of cool seeing a ferris wheel in the middle of an NYC street with buildings around it. Other rides consisted of inflatable slides, a lone Spin-the-Apple pod, some kiddie rides and a strange spinning ride called Whirly Bird that is a total WTCR.
After about an hour I made my way to the subway and once again hopped on the N train down to Stillwell Ave in Coney Island; the ride took about 40 minutes this time.
Coney Island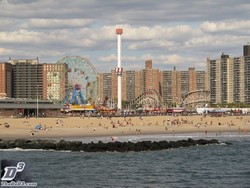 My has Coney Island has changed since the last time I visited. The last time I was there none of the Zamperla parks were built with Astroland being just a cleared lot. Now Luna Park occupies the old Astroland site, Scream Zone takes up residence west of Deno's Wonder Wheel Park with a small offshoot of Scream Zone is located between Stillwell and West 15th.
I walked through Luna Park first which is basically Zamperla's random ride repository. There was a ton of kiddie rides and several major rides such as:
The Tickler: a throwback to the old 'Tickler' rides, it's really a spinning Wild Mouse coaster.
Brooklyn Flyer: a Sky Flyer swing ride
Electro Spin:, a themed Disk-O
Eclipse: a Mini Discovery pendulum ride, this was closed when I went.
Wild River: log flume, I actually didn't know Zamperla made log flumes
Air Race: the only flatride I wanted to hop on at Luna Park
Cyclone: technically not in Luna Park but it uses Luna Park credits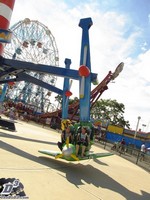 The park had a lot of rides set up in almost a jigsaw-like fashion, I have to give it to Zamperla for using the most of the space they have. Later on in the day I returned to Luna Park to ride Air Race which commanded 6 credits (6 bucks) to ride. The ride consists of six plane looking cars attached to a boom with a counterweight on the other end. The boom is then attached to an arm connected to a center hub. The hub revolves at a slow/moderate speed while the booms rotate, sending the planes upsidedown. For some reason I was under the impression that the planes are controlled by the rider but it's all computer operated; that would make for an amazingly fun ride though. Not a bad ride but not exactly my cup of tea either.
Here's a video of Air Race.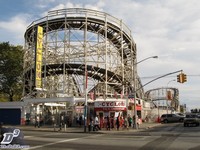 I also hopped on Cyclone, which is practically a required ride when going to Coney Island despite the $8 admission now. The first drop had been retracked during the offseason and was much smoother but also lacked the old snap the drop previously had.  The second drop still has it though, launching riders off the seat regardless of position in the train. When riding alone I always make it a point to slide to the opposite side of the seat of whatever turn the train is coming into; the lack of a center divider and huge laterals result in being forcefully tossed across the seat. It doesn't sound like fun but the ridiculous padding makes it completely painless, plus there aren't many coasters anymore where one can do that.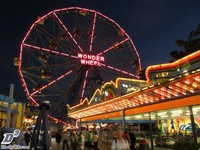 I stopped by a Deno's Wonder Wheel Park right next door; not too much has changed there. Wonder Wheel had a  small line each time I walked through the area and was constantly turning all day. A few years ago I heard rumors that they were going to get rid of their Chance Thunderbolt but that never came to be. I had visions of Deno's selling Thunderbolt and buying up Astroland's old Breakdance but that was extremely wishful thinking. I think last time I was at the park they also had an ARM drop tower which seems to be gone now.
I stopped by at Scream Zone next which is Zamperla's "extreme" park featuring:
Sling Shot: Yep, it's a Sling Shot upcharge ride.
Zenobio: Skyscraper upcharge ride.
Steeplechase: Zamperla launch coaster where people ride on horse shaped cars.
Soarin' Eagle: Zamperla 'Volare' coaster. Passengers ride in a flying position.
Boardwalk Flight: Across the street from Scream Zone, it's a Sky Coaster upcharge.
Coney Island Raceway: Go karts.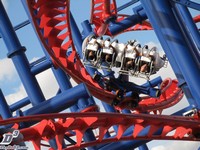 Both coasters were $7 bucks each which seemed a bit high for those types of coasters. Zenobio on the other hand was $10 which is actually pretty reasonable for a Skyscraper upcharge ride; as a comparison Casino Pier's Skysraper is $20 for a single rider and Morey's Piers' is $15.   Next time I go to Coney I'll probably hop on Steeplechase as it does look interesting.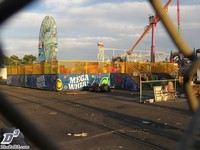 Unfortunately 12th Street Amusements, a motley assortment of rides between Denos and Scream Zone, wasn't open. Polar Express, an old Reverchon Himalaya, looked like it was in the process of being winterized with all the cars and backwalls taken out. Also, on the area to the north of Scream Zone, sat Mega Whirl in the middle of a deserted open lot surrounded by fencing. Mega Whirl is a strange whip type ride made by Gordon Rides and Larson that debuted in Coney this season. However the ad-hoc park setup around it had numerous problems and the ride ended up opening sporadicly from what I gather. I really hope it's there next year as I definitely want to give it a spin.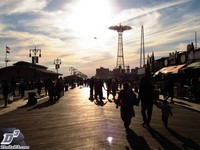 I took a walk down the boardwalk to the pier at one point which gives a really nice view of the beach, rides and parachute jump. I also walked east down the boardwalk into Brighton Beach. This area has a very large Russian population and at some points I heard more Russian being spoken than English, not like that's a bad thing of course; it's interesting how diverse New York City is.
I went back to Coney Island and got some food at Nathan's because not doing so would be a sin and Nathan's knows it as they charge 3.75 for a hotdog! I think my order of a hotdog, cheese fries and coke came out to 10 something. Still, it was good, especially those cheese fries.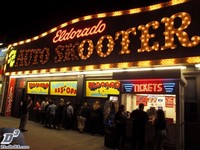 Afterwards I walked around a bit before getting on Eldorado Auto Skooters, a bumper car ride on the bottom floor of a building. Like much of the "old" Coney Island, Eldorado is set to close after this season so I paid the $6 bucks to "bump my ass off" one more time. The cars are extremely fast and bump with quite a bit of force. If you can smash into someone going around a corner they will almost certainly spin out and even catch a bit of air! I plowed into one guy, who just happened to be one of the ride operators, and he gunned for me the rest of the ride getting in some amazingly powerful bumps. Man, they just don't run bumper cars like that anymore! It was three bucks to re-ride but I passed; I had thoroughly bumped my ass off.
Here's a video of Eldorado Auto Skooters:
I walked around a bit more but found that everything was starting to close. It was a Sunday in September so things were shutting down at 8pm. I hopped aboard the subway, N train again, and headed up to Time Square and then caught the bus back to NJ. Fun day overall, and I can tell you I am never driving into Coney again; using the subway and bus is A LOT cheaper and easier.
And finally here's a music video of Eldorado that I've been meaning to make for a long time coming.