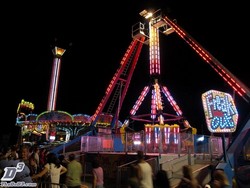 The Great Allentown Fair in Allentown, PA is one of the few fairs that I travel out of New Jersey to attend each year. It's among the largest fairs I go to each year alongside the New Jersey State Fair, State Fair Meadowlands and North Brunswick Youth Sports Festival; Orange County Fair would also be on this list if I hadn't managed to miss it every year since 2007.
I left at around 4:30pm and hopped on Rt.78 which wasn't as crowded as I expected at that point. Usually it's easy getting to this fair taking the normal exit off 78 into Allentown but thanks to a bridge in Allentown thats being perpetually worked on I took a strange route that led me down Rt. 22. Some guy in an SUV rode my ass for most of the way down Rt.22 despite me going over the speed limit; some people man. I arrived at the fair entrance at around 6pm and found that it had a pretty similar lineup to last year with Powers Great American Midways running the midway. The fair had…
Vortex
Vertigo
Freak Out
Swing Buggy
Wave Swinger
Genesis
Alien Abduction
Fireball
Spider
Sizzler
Cliff Hanger
Orbiter
Super Shot
Pharaoh's Fury
Tornado
Zero Gravity
Tilt-a-Whirl
Zipper
Giant Wheel
Euro Bungy
Magic Maze
Cuckoo Haus
Merry-go-Round
Dizzy Dragons
Crazy Chopper
Quite a few kiddie rides
An incredible amount of games
An even more incredible amount of foodstuffs
Vendors, vendors everywhere
Art/vegitable/plant competitions
Numerous shows
Concert
Not a bad lineup, although it's been a bit better in the past particularly in 2008 when the fair featured  Twister (a Moser manufactured Maverick) and Crazy Dance among other rides I never see. The most extreme ride they had was Vortex, a Fabbri Junior Booster which I had ridden the past two times I went to this fair. I wasn't really feeling like getting a POP wristband this time around but Vortex was 8 tickets without one which comes out to $10. The ride is great but the cycle is woefully short so I passed. The ride makes for some great long exposure shots however!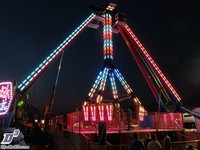 Last year I commented on how Freak Out looked odd being one of the few rides without LEDs, well now it has them along with a new paint job. The ride looked wild at night with its sequenced LED lights. Powers actually fitted quite a few rides with LEDs this year as Zipper and their Super Shot tower also had them. Super Shot in particular looked great since the lights are so tightly spaced together; at night it looked like an unbroken flow of colors running up and down the tower from afar.
Next to Freak Out was Swing Buggy, a Bertazzon Matterhorn ride. Throughout the night the controls were manned by one of two guys that really got the riders going. The funny thing is that the canned mic man (ie. recorded voice over) would occasionally let his perfectly spoken self butt in only to be shot down by the real mic men. Not only did the ride command a decent line but groups of people would also stop to watch as well most likely thanks to the mic man. Here's a video of Swing Buggy in action!
[youtube]http://www.youtube.com/watch?v=bvAxadRKpOM[/youtube]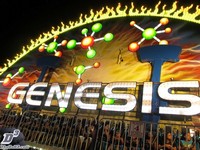 A new ride this year, like literally brand new, was Genesis, a Wisdom 'Miami' style ride with a theme other than Moby Dick or Avalanche. Now I'm not exactly sure what the Genesis theme is supposed to be, I guess it has something to do with the Big Bang considering that the backflash features something like it. At first I thought the name was pandering to Creationists or something but then realized that the artwork would probably contain dinosaurs on Noahs Ark if that was the case. Jokes aside, it was an impressive looking ride, I like how the molecule looking decorations light up and flash at night.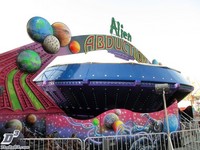 Another new ride this season was Alien Abduction, pretty much the third version of Gravitron done by Wisdom. It's similar to the LED retrofitted Starship 2000 rides with planets taking the place of star decorations. The ride also has some bottom flash that obscures the base of the ride. I know on Gravitron and Starship models you can see the drive wheels under the ride if you look hard enough so possibly they added the bottom flash in to cover it up entirely while looking nice.
I walked around the midway for a bit before heading down the two ends of the fair and checking out other attractions. The two streets that surround the old race track (which is used as parking for the fair) are pretty much flooded with wall to wall vendors and food stands. The building underneath the race track's grandstands was also made up of vendors along with local shops that operate normally inside the building. Usually a gauntlet of special interest groups and religious organizations take up position in here, handing out pamphlets and such but not so much this year. One group, Save the Horses or some crap, was asking people to sign a petition to stop the killing of horses. I wanted to ask (ie. make a snide remark) if they still make glue from horses but decided to not be an asshole for a change.
Afterwards I did a walk through of the "Agri-plex" which featured vendors along with all the art and culinary contests. Animal barns surrounded the building which I also did a pass through of. I picked up some food while I was checking out the exhibits, I decided on a little stand simply called "Mike's Pizza." It was actually surprisingly good for carnival stand pizza, the guy even put extra pepperoni on it when he saw the slice had like three pieces on it.  I also got a large lemonade from another stand. Again I was surprised, this time by the fact that the lemonade sold in a large plastic "souvenir" type cup was only $5. While walking around I noticed the massive line forming outside of the concert venue. That night The Band Perry was playing; I've never heard of them but apparently many have…oh and look at this, one of their videos have 61 million views, holy hell I'm out of the loop of popular music. Artists performing on other nights included Jason Aldean, Blake Shelton, The Fresh Beat Band, and Victoria Justice.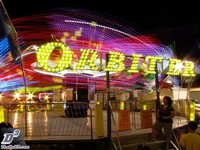 I returned to the midway after dark to check out the now lit rides. Wave Swinger and the Giant Wheel sat near the front of the midway and made for a nice looking pair at night with both rides having sequenced LED lighting. Spider also looked interesting with LED tube lighting along with yellow incandescent bulbs. I may as well just cut to the chase and say that every single ride looked good; not one looked rough in any sense of the word. Now if only PGAM would bring their Sky Diver to this fair to complete the LED overload that is this midway.
I eventually left the fair at around 10:45pm. Riding back on Rt.22 was fun; the speed limit was 55mph but everyone was going at about 75mph.