I went over to the Great Allentown Fair on Monday, September 5th (Labor Day) for what is probably going to be my last fair of the 2016 season. There wasn't too many people on the road, so it took me only like an hour and change to get there. I got to the fair at around 3pm. Parking was $8, admission was $8. Powers Great American Midways and S&S Amusements brought in the rides and the fair had…
Khaos
Sea Ray
Wave Swinger
Vertigo
Fire Ball
Alien Abduction
Musik Express
Cliff Hanger
Zero Gravity
Rock Star
Orbiter
Super Shot
Coyote Run
Giant Wheel
Eagle 16 Wheel
Loop-O-Plane
Wipeout
Scooter
Sizzler
Tilt-a-Whirl
Crazy Chopper
Fun Slide
Balloon Fest
A load of kiddie rides (Monster Trucks, Charlie Chopper, Magic Maze, Fun Clinic, Happy Wheel, Spider Mania, Cobra kiddie coaster, Flying Elephants, Puppy Roll, Samba Balloon, Cyclone Tunnel.)
A massive number of games
An incredible selection of food
Several shows (Pig Racing, Scott's Future of Magic, Olympic Glory High Dive Show, Marvelous Mutts, live music, street entertainer.)
Some attractions (petting zoo, camel rides, freak shows.)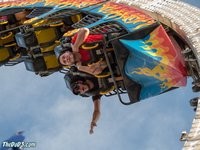 I didn't really know what to expect as far as crowds on Labor Day. It ended up being modestly crowded but with most people milling about the side thoroughfares with the rides midway seeing some very light crowds. I see that this fair made it in the top 50 fairs attendance-wise in 2015, but after going to it for so many years I'm not sure how they swing the 350k attendance (and around 400k this year.) Maybe the fairgrounds hold more than it seems? Perhaps the concerts have something to do with it? The lineup this year featured the likes of Jake Owen, Kidz Bop, Chris Stapleton, Meghan Trainor, Jeff Dunham, and last but not least KISS.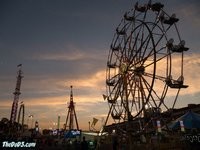 The ride line up was switched up a bit with S & S Amusements booking in a few more rides this year. Most notably was their Musik Express (a Majestic version), a Big Eli Eagle 16 wheel which took up a stately spot in front of the Wave Swinger, and their Loop-o-Plane, which was plopped in by itself behind a Gull Wing generator across from the petting zoo…not as stately of a spot. I saw someone over at Carnival Warehouse rag a bit on S & S's rides, but I thought they looked good, the wheel especially with LED trim and flashing turbos (or at least turbo style lights) in the center. Wipeout was the lone exception, looking…well traveled I'll say; didn't raise up in the air either.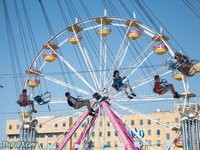 When I first arrived, I watched a street performer for a bit. He was already on his last act of riding a tall unicycle while juggling two torches and a machete. The east side of the midway had Powers' refurbished Big Wheel, Balloon Fest, Wave Swinger and a couple of kiddie rides. I was surprised to see that the wheel now has a yellow and magenta color scheme and NOT the usual blue and white that Powers has a penchant for. It looked nice!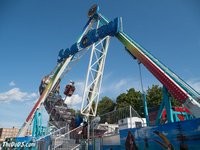 Sea Ray, one of Powers' new rides for 2016, was across from the Big Eli wheel. This is a larger swinging ship ride manufactured by Mulligan. It's kind of between a Chance Pharaoh's Fury and Huss Pirate in terms of size. The ride had LED on the signage as well as trailing up the supports and on a stripe underneath the ship. The base had Pirates of the Caribbean inspired vinyl wraps. The single position lapbars looked like they gave a pretty generous space for airtime.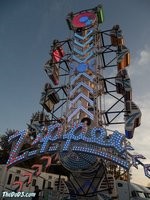 Khaos was towards the front of the midway this year and never really had a line all night from what I saw. I rode this last year and I think I'm fine with that being the only time I take a spin considering my increasing intolerance of swinging rides. On the opposite side of the midway was Zipper, which had been redone this year. The ride now features color changing LEDs, becoming standard on most Zippers I see nowadays, as well as two discs with LEDs on top of the bull wheels. Interesting look to say the least.
I did a couple laps of the midway, once with my 14-42 lens and a second time with my 40-150mm lens for some telephoto ride shots. I was able to get some decent shots of riders on the rides with this lens but the thing about it is that the lens has no stabilization. For telephoto video shots the shake is very apparent (I wasn't carrying a tri or monopod), but for photos it's fine because I can crank up the shutter speed to where it's faster than my hand's shaking.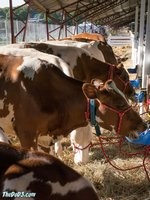 I headed into the indoor areas after getting my fill of the midway. I headed through the portion underneath the grandstand which housed an assortment of stores and vendors as well as a model train exhibit. At one point you have walk through a dollar store where a guy was camped out. Not exactly sure what his role was or if he even worked there, but he was pretty much accosting everyone that came by, asking me to take his photo in particular. I overheard someone mention that the guy almost made them not want to walk through.
After exiting the building, I went over by the barns to see the various livestock and small animals. The pigs were all just lazing about, and man, they smelled like hell. Not surprising, they are pigs after all. Cows were on the far end of the same barn. Two adjacent barns had sheep and goats and a final enclosed building had poultry, rabbits, and other small animals.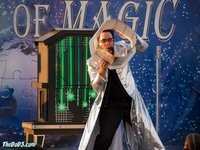 I did a once over of the Agri-Plex which held the arts, crafts and agricultural exhibits. Outside I saw that Scott's Future of Magic was underway and decided to check it out. I actually remember seeing this guy at North Brunswick back in June but only stopped by for a couple minutes at that fair. The show featured stage illusions like having an audience member levitate on a chair, dividing his assistant into thirds, and an origami box trick among other things. One of the better magic shows I've seen at a fair.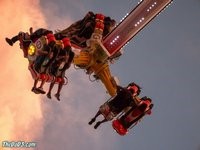 I did another round of the midway as the sun was setting before grabbing a bite to eat. The games area of this fair spanned the entire midway closest to the grandstand building; just an incredible number of line up stands and center joint games. A few kiddie rides also lined this area including S&S's Spider Mania, which seemed to have been redone with some color changing LEDs on the sweeps. After taking a photo of someone playing Shoot Out the Star, I swung around and saw that another guy was taking a photo of me taking a photo of the guy shooting. My photo didn't come out to hot, wonder if his was better?
I exited the fair at around 9:45pm, 15 minutes prior to closing time. Nice fair to end the season I think, although I've definitely seen better ride lineups in the past at this one.
Here's a video! I've done a music video of this fair every year in the past and decided to do a plain one for a change:
And he's a stack of photos – in total I have over 150 photos, the most yet in a trip report. I took 750 photos total!