Published: Sept 24, 2008 | Last Updated: August 20, 2020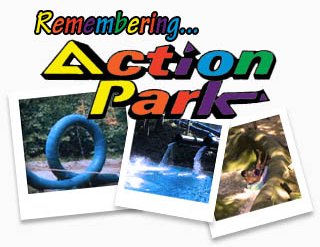 Page 1: Near the Park Entrance
My home state of New Jersey is full of legendary things; The Jersey Devil, The Blue Hole, Jungle Habitat, mysterious orbs, and much more. But if there is one thing that the Garden State is most renowned for, that would be Action Park …the most dangerous waterpark ever. It was akin to a testing site for water rides using humans as their crash dummies. If you ever get one of those "you know you're from New Jersey…" chain emails, you'll most definitely find "when you or someone you know has been injured at Action Park " as one of the requirements.
Action Park opened its doors in 1978; it was one of the pioneering waterparks, a prototype almost. Today you'll see similar slides at many waterparks across the country, but Action Park's slides all seemed like they were built in-house. Slides were set into the hillside or on wooden supports when need be, while river rides almost looked like natural runoff streams filled in with plastic lining.
Another difference from the usual waterpark environment was that the park was not located at the shore, or on some large flat expanse. Rather, Action Park was located in the hills of northern NJ, in Vernon. Action Park was technically located in a ski area called Vernon Valley/Great Gorge (now Mountain Creek.) Due to this fact, Action Park had many ski lifts that sat dormant in the park…well except for one, which we'll talk about later.
Action Park had several sections to venture through:
There was Waterworld, which featured traditional waterslides along with other attractions.
Next to it was Roaring Springs, which was set in a rugged section of the mountain. Many of the attractions in Roaring Springs were river type rides which made their way through a lush and densely wooded landscape.
Right inside the park gates was a largely overlooked section that contained some random attractions such as the Alpine Slide, Bumper Boats and Cannonball Loop. I forget the name but it was something like Daredevil World, or some crap like that.
Across the highway was Motorworld, an area filled with souped up go-kart tracks and other car/boat related attractions.
Finally there was a section with a couple of old school bungee rides off to the side. I'm pretty sure these were added later on in the park's life as bungee rides seemed to explode in popularly in the early 90s. I never knew how to get over to that section; it seemed like it was in a small nook-like area that was clear cut of trees. Since it was Action Park, it was probably accessible by being shot out of a cannon.
Here's a map of Action Park circa 1995 or 1996, both files are in PDF format. Thanks to Steve Walkuski for scanning them!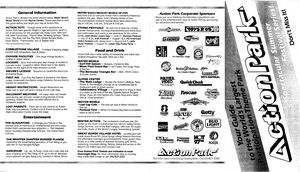 The Cannonball Loop
I was one of the idiots that accepted you-know-who's crisp $100 bill to test run it. That was my last ride. $100 did not buy enough booze to drown out that memory.

–Tom Fergus, former Action Park employee
March 2015 Update: The park is reportedly adding a new looping waterslide.
November 2017 Update: Still waiting for that slide…
2019 Update: Still….wait…ing…
Upon entering Action Park, a patron would immediately come across the most infamous slide in waterpark history. It was called Cannonball Loop…it was a looping waterslide. It was a looping waterslide.
Cannonball Loop was a slide built circa 1985 and was set down in a little ravine. The top of the slide sat on a winding staircase which itself sat on the rim of the ravine. The slide was enclosed and consisted of a long, straight section that was angled at maybe 45 degrees. At the end of the hill was a ~20 foot tall loop… an honest to god vertical loop, not one of these wussy inclined loops that some slides have today and claim to be "looping." The slide ended immediately after said loop, dumping riders into a long, shallow splash pool.
When I visited Action Park, the slide was never open. As a matter of fact, the area was practically cordoned off. It just sat there with nobody near it like a crime scene waiting to be analyzed.
The real story about the slide is was hard to come by; some say it never opened, some say it opened for a month and injured people, some say that the dummies used during testing came out all mangled with missing limbs. The only actual fact I've seen was the story about the escape hatch at the bottom of the first hill. In the event that someone didn't complete the loop, they could climb out the hatch.
Someone once e-mailed me saying that they had been down it and had a video of people going down it. I asked for a screencap from the video and the person never responded. For some time, I had my doubts as to whether it ever opened to the public…that was until this article got popular, and I started receiving eyewitness accounts of the ride.
Since adding this page I have received a few e-mails regarding the Cannonball Loop. One of the first was sent in by reader Chris Ish:
It was open – for a few brief periods. The picture you have up is real and not altered in any way. I used to work there and I rode on it once. Everyone makes it out to be the most insane things action park did but it wasn't that bad. I remember one person getting stuck in the tube because instead of riding down with her feet crossed and arms folded across her chest she put them out and braked then didn't have the speed to get around. That is why they built the hatch at the bottom of the slope (not the top of the loop as the wikipedia article suggests).

A few people did similar things or for some other reason did not get sufficient speed and they landed face first on the inside of the top of the loop. One person injured his two upper front teeth when he did this and had them dig into the soft lining (it was like wrestling mat material). The biggest problem is that sand and dirt and such would collect at the botton of the loop and the people would start coming out with abrasions over their entire backs. Then they would have to close it down and clean it out. I believe (and I could be wrong about this) that what finally closed it down was that after it was open for a short while an insurance adjuster finally came around to look at itand went ballistic.
DoD3 reader Eric then sent me these four photos that he had found on a message board. The photos were in turn taken by another DoD3 reader Shawn; the person on the platform is his brother. The photos basically prove that the slide did open at some point (according to the images in 1996, Action Park's final year.)
And finally, the coup de grâce was when DoD3 Reader Dean D. sent in his story of actually riding the Cannonball Loop.
The Action Park loop was real and I rode it

I rode the Action Park water loop 2 times on the same day. I could have sworn it was in 1980 with my high school buddies when I was 18, but Wiki says it opened in 1985 so I guess I'm wrong. That would have made me 23 which just doesn't seem right to me. Anyway, none of my buddies did it. I remember it was the only water slide you just used your body. No rubber mat, raft, inner tube etc which was really unheard of at the time except for the 100 foot freefall water slide.

They made you cross your arms and legs and wet you down with a hose. The guy at the bottom would blow a whistle to the guy at the top signalling it was "all clear". You laid on your back and the guy would push you and whistle to the guy at the bottom. I remember the tube was completely black inside. The inside was not very smooth. You could feel the seams on your back and legs. The water was very cold. The first 50 feet or so was practically a freefall and you reached a very high speed. It was hard to tell when you were going around the loop since it was completely dark and you were going so fast. Mostly I remember hitting the loop and shooting out into the light all disoriented and having a little trouble walking. I had no scrapes or physical problems at all. In fact it was awesome so I did it again.

I remember another latin man and his young son doing it when I was doing it. The man had no problems, but his son who was very young, and very brave, got stuck in the tube. He looked about 10 years old and was too light to build the momentum needed to make it all the way around the loop.I remember wondering how they were going to get him out. They opened a trap door at the bottom of the loop. It took several minutes to get him out, he looked a little shook up but otherwise fine. My friends and I went to go on other rides and later in the day I went to go on it again, but they had closed it "for the day".

I went back to Action Park several more times over the years and always wanted to do it again. I was always disappointed because it was never open. It took some guts to ride that thing and wanted to test myself. I remember going in 1996 just before it was sold and it was still there, but it looked like an old, dried up relic of foregone days. It made me sad. But at least I can say I rode it!
April 2014 Update: A video surfaced online showing riders actually riding down the Cannonball Loop. Man, I remember when I first wrote this article on my old site back in 2004/2005 when riding the Cannonball Loop was almost like some urban legend with very little existing about it on the internet. Now, we have video proof. Amazing. The portion in question starts around 8:17. Notice how the person exits backwards and on their stomach. Good lord.
Also near the entrance was the Alpine Ski Slide, arguably the most popular attraction at the park. The Alpine Ski Slides were three long troughs that winded their way down one of the ski slopes. You would ride to the top on a ski lift (the only one running) and slide down on a flat cart that had wheels and a handbrake. The trip up to the top was pretty long, maybe 8 to 10 minutes. At the little Alpine Slide outpost, you had to jump off the ski lift chair before your chair left this unloading area. The stop for the Alpine Slides was just a midpoint stop, the lift continued all the way to the top of the mountain. If you didn't manage to scamper off the lift, then you were in store for a long, lonesome trip.
At the beginning of the slides, people were greeted to a lovely series of photos containing the horrible scrapes and injuries. They show these so you won't screw around while traveling down the hill. I was pretty young the first time I rode, so the photos scared the hell out of me and I burst into tears yelling "I don't wanna ride!"
The trek from the top to the bottom took maybe 4 minutes. If I remember correctly, there were attendants with flags stationed along the route. If you were going too fast then they would hold up a flag, which meant that you'd better slow the hell down. You could have conceivably ignored these folks and rocketed down the hill, but then you'd have your photo added to their pleasant photo gallery at the top. The Alpine Ski Slide was the site of the first death for Action Park; a pleasant thought. I'm surprised they didn't have a photo of a casket in their little collection.
If you keep traveling up the steep hill, staying on the main path, you will eventually come to an intersection. If you go left, you will go to Waterworld, to the right is Roaring Springs, and straight up the hill is the wave pool. Lets go left to Waterworld!