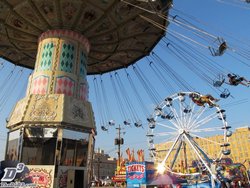 It's been over a month since I went to this fair so I think it might be about time to give a trip report. So, on Sept 2nd, I headed over to the 159th Great Allentown Fair in Allentown, PA. I didn't have my GPS (I need a GPS to find my GPS…) so I was thrown for a loop when the bridge I normally traverse in Allentown was closed. Luckily Allentown is a grid and I eventually made it to a parking lot near the fair. Admission was $6 and the rides were provided by Powers Great American Midways; the fair had:
Vortex (Fabbri 30m Booster)
Vertigo
Freak Out
Swing Buggy
Wave Swinger
Orbiter
Cliffhanger
Super Shot
Zipper
Spider
Sizzler
Pharaoh's Fury
Fireball (Larson)
Zero Gravity
Starship Exodus
Scooter
Giant Wheel
Haunted Mansion
Crazy Chopper
Several funhouses
A load of kiddie rides
Several freak shows
An incredible amount of greasy treats
Vendors and 4H exhibits
Concerts
When I arrived at around 6pm the ride midway was sort of dead while the two streets containing food and vendors on either side of the midway were packed. The grandstand near the center of the fairgrounds was also starting to fill up for the Sugarland concert that night (other days saw 3 Doors Down, Journey, Marc Anthony and others.) Up until it was dark out I pretty much just milled around, taking pictures and video, checking out the animals and 4H exhibits.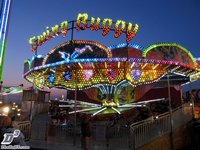 By 8pm the crowds began to pick up on the midway. I decided that I wanted to hit some rides as it would probably be the last big fair I go to in 2011, so I picked up a POP wristband for $20 along with 4 tickets to ride Vortex (the ride was either 8 tickets or 3 tickets with a wristband…but Powers only sells 4 tickets at a time…) I hopped on Swing Buggy first, a Bertazzon Matterhorn type ride; usually you see these things named Rock & Roll. The ride ran for probably 3 minutes, forwards and backwards. Nice looking ride with LEDs all over the place plus strobes that were used occasionally.
Next I went one ride over to the KMG Freak Out. Considering how nearly every other ride on the midway had LED lightning, Freak Out actually looked a bit strange with its multi-colored turbos. The ride itself lasted about 2 minutes, which was much longer than all of the KMG pendulum type rides I've seen this season. Some girl sitting across from me didn't look too well at all during the second half of the ride but luckily nothing happened…swinging into vomit would not have been fun at all.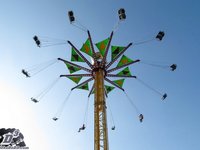 Next I rode the ARM Vertigo. While loading I noticed that the seats on one side were about a foot off the ground while seats on the other were about 4 feet off the ground; this was no thanks to the slanted parking lot of course. They actually had a stepladder on hand for those who couldn't jump in. The ride itself was great giving a nice view of the midway and Allentown itself; you could even see Dorney Park form up there which was less than 3 miles from the fairground. I rode Tilt-a-Whirl afterwards and tried my best to keep the car spinning by shifting around in the seat…but aside from a few good series of spins I pretty much failed.
I decided to get on Vortex next. The ride op waited a bit for more riders before revolving my car up to the top to let another pair of riders on. Since I was the only one in the seats, the car was horribly unbalanced and I basically faced straight down while the other car was loading…of course I thought that was awesome! Too bad I didn't ask to bring a camera on or I would have gotten some pretty nice downward shots. During the ride, namely when it started to slow down, my unbalanced car would tumble around like I was riding a Zipper. At one point the car flipped over the top and then stayed upside down until it neared the bottom; basically all I saw was ground rushing towards me until flipping right-side up. All in all it was a great ride!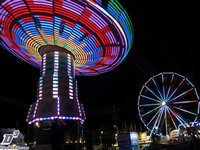 I went over to Wave Swinger next and got a very long ride for a wristband night; probably around 4 minutes. The ride had a great sequenced LED light show which honestly rivaled the nearby Ferris Wheel's light show. Being a Zierer model it also featured artwork on the scenery panels giving it a carousel-type look. I jumped on Zero Gravity next, one of those updated Dartron Round Up rides. I had actually never been on one before and was surprised to see how fast it picked up speed! I also took a ride on the Super Shot drop tower which, despite its name, simply hoisted the car to the top and then dropped.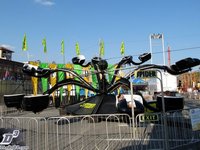 I thought about riding Fireball next but decided against it as Zero Gravity got me a tad bit woozy. I really should have though, Powers' Fireball is without a doubt the fastest freaking Larson Fireball I've ever seen. Like, seriously, it was going about as fast over the top as most others go at the bottom and it was satisfyingly loud as a result (check out the video of it below!) After a bit I went on Spider as I hadn't been on one in years and proceeded to have my car basically spin for the entire cycle. I mean it was fun for the first minute but after that I was like "damn, how do I stop this thing?"
As for the other rides, Orbiter looked really nice with every inch of it covered in LED lights, same with Sizzler actually. As I mentioned before the Ferris wheel also had a nice LED light show, unfortunately it was no single riders like every other wheel nowadays. The fair also had a couple of interesting kiddie rides, one being Crazy Chopper which was pretty much just that, an out of control helicopter! It's made by CMD Enterprises apparently, could have sworn it was a Zamperla though. They also had a Go-Gator looking coaster with spinning cars; now that's cool!
I left just before the 11pm closing time and had an easy drive back to NJ.
Photo time! 
Finally here's a music video of the fair:
And a video of that fast Fireball I was talking about: