Music Fest is a free concert/festival held annually in September at Oak Ridge Park in Clark, NJ. The event features rides, games, vendors, food, and of course performances by an assortment of bands; from local artists to big name acts. This year Blondie headlined the MusicFest on Saturday night (Sept 17th) along with Collective Soul on Friday and Southside Johnny and the Asbury Jukes on Sunday.
I decided to head over on Saturday night to catch Blondie, not that I'm a fan of Blondie or anything but at least I know some of their songs unlike the other two headliners (I have a feeling I'm going to get some flack for that haha.) I got to the area around Oak Ridge Park at around 7:45pm and searched around for street parking. They do a pretty good job of denying street parking in the immediate area of the festival but I eventually found some open spaces nearly 3/4 of a mile away…then I walked! Just an aside, there was the option to park on-site for $10; personally I'd rather get the exercise than be out 10 bucks!
As I walked into the festival, Neon Trees were just finishing up so I headed over to the carnival midway and side stage. The carnival, run mostly by McCafferty Enterprises, had:
Casino (Chance Trabant)
Sizzler
Round Up
Chair Jet
Gondola Wheel (closed)
Gravitron
Fun Slide
Dizzy Dragons
A myriad of kiddie rides
A couple of funhouses
I was a little let down with the lineup because last year because along with the rides listed (save for the Gravitron), the midway also had a drop tower and Eyerly Sidewinder; the latter of which you just don't see everyday and I was hoping to get a video of it this time around. Now I really hate to be an outright knocker of carnivals (unlike how I used to be) but some of these rides looked pretty rough. I honestly don't remember them looking all that bad last year. The Gravitron, which actually looked like Blue Sky Amusement's old Gravitron, looked like some of the paint had been sandblasted off the panels and never re-done; most of the lights didn't work either. It wasn't the most pleasing looking but was in good operating condition and I guess that's all that really counts.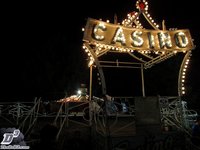 Sizzler looked to be an older model with white florescent light tubes for lighting instead of turbos or LEDs. Interestingly the ride ran with both the main and secondary sweeps running in the same direction (video below.) Casino didn't look too bad but they decided to shine a large, ugly spotlight on the ride deck which gave it a more construction site aura than carnival flair; by day it probably looked much better. To the rides credit they did run it on a really long manual cycle. Round Up, also didn't look too bad with multicolored turbos on the cages. Chair Jet also looked nice with wildly flashing lights; it also ran at a pretty good clip. The gondola wheel sat unlit.
Let me just clarify something, I'd rather have rough looking rides that run properly than nice looking rides that are poorly maintained.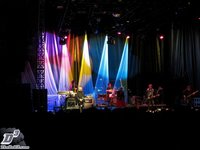 While I was there I checked out the Crossroads stage next to the rides. Some band called Chocolate Bread were playing who were actually pretty good; they kind of had a jam session type of sound to some of their songs which I just eat up. I eventually made my way over to the main stage to see Blondie, who started at 8:45 that night. I kind of squeezed my way to about 200 feet of the stage where I found a pretty clear spot towards the left side of the field. I stayed for about half of the set before getting out of the closely packed crowd; no joke, there must have been about 10,000 people there…although I heard last year, when Train played, there was even more.
I stuck around for the rest of the set, grabbing some zeppolies in the meantime, before leaving as Blondie was just finishing Heart of Glass…because there was no way I could leave before hearing that without upsetting the New Wave gods or something.
Hopefully the county will continue to have MusicFest; I know it's been under fire recently for questionable accounting practices, with some county residents calling for its discontinuation. It's a fun event, and probably the only big thing Union County has each year, it would be a shame to see it cut.
Here's the rest of the photos
And a video of that Sizzler