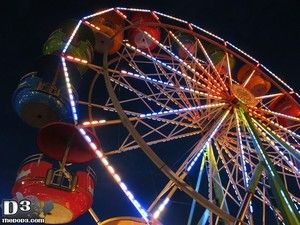 The local fair at Our Lady of Peace Parish in New Providence, NJ has come and gone. It's a bit strange saying that as for as long as I can remember, the fair has been in mid-May instead of this year's  May 7th to 10th dates.
Blue Sky Amusements did the event once again, a show that has been doing the spot for nine years now; coincidently that is also how many years worth of trip reports I now have of the OLP fair! I would have more but those old, old trip reports are long gone. Anyways, the fair was a tad smaller than last year with a couple of rides swapped out. The fair had…
Zipper
Riptide
Himalaya
Round Up
Tilt-a-Whirl
Swinger
Big Wheel
Super Slide
Monkey Maze
Toon Town
Merry-go-Round
Climbing Wall
A number of kiddie rides
A selection of games
A smörgåsbord of greasy treats
A handful of vendors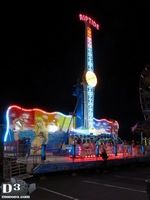 Now the show is called Blue Sky Amusements, but they got nary as blue sky for the duration of this event. I stopped by three of the four days: Wednesday was cloudy with threats of drizzle, Friday was mired in an unending mist, and Saturday had some peaks of sunshine but with torrential downpours sprinkled throughout the day. While the damp conditions cut down on crowds, the rides still seemed to have some decent lines at night, Zipper and Riptide in particular.
Riptide was re-done this season with at least new art on the platform skirt, gondola panels and back wall along with a new color scheme. While the old colors and art were nice, it has a lot more color variation now which goes a lot better with the sequenced LEDs on the boom and gondola. Also, the gondola has a little Easter egg of sorts with an Ultimate Warrior mask painted on the back, a popular wrestler in the 80s that passed away recently. As a wrestling fan, that was pretty awesome to see!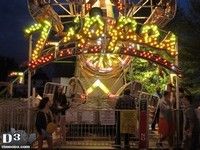 Tilt-a-Whirl also had some work done, namely on the cars which got a new coat of red and blue paint as well as those creepy clown faces that a lot of Tilt's seem to have these days. Zipper made a return to the fair after a one year hiatus. On busy nights they were loading both sides simultaneously, something a lot of shows don't do, even ones playing much larger and more crowded spots.
Round Up replaced Starship Gravitron this year as the token centrifuge ride. I don't know if they always had it, but I noticed that a recording of riding instructions played prior to each cycle. This is needed because standing against a wall is an amazingly tough feat to accomplish for many people. I even poked fun at this occurrence in a ride review that I wrote years ago and it still rings true today!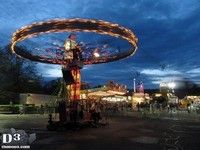 As for the other rides, Swinger took up its usual spot to the left of Zipper. To the right of Zipper was Himalaya, a Wisdom model. I love how this ride has a relatively weak sounding siren coupled with what literally sounds like an air horn that a firetruck would have. Giant Wheel had been moved from the side of the lot to the back. Super Slide sat in the middle of the lot but didn't seem to be open for the duration of the fair. A climbing wall game (I think it was a game, they usually are at least), about five kiddie rides and a carousel rounded out the lineup.
I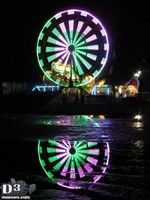 nside of the OLP gymnasium was a sit down restaurant along with a variety of vendors and a "new gifts" table. Back in the day they used to have a "white elephant" sale, basically a rummage sale. I kind of wish they'd bring that back, but I have enough useless junk already so maybe not. Outside, near the school, was an ally of games and food joints. I ate at the fair once, grabbing a burger and hotdog  from the Knight's of Columbus stand with my pops. I also picked up a bag of zeppoles one night because a a trip to the local fair just wouldn't be complete without that!
With the completion of the fair, it's back to watching the grass grow in New Providence!
Here's a batch of photos from the fair, including some from before the fair!
And here's a video featuring some of the midway rides!