The hometown's fair, Our Lady of Peace Parish's Country Fair, came around from May 10th to May 13th. Something like a week before the fair started, I saw several ride trucks parked in the lot when I biked out that way. Interestingly, one of the racked rides looked like a dark ride that wasn't setup at the fair. Anyway, I got to the fair twice this year on Thursday and Friday. The rides were brought in by Blue Sky Amusements and the fair had…
Polar Express
Zipper
Starship Gravitron
Tilt-a-Whirl
Scrambler
Scooter
Chair Jet
Gondola Wheel
Monkey Maze
Super Slide
Several kiddie rides (Merry Go Round, Lollipop Swing, Tubs of Fun, Quad Runners, Flying Elephants)
A collection of games
Various greasy treats
Vendor area, beer garden, raffles, etc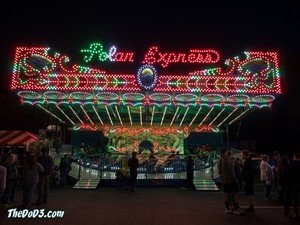 There were a few new rides this year, most notably was Polar Express, Blue Sky's new Wisdom Himalaya ride. As per the name, the ride has an arctic motif with polar bears, penguins and iceberg artwork. This ride also has so many LEDs, sooooo many. They flashed through endless color combos, blinked, sequenced, everything. On both nights that I stopped by, Polar Express had a lengthly line with a line that spanned like 1/5 of the midway on Friday night.
A second new addition this year was Scrambler, an Eli Bridge ground mount model. This had a blue and magenta color scheme with some multicolor Turbos on the sweeps and center ornament. I don't know if this is a new piece owned by BSA or a book in, or what. I thought it looked nice! The last new ride for the fair that I could ascertain was the Lollipop Swings, a Zamperla Lolly Swing.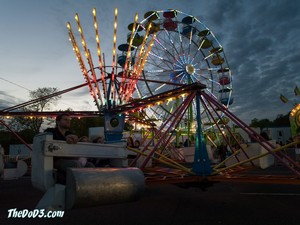 The layout was slightly different, but not much. Polar Express took up the "big ride" spot on the south side of the lot with Zipper placed in the corner next to it. Chair Jet was moved to the back end, in-between Scooter and Tilt-a-Whirl. Games consisted of a watergun race, Flip a Chick frog bog type game, balloon dart, chance wheels, knock over the X, and a dunk tank that seemed to go unused due to the colder temps. Inside the gym of OLP Academy were vendors, a raffle table, and a sitdown dining area. Looked like more vendors this year, or maybe I'm just misremembering.

Thursday night was somewhat crowded with crowds starting to drop off at around 9pm, which was also when I left…but not before grabbing a bag of zeppoles! Friday night was jammed. More crowded than I've ever seen it on a Friday. I guess most people heard about the rain forecast for Saturday and came out on Friday instead. Unfortunately, the rain verified on Saturday and the fair ended up closing everything besides the indoor areas and beer garden. I heard that the rides were mostly packed up by 5pm by someone who went to Mass that night.

Here's some photos!

And a video!