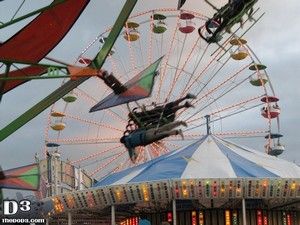 I go to roughly four "big" fairs each season. The first of which is always the Youth Sports Festival in North Brunswick, NJ. The fair is located in a field next to Devry University in North Brunswick and is almost impossible to miss when driving down Route 1, a major thoroughfare in central Jersey.
I headed down to the fair on Saturday, the 14th. I left at 7pm and arrived about 40 minutes later. Upon approaching the fair, I was met with the access road to Devry's parking lot choked with cars…but not nearly as congested as the opposing eastbound lanes! I rounded the lot a couple of times before finding an open spot. Strates Shows was doing the midway for the second year now. Admission was $5 and the fair had…
Enterprise
Zyklon
Sky Flyer
Musik Express
Zipper
Thunderbolt
Fireball (KMG)
Fire Ball (Larson)
Wave Swinger (down the night I went)
Starship 2000
Cliff Hanger
Tilt-a-Whirl
Giant Wheel
Double Carousel
Super Slide
Haunted Mansion
4x Funhouses (Club Scene, Cuckoo Haus, Monkey Maze, Raiders)
A bunch of kiddie rides (Mini Himalaya, Wacky Worm, Happy Swing, Hampton rides, Red Baron, Dinosaur, Mini Indy, Go Gator, Fire Cheif, etc)
Lots of entertainment (Wambalds Amazing Animals, 

Rosaire's Royal Racers (pig races), Commerford's Petting Zoo, Maneuver Motorsports show, Ditsy the Clown)

More than an assortment of greasy treats
Lots of games
Fireworks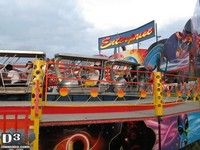 Like I said, it's a big fair with Strates bringing in most, if not all of their active pieces. Now, I had an agenda for this fair, a one item agenda…get a video of Enterprise. Everything else would be gravy. Enterprise took up the same spot as the year prior, at the far end of the midway. The sign now matches the rest of the ride and it seems like its makeover is now 100% complete. The ride had a lengthy line all night and they were enforcing a no single riders rule. I'm not sure if this is a new rule or just something they do on crowded nights. Hopefully the latter as none of my usual fair partners can handle a spin on Enterprise!
Across the way was Zyklon, a Pinfari coaster. They were running one car at a time which meant that the ride had a looooong line. Cliff Hanger was hanging out next to Zyklon and had been redone with new LEDs and a new center ornament adorned with LED strips. A Chance made Thunderbolt replaced the Reverchon Himalaya, which isn't on the road this year as of yet from what I hear. I think Thunderbolt is a better addition anyway as they already have Musik Express on the midway.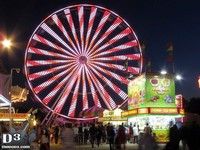 Wave Swinger sat across from the wheel, but was in the process of being either worked on or taken apart. The frame was lowered close to the ride deck with all of the swings taken off and sitting on the deck. They did have the lights on, probably so it didn't look like some creepy abandoned ride! Giant Wheel anchored the far end of the midway and sat right next to Route 1. Like I said, there was no way to miss this fair! Club Scene was next to the wheel. I like the spiral of LEDs they put behind the spinning barrel, looked pretty trippy!
Here's the first batch of photos from this half of the midway: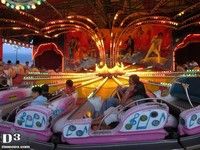 The west side of the midway had Tilt-a-Whirl, Starship 2000, and a majority of the kiddie rides and funhouses. The front of the midway featured a few more majors such as Musik Express, Sky Flyer, Fireball, Zipper and Strates' famous Double Carousel. They must run Fireball on a manual cycle because the ride definitely seemed to change every time. Unfortunately, they weren't always swinging it to full height on each cycle either. Musik Express garnered the biggest line in this section of rides. Looks like the ride still runs faster than any other Himalaya ride I've ever seen. Nice!
There were a few shows going on that night. I didn't bother with Wambald's Amazing Animals and the pig races, mostly because I see stuff like that at the Meadowlands and NJ State Fair. I somehow missed the motorcycle show going on that night. Like really, I have no idea how I missed it as it was placed in the middle of the lot! I did catch a fire breather dude outside of the freak show doing his thing to get people inside. While walking at one point I passed a tricked out mini car with LEDs on the bottom. I did a double take to see that it was Ditsy the Clown's car, who was doing face painting nearby. It's pink, and small as heck, but it would be so much fun to drive that thing around the midway!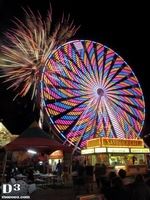 The one show I did catch were the fireworks. Like the previous St. Vincent de Paul Carnival trip report, I had no idea where they would be until the first warning shots before the show went up. I had a feeling it was near the wheel, and guess what? I was right! I proceeded to take a grand total of 140 photos, 35% of which were blurry since I was hand holding while doing long exposure shots. I really should get a monopod, or some unobtrusive mount to bring along to these fairs that I know I won't ride anything at. I actually saw someone with a small camera/phone mounted on what looked like a golf club. Apparently it's this thing… a "selfie handstick." Uh…okay.
Here's a 10 photo gallery of fireworks:
I walked around a bit more, grabbing some more photos. There was a great full moon that night, but I couldn't seem to get any good shots of it paired up with various rides. It was actually getting pretty chilly out as it got later but I was fine in my jeans and hoodie. This spring has felt really cool overall, even though the temperatures have been pretty much where they're supposed to be. I eventually left at around 10:45pm. Once again, NBYSF doesn't disappoint!
I didn't get many photos of Enterprise in action, but that's because I was too busy taking this video!
And finally here's the second half of the midway: