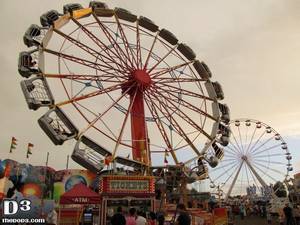 I was originally planning on heading over to the Youth Sports Festival in North Brunswick, NJ on Friday, June 21st. As you might know, I ended up taking a somewhat impromptu trip down to Coney Island that day. So instead, I pushed the fair to Sunday the 23rd. I left for the fair at a little after 6:30pm and arrived at 7:30. I like how this fair has a lot of free parking, pretty much taking over DeVry University's lot.
As I walked to the gate, I was met by a banner proclaiming that large bags and backpacks were not allowed in the fair. I was rocking my usual small, green backpack, so I headed back to the car and stuffed whatever I needed into my pockets. Hand sanitizer, water and a camera pouch didn't make the cut.
The midway was markedly different this year as the famous, railroad traveling carnival Strates Shows had the spot, as opposed to Reithoffer Shows who had the fair since 2010. The fair had: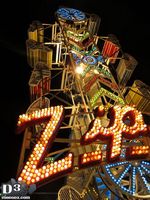 Enterprise
Zyklon
Sky Flyer
Wave Swinger
Giant Wheel
Fireball (KMG)
Fire Ball (Larson)
Musik  Express
Himalaya
Zipper
Cliff Hanger
Starship 2000
Tilt-a-Whirl
Scooter
Haunted Mansion
Super Slide
Double Decker Carousel
3X Funhouses (Club Scene, Monkey Maze, Cuckoo Haus)
An assortment of kiddie rides (Happy Swing, Mini Indy, Wacky Worm, Mini Himalaya, etc.)
Multiple shows (Wambold's Amazing Animals, bear show, trapeze show, freak show)
Camel rides and petting zoo
Music stage
A ton of food
A myriad of games
Several vendors
Anyone that knows Strates Shows will know that one very notable ride is not on this list, that being the Huss manufactured Top Spin; the only Top Spin traveling in the US. I'll admit, I got my hopes up that Top Spin would turn up while highly doubting that it would be there at the same time.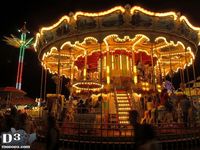 In terms of rides, this is probably one of the larger carnivals in the state. The layout was setup as a large rectangle with rides on both sides of the path, games/vendors/food joints in the middle of the paths, and show trailers/living quarters in the center of the rectangle. The first ride seen upon entering was Strates' Double-decker Carousel which I beleive is a Bertazzon Venetian Carousel. I never noticed it before, but it's very similar to the models at Morey's Piers in Wildwood, NJ, both of which are Bertazzons.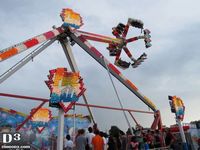 Going clockwise around the midway, I came across Zipper, Fireball, Cliffhanger and Sky Flyer all placed towards the front of the fair. Zipper and Sky Flyer looked great with LED lighting. Cliff Hanger may have had LEDs, but it's hard for me to tell on these types of rides for some reason. On the other hand, Fireball looked like it was all turbo lights. Since Strates has recently been putting LEDs on most of their rides, I have to think that Fireball is going to be getting them at some point.
Down the west side of the midway was where most of the kiddie rides hung out, including two funhouses. I noticed that Strates' Wacky Worm style coaster (don't know if it was called "Wacky Worm") had on-ride photos. That's a first!
Towards the back of the midway was where a majority of the major rides were located starting with a sharp looking Wisdom manufactured Starship 2000. The ride had nice artwork on the flash and UFO along with sequenced LEDs on the UFO. While walking by at one point, I saw a worker hauling a bucket of water and squeegee into the ride. I would hate to be on a Starship when someone pukes. I wonder if it goes everywhere…actually, no, I don't really want to find out!
Here's photo batch #1!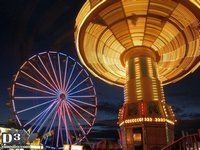 At the northwest side of the midway was Giant Wheel. This seems to be the typical ferris wheel spot at this fair as it's right next to Rt. 1. Nothing says that a fair is going on like a 125 foot wheel towering next to the highway! Strates' Giant Wheel has to be one of the tallest traveling wheels in the US, right up there with Reithoffer's Dutch Wheel in terms of height. The last time I saw this wheel was back at the Orange County Fair in 2007 when it just had turbo lights. Now, the wheel features an LED light show that flashes through a plethora of patterns. Stunning is a pretty good word to describe this massive wheel.
Across the way was Wave Swinger, a wonderful looking Zierer model. Seems like they want to keep it classy looking with white lights all around. Why hide the artwork with sequenced LEDs, right? On top of that, this sucker spun fast with riders sailing high over the midway. Himalaya was another neat ride to see; you just don't see Reverchon models too much anymore. Although, the ride could use a bit more lighting, especially inside the structure.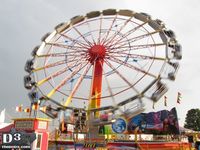 On the opposite end was Zyklon, a Pinfari coaster, and Enterprise. Zyklon had one car running, which must have resulted in an excruciating wait with four per car going out. Enterprise was running full loads on almost every cycle thanks to the ride ops waiting until the entire ride was full before starting. If there was a few open cars, they would wave in potential riders, put them in a car nearest to the entrance, then turn the wheel until the next open car was closest to the entrance and repeat. It looks like Strates put LED lighting on the sweeps and center and gave it a new color scheme; the ride is looking pretty European funfair-esque now! Unfortunately, half of the lights on the sweeps weren't lit on the night I went.
The east side of the fair featured a handful of rides, including Musik Express and Fire Ball. Musik Express, in particular, was absolutely flying. I seem to remember it running very fast when I rode it at the State Fair Meadowlands last year. This side of the fair was also where a majority of the games, food joints and vendors hung out. I couldn't help noticing that the stands selling T-shirts had Duck Dynasty and Lizard Lick Towing shirts prominently displayed. How those two shows got so popular that people actually buy their shirts, I will never know. Could be worse, I guess. I mean, if I ever see a Moonshiners shirt, I'm going to have to buy it just to burn it.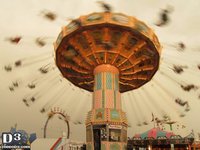 During my time at the fair, there were some dark, ominous clouds on the horizon that seemed to be growing larger each time I glanced in their direction. About an hour after I arrived, it started to lightly rain. Luckily, the bulk of the storm hit south of the fair and the rains ended quickly without picking up into a downpour or anything. The storm ended up providing a strong, yellowish backdrop for some of my photos as the sun set. I ended up leaving just before 10pm. Very nice carnival, as always!
Here's a final batch of photos:
And last, but not least, a video!