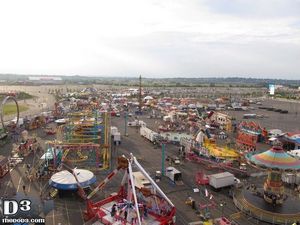 State Fair Meadowlands is undoubtedly the largest carnival in New Jersey. It takes place in the parking lot of Metlife Stadium, a few miles from New York City, in East Rutherford, NJ. I don't think I've missed a fair at the Meadowlands in over 15 years now. Shoot, I have trip reports on this site dating back to 2005 for this fair!
The fair seemed bigger than ever this year with a number of rides and attractions. Last year, Strates Shows had booked in some of their rides along with the usual show, Amusements of America. Being that Strates was doing the North Brunswick Youth Sports Festival this year, Reithoffer Shows had some of their rides booked in along with Amusements of America. The fair had:
Space Roller
Tornado (Huss)
Crazy Mouse
Sky Flyer
Fireball (KMG)
Wave Swinger
Yo-Yo
Himalaya (Wisdom)
Musik Express (Majestic)
Rock-n-Roll
Orbiter
Scooter
Gravitron
Banzai
Sizzler
Ring of Fire
Tilt-a-Whirl
Cliff Hanger
Big Wheel
Tornado (Wisdom)
Sky Ride
Bumper Boats
Merry-go-Round
3x Dark rides (Haunted Mansion, Tomb of Doom, unnamed one)
Multiple funhouses (Cuckoo Haus, Mardi Gras, Rock n' Roll Funhouse, a couple more)
Too many kiddie rides to count
Enough food to clog arteries 10x over
A vast selection of games
Shows: Circus Maximus, Racing Pigs, Big Cat Habitat, Hypnotist Steve Bayner
Numerous freak shows
Commerford Petting Zoo
Music stage
Bat Copter rides
Like I said, this fair is huge! In annual fashion, I went to the fair with a few of my cousins. Originally we had planned to go on Thursday, June 27th, but rescheduled to the 28th after I called off the trip due to the threat of rain. I ended up being correct in my call for Thursday, but rain was once again a threat for Friday, just not as much. We arrived at the fair at around 6:30pm and went to the will call booth to redeem our mega passes. The mega pass was about $27 bucks (plus phantom 'shipping' charge) which included admission and unlimited ride hand stamp.
I proposed that we hop on a bunch of rides first so that if it did rain, we would have paid off the hand stamps. First ride we got on was Crazy Mouse, a Reverchon spinning mouse coaster, which had a five minute line. This thing flew through the layout with nary a brake being applied other than at the end. This led to some pretty nasty turns, especially on the lower portion where the car spins. A hard turn, me not being up against the seat, and the stars aligning resulted in some legit whiplash which left me kind of sore the next day! Yow, now that's a Crazy Mouse!
Next ride was Rock-n-Roll, a Bertazzon Matterhorn ride. This ride started backwards and ended forwards. The ride op seemed to vary the speed during the forward cycle which made the cars swing around a bit. After that we slowed it down with a ride on Big Wheel. The top provided a great view of the fair, in its entirety, from one side of the gondola.
The massive, Huss manufactured Tornado was loading so one of my cousins and I hopped on. This is one of Reithoffer Shows' rides and was actually at the aforementioned North Brunswick fair last year while Meadowlands was going on. I never noticed it before, or maybe they recently changed it, but the ride had a 60 inch height restriction. The only other ride I've encountered with that high of a height restriction was Astroland's Huss Breakdance which, to be honest, was warranted. While waiting for the ride to start, my cousin noted that Snooki, would in fact, not be able to ride Tornado. Random and poking fun at Snooki, I like it. Tornado's cycle lasted a solid three minutes with multiple speed variations. This was great in my opinion, but not so much for my cousin who can only do high G force rides in moderation. Tornado is pretty deceiving. It doesn't look amazingly fast but the whipping motion of the pods makes the forces comparable to that of a Gravitron ride. Really, three minutes was getting to my threshold as well!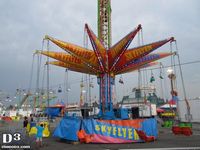 The clouds were looking a bit threatening, and some of our stomachs were rattled, so we decided to get on Sky Flyer and then see a show. Sky Flyer is basically a swing ride done high in the air. Like Big Wheel, it gives a wonderful view of the fair…well, if you can focus on any one thing as it revolves! As we got off, a smattering of raindrops began to fall so we headed over to the Big Cat Habitat show, a tiger and lion show. After the show, we grabbed some pizza and watched the hypnotist show with, who else, but Steve Bayner. I've been seeing this guy do hypnotist shows forever now. I think he even showed up at my high school's project graduation way back when. My favorite part of this show was when a participant was told to swipe a bunch of Tootsie Rolls from an adjacent stand once the hypnotist said "Meadowlands." Several minutes later, he was handing an entire basket full to the hypnotist!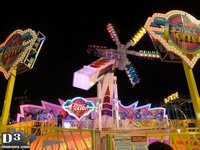 We took the Sky Ride back to the end of the fair and then broke up for a bit; two of my cousins went to see the circus show while another cousin and I hit a few more rides. First was Space Roller, a Mondial Top Scan ride. This is an independently owned ride, purchased by Jeremy Floyd during this past off season. With the new ownership, the ride received some swank upgrades with new back flash, color changing LED lights and deck lighting. The entire cycle was done backwards and lasted about two minutes. The seats flipped around like crazy during the ride along with some nice hang time at certain moments. Just an awesome ride all around!
Next we got in line for Orbiter, only to have someone puke on the ride decking just before we were loaded. Great. So, we headed over to Sizzler while the vomit was being cleaned up (aka. water dumped on it.) This was Amusements of America's new Sizzler ride and, man, it looked great! The ride ran pretty fast as well. I took an inside seat and, try as I might, I just couldn't keep myself from crushing my cousin into the side of the car. Orbiter was running once we got off Sizzler, so we hopped on that and got a one minute spin. Some might say that's too short, but I'm A-ok with a short cycle on one of those things.
We walked over to the opposite side of the midway and hopped on Yo-Yo, a Chance swing ride and one of Reithoffer's pieces. The ride was run somewhat slowly, but it was still fun nonetheless. After this we walked back to the circus and caught the three remaining acts. The first was a balancing act with the performer basically balancing on one hand the entire time. I'm pretty sure that her back had muscles on her muscles. Next were a trapeze duo who ended their act with one performer hanging from a triangle bar that was held in place by the second performer's mouth. The final act was a very impressive quick costume changing act.
We did one last loop of the midway hitting every dark ride along with Cuckoo Haus. Each dark ride was your usual ride through the dark with props popping up at certain points, usually with a noise for an added jump scare. They all had great looking artwork on the facades but the actual rides varied. I won't really go into each one, but I'll say that Tomb of Doom was the best of the bunch with an incredibly dark interior (it was night, however) and quite a few props.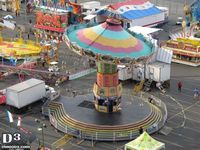 The final two rides were Musik Express and Wave Swinger. Musik Express was a smaller, Majestic model that actually went pretty darn fast. Again, I took an inside seat and again I crushed my cousin into the side of the seat despite my best effort to hold onto the bar like some cliff hanger holding onto a rope. Wave Swinger was all right. AoA never runs this one very fast. Certainly not as fast as Strates' Wave Swinger over at the North Brunswick carnival.
We had gotten our fill of rides by this time and decided to head out as a light rain began to fall once again. We got lucky, the original line of storms that looked to blast into the area broke up before getting to the fair. It turned out to be a great night at the fair! Before leaving, we checked out a few vendors. We once again waltzed through the giant, candy vendor tent. Again, they had the giant, baseball sized jawbreakers along with some other delightful delectables. The fair continued on to 1am this night. In the past, the fair would go to 2am on some nights! I arrived back home at around 1:30am. Very good fair at the Meadowlands this year; I'll definitely be looking forward to next year's fair!