Nothing says 'summer' like a trip to the State Fair Meadowlands, the largest fair in New Jersey! The fair, now in its 31st year, started on June 22nd and runs through July 9th and features over 150 rides and attractions and an incredible amount of food, games, and concessions. The rides were primarily brought in by Amusements of America and Strates Shows along with some rides brought in by independent operators. The fair had…
Crazy Mouse
Zyklon
Enterprise
Musik Express
Himalaya
Giant Wheel (Strates)
Giant Wheel (Amusements of America)
Fireball
Orbiter
Zero Gravity
Sky Ride
Wave Swinger
Banzai
1001 Nachts
Zipper
Sizzler
Tilt-a-Whirl x2
Cliff Hanger x2
Starship 3000
Rock N Roll
Vertigo
Sky Flyer
Scooter x2
Double-Decker Carousel
Merry Go Round
Family Swinger
Bumper Boats
Super Slide x2
Several Fun Houses

Mardi Gras
Cuckoo Haus
Crazy Outback
Rock n Roll Funhouse
Magic Maze
Pan's Palace
Raiders
Rainbow Rock
Spongebob Funhouse

Several Dark Rides

Tomb of Doom
Haunted Mansion x2
Unnamed Dark Ride (looked like another Haunted Mansion)

Lots of kiddie rides

Go Gator
Wacky Worm
Bees
ATVs
Wave Runner
Quad Runner
Flying Elephants
Happy Swing
Kiddie Bumper Boats
Teacups
Wet Gators
Mini Himalaya
Red Baron
Some others I'm forgetting

A bunch of shows & attractions

Hypnotist Steve Bayner
Rosaire's Royal Racers (Racing Pigs)
Open-Air Thrill Show
High Dive Show
Commerford Petting Zoo
Elephant and pony ride
live music
about six Freak Shows
…whew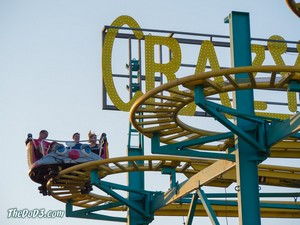 I went to this fair twice: once on Friday, June 30th and again on Wednesday, July 5th. The first night I went with a few of my cousins and we got the combo passes to jump on some rides. We got there at around 7pm. The fair was relatively quiet at this point as there was a threat of rain that night with a small line of showers bearing down on the Meadowlands as we drove to the fair. The rain ended up missing the fair, so we were good to go!
The first ride we got on was the Sky Ride which shuttled us to the far end of the midway. The next ride was Crazy Mouse. We figured we should jump on it earlier than later as it would undoubtedly have a long line later on in the night. It's worth noting that the fair now has Fast Passes, which can be used to essentially skip the line for an extra fee.
Crazy Mouse is a Reverchon spinning wild mouse coaster. This has got to be one of the earlier models of this type of coaster as I've seen it at this fair for what seems like forever now. The line was only five or so cars and built to around half a switchback long as we waited. The first half is pretty fast for a wild mouse coaster and we got some good spins on the second half of the ride. Next up was Crazy Outback, an Owen Trailers Cuckoo Haus with an Australian theme.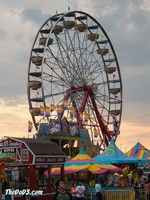 Giant Wheel was our next stop, Amusement of America's 90 foot Chance wheel. I think we were the only ones on it when we rode. Afterwards, we hopped on Himalaya, Strates' Reverchon model. I like these older model Himalayas quite a bit, mostly because you just don't see them all that often. Despite the lower crowds at this time, the ride actually ran with all seats filled.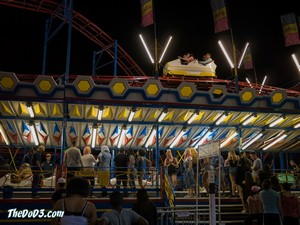 We walked around to the other side of the midway and got on Zyklon, which had no line at all. This is Strates' Pinfari Zyklon and I like this one a lot because it only has seatbelts as a restraint. The newer models of this coaster have shoulder harnesses, which make the ride a lot less comfortable. Seatbelts are really all you need on these coasters. Personally, I think I like this coaster more than Crazy Mouse. Our last ride for now was Scooter, a Majestic manufactured bumper car ride.
We headed back to the front of the fair to grab some food and watched the Steve Bayner Hypnotist show while eating. There were a couple of short warm up acts before Bayner came on, the first being a country singer followed by a quick flying squirrel demonstration. The singer, when asked about who he's opened for in the past, joked that "a flying squirrel" can be added to that list. Steve Bayner's show is always fun to check out. He's been at this fair for something like 20 years now, which is really impressive.
On the way back to the rides midway, we stopped by at the petting zoo which had a couple of camels, several goats, alpacas, and a few others along with some that couldn't be pet like a kangaroo and lemurs. Back to the rides, we hopped on a couple of dark rides. Haunted Mansion was first, an Owen Trailer dark ride. This one featured an S curve layout with props around every corner. The second was Tomb of Doom, which I think is an independently owned ride; Christiani I think? I liked this one better of the two as it had a maze-like layout with a short section where the cart seems to roll down a small decline and around a turn. Thanks to the pitch black interior, it felt like the car had just rolled off the track and into the unknown.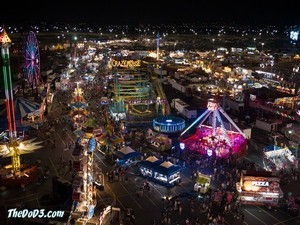 Giant Wheel was next, Strates' 100-something foot Dutch wheel; this ride had a short, one cycle wait. The wheel has LEDs on the sweeps which flash through a series of patterns; it looked wonderful! The view from the top was equally as great with one of my cousins commenting that the fair "looks like Las Vegas" from up there. I remember when AoA's wheel used to be the only wheel at the Meadowlands. That's a fine ride of course, but a big fair needs a big wheel like this one!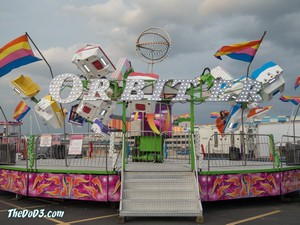 My cousins headed off to watch the Open Air Thrill Show while I decided to hang back and get some more photos. However, it started to rain a bit, so I packed my camera away and hopped on Orbiter instead, a ride that none of my cousins can handle anymore. This is a Tivoli manufactured ride that's independently owned by Lauther, who also had some other rides on the midway (the Tilt-a-Whirl, at least.) This was placed in the back end this year in one of the traditional "big ride" spots at the fair. The ride looked fantastic with LEDs and a sleek green/pink color scheme. The ride was very fast and only ran for like a minute and change because of it.
After exiting Orbiter, I got a text from my cousin that the Thrill Show had been canceled; probably due to the rain. I met up with them and we headed out shortly after at around 11:15pm.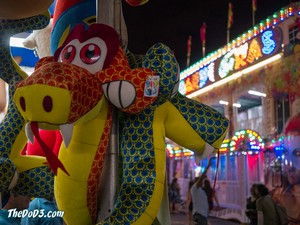 On Wednesday, July 5th, I got to the fair at around 7:30pm. The crowds were a little larger today, thanks in part to the great weather that day. Not much to say about this trip as it was just three and a half hours of walking around, snapping photos and taking video. I made sure to check out the games this time. Seems like the big ones this year were balloon pop games – including a giant, four man balloon stand near the front of the midway, and watergun races. There were also three bottle stand games, a few break a bottle stands, a least three shoot out the stars, several basketball games, some ring tosses, duck ponds, and two drown the clown booths along with a sprinkling of other games.
I watched the Bottle Stand game for a bit. Each one had a guy on the mic calling people in and demonstrating how to successfully stand the bottle. This seems to be the new "hard game" these days. I remember when those 4 ball pool table games were everywhere at this fair for a while; now it's the bottle stand. The only prizes to be won were huge stuffed animals, which kind of tips you off on how tough the game is. It can definitely be won, but it takes quite a bit of finesse to do so.
I hung around until 11 before heading out. Until next year!
Here's nearly 10 minutes of video!
And here's over 100 photos!