This year was the 30th anniversary of the State Fair Meadowlands, the largest fair in New Jersey located at the Meadowlands Sports Complex in Northern NJ. How many of those 30 I've been to, I don't really know other than the past 12 years that I've been going. The total is likely well over half its existence, and consequently over half of my existence since I'm only one year older than the fair!
Originally I was planning on heading over with some relatives on Friday, July 1st but the fair decided to close that night due to the storm threat (a good decision in hindsight). Plans sort of went into disarray until we made the decision to meet up at the fair on Wednesday. I didn't particularly want to go on this night as it was a discount night, but it was at the point where I may have missed out altogether if I didn't go that night due to schedules/forecasted weather/etc.
Amusements of America and Strates Shows paired up once again to bring in most of the rides, and the fair had…
Crazy Mouse
Zyklon
Enterprise
Sky Flyer
Vertigo
Musik Express (Bertazzon/Strates)
Musik Express (Majestic/AoA)
Himalaya
Fire Ball
Rock & Roll
Sizzler
Orbiter
Ring of Fire
Wave Swinger
Zipper
Giant Wheel (Strates)
Giant Wheel (AoA)
Zero Gravity
Cliff Hanger
Banzai
Scooter
Pharaoh's Fury
Tilt-a-Whirl (AoA)
Tilt-a-Whirl (Lauther)
Sky Ride
Double Carousel
Gravitron
Starship 2000
Super Slide
A few dark rides (Haunted Mansion x2, Tomb of Doom)
Several funhouses (Mardi Gras, Magic Maze, Cuckoo Haus, Crazy Outback, Spongebob Funhouse, Unnamed Funhouse, probably more.)
A Kiddie Land filled with kiddie rides (Family Swinger, Carousel, Frog Hopper, Go Gator, Rainbow Rock, Wet Gators, many, many more I'm forgetting.)
Several shows (Hypnotist Steve Bayner, Racing Pigs, Open-Air Thrill Show, High Dive Show, Magician Doc Swan, nightly music.)
Attractions (Petting zoo, Batcopter, NJ Hall of Fame Museum, freak shows)
An incredible selection of games
An even more incredible selection of food and vendors
It was a really big midway! Looking over the ride list, you might have noticed that there were quite a few duplicate rides including three Himalaya's, two Tilts, two Gravitrons, two sky swings, two wheels. Considering the crowds this fair can have, duplicates aren't really a big deal I think. Surprised to see that Space Roller wasn't there this year, which had been at the fair every year since 2006.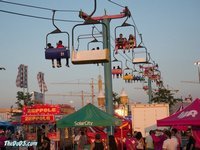 I arrived at around 6:45pm. My cousins weren't there yet, so I took a stroll around the midway to see what was up. It was strange, the midway itself wasn't hugely crowded but the rides had several cycle waits already. I snapped some photos and took video and hopped on a few rides in the process, namely Zero Gravity, which was kind of tucked into the kiddie land, Vertigo, and the Sky Ride. The Meadowlands is one of a handful of fairs in the country that has a Sky Ride due to the fact that the ride needs some permanent fixtures, namely a pair of concrete pads that are inlaid into the parking lot.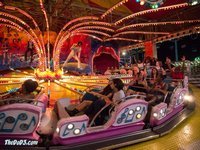 I met up with my cousins at around 8pm. By now the lines were all very long, especially the aforementioned Sky Ride which had a massive queue for the end nearest to the entrance, but a very short one at the ride midway end. We took a spin on Rock & Roll first which had a two cycle wait thanks to the big capacity. Next up was Zyklon, Strates' Pinfari roller coaster. The line for this was like 25 minutes. Ack, I've gotten on El Toro in less time. Like I said, the crowds were expected, but I still feel like pouting a little about it. Musik Express, the larger Bertazzon model, was next which had a two cycle wait. I love this Himalaya, Strates runs it at just an incredible speed.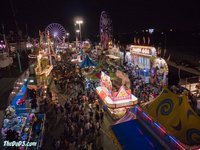 We strolled around to the opposite side which by now was insanely crowded. Fire Ball had a line that…well, I don't even know where it went. Sizzler had a line that wrapped halfway around the fencing setup around it. We took a spin on Haunted Mansion, which had a modest line. Next my cousins wanted to ride Crazy Mouse, a Reverchon spinning mouse coaster. The line was, as Trump would say, YUGE. I decided that I would bow out in favor of walking around and shooting video. They ended up texting me about a half an hour later saying that they were finally off the ride.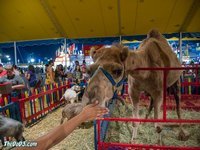 We took the Sky Ride back to the front of the fair to catch some shows. The diving show was underway when we got there. This was a pirate themed show that, surprise surprise, featured diving stunts. The final stunt was a dive off of the 100 foot platform, as seen in the video at the bottom! We headed over to Steve Bayner next, also underway but still only 1/3 in or so. On the way I stopped for a second to see Doc Swan doing his magic performance. Hey, I remember him from Fright Fest at Six Flags! He was sans zombie face paint here and I assume did family friendly tricks, unlike his Six Flags show where he hammers nails into his nose and makes sketchy jokes.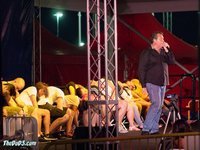 Steve Bayner's hypnotist show, man I think this guy has been at the fair every year I've been to it. He's practically a staple now, and truth be told the show is still entertaining after all this time. Seems like he's switched it up a bit and now heads into the crowd during his act. After the show, we caught a bit of the racing pigs and browsed the petting zoo before heading back for one last round of rides.
It was like 11:30pm now and the lines were waning, but still pretty long for some rides. We took a spin on Himalaya, Strates' older Reverchon model, which had a one cycle wait. Next was Wave Swinger which was actually a walk on by this point. Our last ride before heading out was Tilt-a-Whirl. This Tilt looked absolutely great with LEDs and a pink and green color scheme.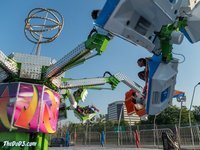 Some rides worth mentioning that we didn't ride: Orbiter, WOW, I'm almost certain this was refurbed (edit: it indeed was) but if someone told me that it was brand new then I wouldn't be surprised.  This sucker had a massive line all night. Mardi Gras looked like it had the same wraps as the one I saw in North Brunswick the week before. Starship 2000 had a great color scheme and all LEDs that went through all kinds of patterns. Enterprise now has multicolored pods, a simple change that made the ride look practically new.
All in all I had fun! Didn't get on as many rides as I would have liked, but I can't really fault the fair for going on a crowded day.
Here's a music video!
And a batch of photos!