I went to the State Fair Meadowlands on two nights this year. The first night was on Friday, June 29th, with a few of my cousins and the second was on Tuesday, July 3rd for photos and video. Rides were brought in by Amusements of America, Strates Shows, and some independent operators.
The Meadowlands' Facebook posted a ride list, so that made the following pretty easy. I did make a couple of corrections, however. The fair had…
Spectacular Rides

Crazy Mouse
Enterprise
Free Fall

Giant Wheel (Strates)

Giant Wheel (AoA)

Himalaya

Musik Express

Pirate

Rock n' Roll
Sky Flyer
Space Roller
Wave Swinger
Zyklon

Major & Family Rides

1001 Nachts

Bumper Boats

Cliffhanger

Dizzy Dragon

Double Merry-Go-Round

Fire Storm (Wisdom Tornado)
Orbiter

Polar Express

Ring of Fire

Scooter x2

Sky Ride

Starship 3000

Silver Streak

Super Slide x2

Tilt a Whirl x2

Zero Gravity

Zipper

Fun Houses

Crazy Outback

Cuckoo Haus

King's Circus

Magic Maze

Mardi Gras

Monkey Mayhem
Rock and Roll Funhouse
Sponge Bob Funhouse
Story Book Land

Dark Rides

Haunted Mansion x2
Tomb of Doom
Unnamed dark ride

Kiddie Rides

BumbleBee
Construction Zone
Dino
Elephant
Family Swinger

Fire Chief

Flying Elephant

Froghopper

Happy Swing
Heavy Haulin

Jalopy Junction

Jet Skis

Kiddie Bumper Boats
Merry Go Round

Mini Himalaya

Mini Indy

Mini Tea Cups

Monster Truck

Motorcycles

Rockin' Tug

Safari Train

Quadrunner

Raiders

Rainbow Rock

Red Baron

Red Carpet

Speedway

VW Bugs

Wacky Worm

Wet Gator

Wiggle Worm

Shows & Attractions

Belmont Festival of Magic
Commerford Petting Zoo
Cycle Circus Live
High Dive Show
Hypnotist Steve Bayner
Rosaire's Racing Pigs
Sea Lion Splash
Live music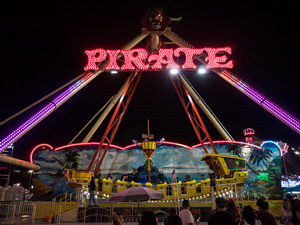 There were several additions and removals from the lineup this year along with cutting out a lot of duplicates that past years had. There were four big additions this year with Strates Shows' Huss manufactured Pirate being the most notable. This ride actually used to be at the Meadowlands waaaaay back when, before Strates retired the ride for a number a years. The ride had been refurbished this past offseason, decked out with LED lighting and re-painted among other things. Pirate took up the corner "big ride" spot in front of the Giant Wheel.
Another addition was Free Fall, Amusement of America's Fabbri drop tower, which was placed right in front of the midway. This ride looked practically new; the tower has LEDs all the way up that are on a reflective backing which makes it look like one unbroken light at night. It also had a cool backwall too with a stylized base-jumping artwork. The seats slow at the top before dropping for maximum anticipation.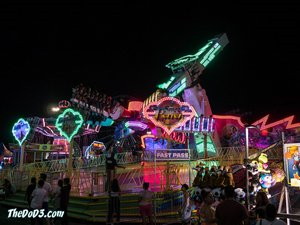 Space Roller returned to the fair this year after a two year hiatus. Unlike most of the rides at the fair, Space Roller is independently owned and typically only gets booked into bigger spots such as the Meadowlands, New York State Fair, Florida State Fair, etc. Space Roller now has all puck LED lighting that flashes through various colors. It's a really impressive looking ride!
King's Circus was the final major addition. This was a three story funhouse that was setup next to Strates' Giant Wheel which made for a nice pairing. This ride is manufactured by a company named Barbisan (never heard of them) and is independently owned.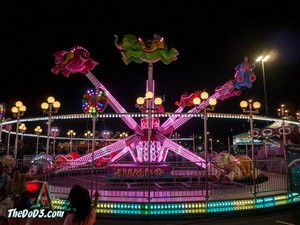 The fair's expansive kiddie land had a couple of new rides this year as well. Silver Streak, a smaller Wisdom Himalaya type ride, hung out near the back of the kiddie land. This was kind of like a "spectacular" kiddie ride. Jumping Jumbo was another addition. The ride was fully decked out with LEDs, had colorful elephant cars, and stainless steel fencing with lampposts. This was probably the nicest looking kiddie/family ride I've ever seen! The ride is apparently manufactured by a Czech company named Kolmax Plus. The sweeps had All Around Amusements logos.
There were also a couple of omissions this year including Sizzler and Bansai. The latter not being there is almost shocking as it's been at the fair for like the past 20 years. I noticed that it's not even on Amusement of America's website anymore, so I guess that's that.
Well, now that's out of the way, let's have an actual trip report, eh? While July 3rd was more of a photo/video trip, I visited the fair on June 29th with a few of my cousins to ride the rides and take in some shows.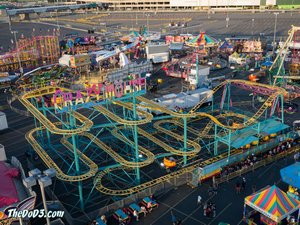 We arrived at around 6:45pm and hit the Sky Ride first, which had a short wait. After exiting, we went to Crazy Mouse first as it would have a long line later on. The ride was flying with very little trim braking. Nothing gets the adrenaline going like speeding into a flat, 90 degree turn! Next up was Musik Express, which was right next door to Crazy Mouse. The ride is owned by Strates Shows and is probably the fastest Himalaya type ride around. We took a spin on Giant Wheel next, AoA's 90 foot Chance wheel which was across from Musik Express followed by Haunted Mansion.
At this point we decided to hop on Strates Shows' Zyklon coaster next, before the lines got too long for it. This is one of the "Zyklon" line of coasters manufactured by Pinfari. Pretty sure it's a Z40 model for anyone keeping score. Look's like Strates had re-painted this ride with a nice magenta and yellow color scheme. The coaster only uses seat belts, which is completely fine for a ride like this. I remember back in the day when some coasters had no restraints at all…wasn't that long ago since "back in the day" for me is the 90s!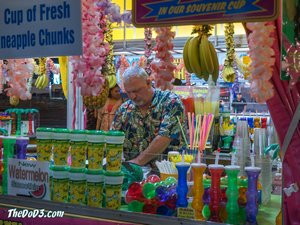 We headed back to the front of the fair to catch a couple shows and grab something to eat. We saw the end of the Cycle Circus show and settled in for the High Dive show afterwards. The dive show was modified this year with a penguin theme and featured some trampoline stunts along with the diving. The final act was of course a dive from the highest pedestal.
For food, we got a full pizza from one of the joints and grabbed a picnic table for the Steve Bayner hypnotist show. It's practically a tradition to watch his show at the Meadowlands now. A new bit this year was getting one of the participants to attack a giant stuffed bear, because the power of hypnosis says that it was their sworn enemy. It was a good show; always love seeing it!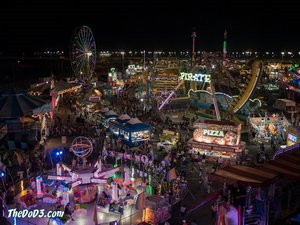 We stopped by at the petting zoo and a claw game stand before heading back to the rides, taking the Sky Ride again to the back of the midway. Our first stop of Giant Wheel, the larger of the two wheels owned by Strates. You get a really nice view of the fair from this ride, along with a view of New York City in the opposite direction.

I got on Space Roller next, the only one of the group who could stomach this ride. I actually didn't even know how well I'd handle it considering my slowly growing intolerance of rides. The wait was about 15 minutes but the cycle was a solid 3 or so minutes. I took an end seat, because thats the best spot! Turns out I'm 100% fine on this ride still as I didn't feel dizzy or nauseous at all afterwards despite being thrown around like a ragdoll. We wrapped up the rides with a spin on Sky Flyer.

We headed out at around quarter to midnight, but not before doing a once over of the candy tent. They give you baskets and you basically walk around and fill it up with whatever, then you pay by weight of the loose candy or by the bag of the packaged candies.

Overall it was one of the better Meadowlands fair's I can remember!

Here's a bunch of photos…

And a couple of videos. First one of Space Roller:

And the second is a general video of the fair: