On Friday, June 8th, I headed over to Corpus Christi Church in Chatham, NJ for their annual Carnival; a fair that's relatively close to my place. Rides were by Tommy's Midway and the fair had…
Paratrooper
Gravitron
Sizzler
Swinger
Fun Slide
Monkey Maze
Several kiddie rides

Dragon Wagon
Flying Dragons
Tea Cups
Carousel
Motorcycles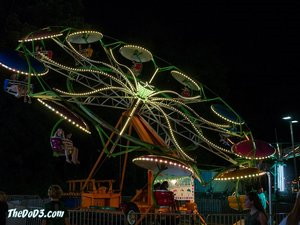 I got there at around 8:45pm and the fair had a pretty good crowd going. Only a couple of changes with Gravitron new this year, replacing Loop-o-Plane. Some of the kiddie rides were also different, namely the Carousel.
Tommy's had done some work on their upright, Hrubetz manufactured Paratrooper. The ride is now outfitted with sequenced LED lighting on the sweeps and parachute bonnets. Really a spectacular looking ride! They didn't seem to be running it as fast as last year as far as I could see. They would start it out fast before throttling down to a more leisurely speed.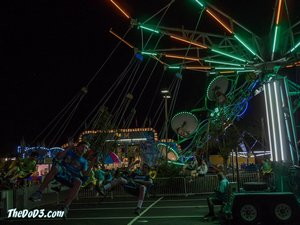 To the left of Paratrooper was Sizzler and Monkey Maze. Sizzler had some LED puck lights on the center ornament and white, LED tube lights on the sweeps. This ride went at a particularly slow speed. Maybe they wanted the ride to appeal to children and families more. The right side of the midway had Swinger, Gravitron, and Fun Slide along with an assortment of kiddie rides. Gravitron had a bright LED sign with what looked like Turbo lights everywhere else. Swinger was the final major ride. Pretty sure this is a Watkins model.
Games consisted of several line-up joints with wheels and knock-over-the-object games. There was also a center joint that was half Frog Bog and half ball toss and a watergun race. Food was all the usual fare with some being served from trailers with others being cooked in-house under a large seating tent. I of course picked up some zeppole on the way out at around 9:30pm.
Here's a video of the fair:
And some photos!