I headed over to the Corpus Christi Carnival in Chatham, NJ on Thursday, June 9th, the carnival's opening day. It was a great night for a fair with temps in the high 70s, albeit a little windy. I parked in the neighboring Presbyterian Church's parking lot – the official carnival parking venue.
Once again, Tommy's Midway had the lot. It wasn't that long ago when I saw them at the St. James Festival back in April. They had a couple different rides here however; the fair had…
Zipper
Rock-O-Plane
Sizzler
Swinger
Monkey Maze
Fun Slide
A handful of kiddie rides (Hampton Cars, Flying Fish, Super Tanks, Groovy Bus, Dragon Wagon, Teacups)
Several games
A selection of food stands
The layout of this fair was slightly different from years past with a few rides placed facing the back of the lot to make sort of an alley of rides…a midway if you will. The kiddie Teacups ride was actually placed in the middle of the path. I don't know what it is, but when rides are placed in the center like that, it makes the midway seem a bit larger.
I hadn't seen Tommy's Midways' Zipper in a while, and wow, is it nice! The sign, arrow ornaments, and bullwheel lights are all color changing LEDs that flash through different patterns. Not simple color changing patterns either but more akin to what a Ferris Wheel would have. One of the finest looking Zippers for sure.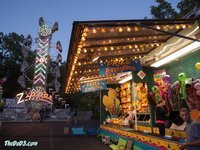 Rock-O-Plane sat on the opposite side of the midway along with Sizzler. On the night I was there, those two seemed to be the most popular rides. Rock-O-Plane had color changing LEDs on the sweeps. Sizzler had a combo of twinkling LEDs and what looked like florescent tubes. I tried to get some panning shots of Sizzler; those shots where the subject is sharp but the background is motion blurred from tracking the subject. I failed miserably, mostly because I didn't take trajectory into account.
The fair had a modest games area with a row of game joints, watergun game, frog bog and ball toss center joint, duck pond, basket game, and speed pitch. Food consisted of a grill joint with burgers/hotdogs and such, a couple trailer joints with sweets and I think lemonade, and of course the zeppole and other greasy treats joint. I never leave this fair without picking up a bag of zeppoles before heading out. Yum!