My hometown's fair, now with 11 trip reports and counting! The Our Lady of Peace County Fair was actually a week later this year. It typically occurs in mid-May, but got switched up in 2014 to the first week in May, then back to mid-May last year, and now the third week this year.
I managed to head over each of the four days in some capacity; whether it be a two hour long photo trip or a quick walk around and zeppole run. Blue Sky Amusements had the lot once again and the fair had…
Vertigo
Zipper
Himalaya
Starship Gravitron
Riptide
Scooter
Chair Jet
Gondola Wheel
Monkey Maze
Super Slide
Several kiddie rides (Dragon Wagon, Flying Dragons, Motorcycles, Tubs of Fun, Tip-a-Canoe)
An assortment of food
A selection of games
A beer garden!
A handful of vendors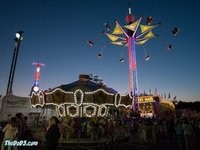 Blue Sky Amusements hauled out their brand new ARM Vertigo to the fair this year; like literally first carnival new. I believe it's an 80 foot model. It had color changing LEDs trailing up the tower and customized vinyl on the sweeps with Blue Sky's logo. I really should have hopped on this to take some aerial video of the fair…but I saw plenty of cell phones being held up while taking photos/video, so I'm sure someone else did!
Zipper, on the opposite end of the lot, had new lighting in the form of blue, green, and pink LEDs. They were bright, really bright! Needless to say, this is one of the best looking Zipper rides I've seen. Next to Zipper was Chair Jet; the two rides had seemingly switched places from last year with Chair Jet now tucked into Zipper's previous corner spot.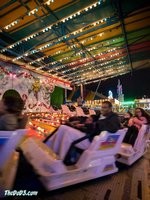 Himalaya was rocking and rolling on the busy nights. It's funny, while getting video of the Himi, they were playing "We Like to Party" by Vengaboys. I was thinking how I was about the age of most of the riders when that song came out, and in turn most of them weren't even born yet when it debuted. Wow, way to feel old! Hanging out in the center of the lot was Super Slide. Like most of the other rides, this too was decked out in LED lighting.
Next to Himalaya was Scooter, which featured a recording that reminded riders to "press down on the pedal and turn the wheel" when they got stuck…which was like all the time. Next up was Starship Gravitron, still one of the better looking Starship rides around. I like how the lights on the ship move against the rotation at some points of their sequence. When the ship is at max speed, they seem to slowly move in the opposite direction of the rotation. Neat!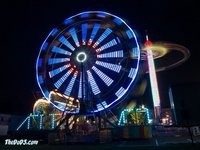 Riptide, Gondola Wheel, and to some extent Monkey Maze rounded out the "big" rides. I took a pretty long timelapse of the wheel on Saturday night, which is in the video below. I tried to do the same with Riptide, but it moved a bit too fast for my camera's timelapse function. For anyone into photography, I mostly used a Rokinon 12mm F2.0 lens while at the fair…a little birthday present to myself!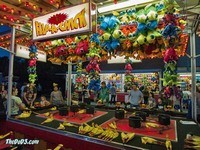 The games were mostly set up closest to the school building as usual. A row of line-up joints next to the gymnasium housed games such as chance wheels, knock over the item, and some other skill games. Standalone games included a dual sided watergun race, speed pitch, duck pond, dunk tank, a tent with some kiddie games, and Flip-a-Chick, a Frog Bog type game where you have to fling rubber chickens into a pot rotating around a grill.
Other features of the fair included a beer garden – a new addition this year, plenty of food stands, and an indoor restaurant inside the gym. Also in the gym were several vendors and a "New Gifts" table filled with donated items, usually unwanted Christmas gifts. Way back when the fair had a White Elephant Sale in the school's lunch room which was really just a glorified rummage sale. I was still a kid when they got rid of it and never much cared for the thing, but now something like that would be awesome to look through.
All things considered, this was one of the better fairs OLP has had!
Here's a 60p video with no music:
And here's a video with some music:
And here's a mess of photos!