I stopped by at the Kenilworth Fire Department Carnival on Saturday, August 20th, the final night of the fair which had started on the 15th. The rides were brought in by Blue Sky Amusements and the fair had…
Zipper
Round Up
Dragon Loops
Sizzler
Scooter
Chair Jet
Wonder Wheel
Merry-go-Round
Fun Slide
Several kiddie rides (Elephants, Motorcycle Jump, funhouse, a couple others.)
A handful of food joints
A selection of games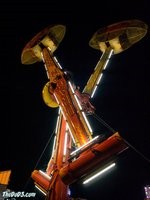 The fair had a pretty good crowd going when I got there at around 8:45. Dragon Loops was right near the entrance and seemed to have a slow trickle of riders rather than a queue while I was there. I haven't seen any other Loop-O-Planes that look as sharp as this one! Fun Slide was tucked in the back in its usual spot and did have a small queue for it.
To the right of Fun Slide was Sizzler which Blue Sky had redone this season with color changing LEDs. It looked really good; almost looked like a whole new ride. Round Up was next door, kind of set back from its right side neighbor, Zipper. Round Up seemed like it was in motion with a full load whenever I walked by. Zipper was also in a state of near constant spin whenever I saw it. I actually waited for it to end so that I could get some passable shots since in-motion shots of Zipper at night are nigh impossible for my kit.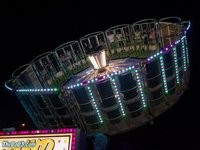 Chair Jet, a Specialty Mfg swing ride, was in its usual corner spot.  Scooter, a funhouse (Circus Town?) and Wonder Wheel rounded out the rides on the perimeter of the lot. Wonder Wheel in particular had a huge line. On the inner side was all kiddie rides if I remember correctly.
Games and food stands were setup between the school's buildings. At the end was a beer garden with a money wheel, both of which were seeing a lot of action when I walked back there. I picked up a bag of zeppoles and headed out at around 9:30pm. The zeppoles were $5 for 6, but it wasn't until I was at my car and halfway through the bag that I noticed that I had only gotten 5. Booooo…