Went over to the New Jersey State Fair on August 8th with a couple of my cousins. This year the fair was about a week later than it usually is, going from August 5th to the 14th. I met them at around 11am and we were over at the fair by 12 noon. Reithoffer Shows brought in the rides and the fair had…
Air Race
Wild Claw
Super Himalaya
Music Express
Zero Gravity
Sizzler
Enterprise (Starship 2000)
Pharaoh's Fury
Surf City
Tilt-a-Whirl
Fireball
Yo-Yo
Tornado
Giant Wheel
Haunted Mansion
Scooter
Grand Carousel
Fun Slide
Kite Flyer
Several Funhouses (Magic Maze, Crazy Outback, Rock N' Roll, Ice Palace, Hero Zone)
An assortment of kiddie rides
A selection of attractions & entertainment (Racing Pigs, K-9s in Flight, Magician, Petting Zoo, Camel rides)
A wide array of food
A collection of games
A potpourri of vendors
Horse show and competitions
Agricultural shows and contests
Lots of prize ribbons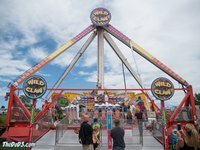 The fair had a decent crowd for a Monday! We did a round of rides before heading off to the rest of the fairgrounds. We hopped on Tilt-a-Whirl first. I tried to get some good spins but it wasn't working out so well. I think I do more harm than good trying to make the car spin sometimes. Second stop was Scooter, in which I pretty much just tried to go after my cousins' cars the entire time. None of us went on it, but it looks like Reithoffer put some TLC into Wild Claw which has all LED and new signage. It also swung waaaay high; higher than I've ever seen a standard KMG Fire Ball go.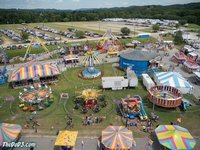 Next was Haunted Mansion, a dark ride. This had a couple of props but for the most part it was just riding around a dark corridor. No faux spider webs though, which I'm totally fine with it not having. We headed to the opposite side of the midway next to ride the Giant Wheel, a Chance 90 footer. Our final ride was Musik Express, a Wisdom Himalaya. This was actually the first time I had been on a Wisdom model. It was run pretty fast forwards and backwards, though I thought the hump that the cars travel over was kind of jarring.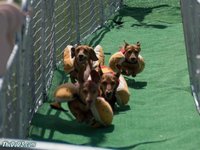 At this point we headed off to the rest of the fair. The midway, while large, probably only takes up about 1/8th of the fairgrounds. We walked around some of the animal barns and vendor areas before heading to the pig race arena. The show not only had racing pigs but racing Dachshunds as well. I brought my new Olympus 40-150mm  zoom lens today and tried to get some shots. I need some practice ass seen to the right. A magic show started soon after the pig race and we all stood in the shade and watched it from somewhat afar. It was like 88F out, which is hot in and of itself but it definitely felt more like the high 90s.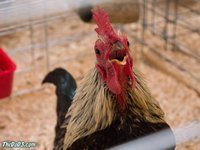 We stopped by at the petting zoo where most of the animals were just lazing about since it was so hot. We walked though the poultry and small animal building. Lots of roosters causing a racket in this one. Most of the rabbits and guinea pigs were huddled up against bottles of ice water placed into their cage. We checked out the vegetable show building next. A trip to the fair isn't complete without seeing this exciting display of agriculture. Along with the veggies were hay stuffed figures of different presidents. The Jimmy Carter (I think it was, I forget) figure won first place, but it looked kind of creepy.
Afterwards, we grabbed something to eat and checked out the horse show for a bit. They were doing some sort of team horse driving competition, nothing too exciting…I type that as I half-watch modern pentathlon in the Olympics (which does have a horse jumping portion ironically.) We also stopped by at the K9's in Flight show which featured dogs doing various Frisbee tricks and long jumps into a pool. Still in the mid 80s, I wouldn't have minded diving into that pool either.
We browsed the vendors some more. Being an election year, both local political parties had Trump and Hillary booths setup. Lots of people were taking pictures with the Trump cardboard cutout, and it even looked like someone had tried to fold its head off. Didn't see anyone posing with the Hillary cutout, but then again she's not a meme nominee like Trump.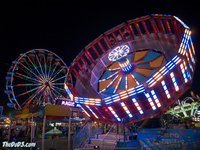 We did a second round of rides before heading out. We hopped on Tornado first, one of those Wisdom spinning rides. My cousin can't take spinning too much anymore so I took it easy manning the wheel. I hopped on Zero Gravity next, which took forever to load. The ride looked pretty good with sequenced LEDs and ran for nearly 2 minutes. Our final ride of the night was Yo-Yo, a Chance swing ride.
Before leaving, we picked up some ice cream at the Frozen in Tyme stand. We headed out at around quarter to 10. Lots of fun as always!
First, a video of the trip:
Here's a bunch of photos!