I headed over to the North Brunswick Youth Sports Festival on Saturday, June 16th. This is probably the third or fourth largest fair in New Jersey with a massive midway, lots of shows, food and retail vendors, and music. Reithoffer Shows had the midway with most of their Orange unit's rides at the fair. The fair had…
Crazy Mouse
Tornado (Huss)
Tango
Dutch Wheel
Pharaoh's Fury
Himalaya
Scooter
Tidal Wave
Orbiter
Vertigo
Yo-Yo
Zipper
Mulligan Wheel
Sizzler
Starship 2000
Tilt-a-Whirl
Fireball (Larson)
Freak Out
Full Tilt
Bear Affair
Dizzy Dragon
Typhoon (Wisdom Tornado)
Mardi Gras funhouse
Several kiddie rides

Mini Himalaya
Fire Chief
Central Park
Wacky Worm
Fun Slide
Euro Bungee
Truck Stop
Hot Wheelz
Carousel
Helicopter
Hero Zone
Flying Tigers
Iron Dragon (Orient Express)
Lolly Swings
Tea Cups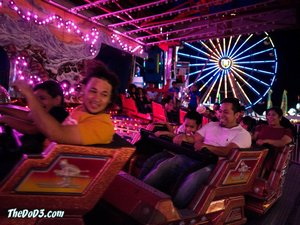 Entry to the fair was $6. The midway is laid out in a large rectangle with a kiddie land hanging out near the front. The first ride upon entering the fair was a Venture manufactured Mini Himalaya in probably the most highly trafficked area of the midway. I really have to wonder how much this little ride raked in considering its location. It's big brother, a Wisdom Himalaya, was located on the inner corner on the opposite side of the midway near Crazy Mouse, another busy area.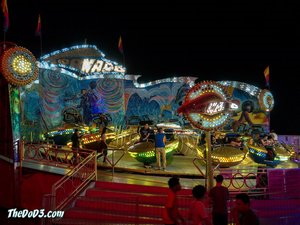 Tornado, a Huss Flipper ride, was next to the Dutch Wheel this year. It looked like it spun pretty fast at certain parts of the cycle with a relatively long cycle. The ride looks really nice overall but the lighting situation is getting pretty spotty. Speaking of lighting, it looked like Freak Out now has matching LEDs on the swing arm.
Typhoon, a Wisdom Tornado ride, looked really great. I'm guessing they decided to forgo the original Tornado name during the refurb since they already have a bigger ride called Tornado. It had a green and blue color scheme with green, blue, and white LEDs. Funny enough, the panels had artwork of funnel clouds and tornadoes while Tornado has more of an ocean based (ie. typhoon) theme. Zipper also looked like it had some new lighting this year with purple and magenta puck LEDs that flashed repeatedly.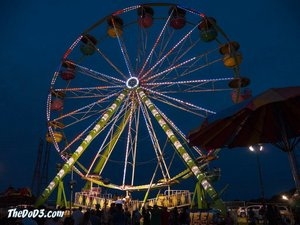 Yo-Yo was over in the kiddie-land this year. It is kind of like a children's swing ride, to be honest. Mulligan Wheel also hung out in the kiddie land. This a really nice looking wheel with a green and white color scheme and pastel colored gondolas. I think I like the look of these wheels over the Chance counterparts. This would certainly be a "big wheel" at most fairs if it wasn't for Reithoffer's Kroon manufactured Dutch Wheel on the opposite side of the fairgrounds.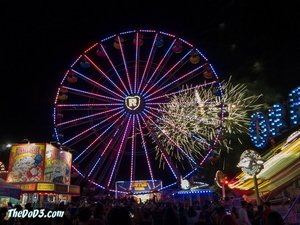 I did a couple rounds of the fairgrounds prior to the fireworks. I stopped in the music tent to check out the band playing that night which was a reggae band called Rass Roots. The fireworks started at 10pm and were located behind the Dutch Wheel. The Wheel made for a nice backdrop for the fireworks, although it does kind of block them if you watch from the left side of the wheel. I stuck around until 11pm before heading out.
Here's a bunch of photos:
And a video!