I always like doing something on the Summer solstice, the day with the longest amount of sunlight each year. Sometimes I take a nice evening bike ride or walk, but this year I decided that it would be a good night to head over to Immaculate Conception Church's parish festival. The midway was by Majestic Midways and the fair had…
Major & Family Rides

Power Surge
Alien Abduction
Himalaya
Century Wheel
Sizzler
Zipper
Rainbow
Cuckoo Haus
Super Shot
Scooter
Monkey Maze

Kiddie Rides

Orient Express
Rock n' Tug
Barnyard
Tea Cups
Monster Truck
Raiders
Like 4 more that I forgot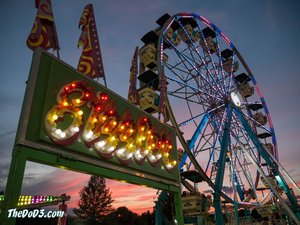 Like the last time I went, the rides were laid out in three sections: a few big rides near the front, a rectangular midway with the other majors, and a kiddie land in the back. Nearest to the school building was a food area and band tent with a games midway in-between.
Power Surge, Alien Abduction, and Himalaya were in the front area this year. Power Surge had a massive line when I was there. It is kind of like the "big, big" ride at this fair. The other two didn't have as huge lines, but they take a lot of riders per cycle, so there wouldn't be much of a line, right?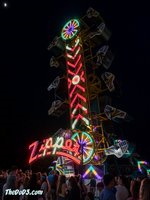 The second midway area had rides on three sides with lines extending into the middle area. Additionally, Super Shot was in the middle of the midway. This all made the area very crowded with meandering queues and people going in every which direction. Zipper now has LEDs and man…this was a really, really nice looking Zipper! The sign and the arrow decorations had LEDs that changed colors while the arrows on the support trusses and bullwheels had lights that matched the ride's teal, yellow, and purple color scheme.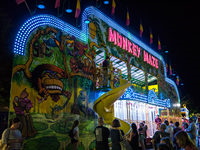 Another ride that had been re-lighted since the last time I saw it was Monkey Maze. This fun house had all puck LEDs that went through various colors. On top of that, the mirror maze portion had LEDs that constantly faded through a rainbow of colors. It looked like a dance party in there!
I hung around for about an hour and half before heading out just after 10. Nice fair, nice location, nice time of the year!
Here's some photos.
And here's a video, which some of you may have seen since I uploaded it like a month ago!