After leaving the Warren Lions Expo, I hopped onto I-78 west for basically a straight shot to my next stop, the Immaculate Conception Parish Festival in Annandale; I was at the fairgrounds maybe 5 minutes after exiting 78. I've known about this fair for several years and always meant to check it out. Majestic Midways brought in the rides and the fair had…
Power Surge
Wipeout
Zipper
Rainbow
Sizzler
Century Wheel
Cuckoo Haus
Scooter
Carousel
Kite Flyer
Several kiddie rides (Barnyard, Orient Express, Bumble Bee, Samba Balloon, Groovy Bus, Monster Truck, and a couple more.)
A massive food area
A large alley of games
Music and more!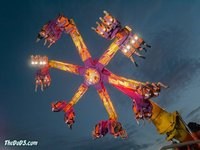 The fair used a large field for parking with rides setup in the church/school parking lots and back fields. Three rides, Power Surge, Wipeout, and Kite Flyer were setup near the entrance to the fair, kind of separated from the rest of the midway. Power Surge and Wipeout had huge lines when I got there; they almost extended out to the rest of the midway!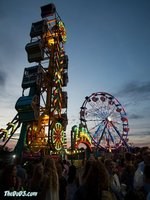 The main midway section had the rest of the major rides situated in a rectangular configuration. This area was soooo crowded when I first got there as every ride had sizable lines that kind of meandered into the center area. Century Wheel towered over the midway and had a really nice LED package. Sizzler, next to the wheel, is probably the nicest Sizzler I've ever seen with a yellow, purple, and green color scheme. On top of that, it was also one of the fastest I've seen.
Zipper had one of the largest lines that night. Like Sizzler, this too has a great color scheme with teal, yellow and red as the predominate colors. Rainbow, a re-themed ARM Ali Baba, hung out at the far end of the lot. On the opposite side there was Scooter near the front, which was blocked up high due to the slanted lot, and Cuckoo Haus.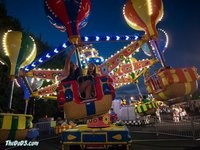 The other half of the lot had an area dedicated to games. Butted up against the rides midway was a row of trailer games featuring chance wheels and knock over the X games. In the middle  were several center joints and dual sided game stands. Across the way was a Kiddie Land with, well, all of the kiddie rides. They had this one called Monster Truck which had a backwall and all. The monster truck looking cars traveled over crumpled up cars. Majestic has a nice carousel too. It's basically a kids carousel but it has a lot of different animals such as a panda bear, rabbit, elephant, dragon, etc.
Closest to the school was a very large food area with stage at the end; I didn't really give it a look over other than from the outside. I eventually headed out at around 10:30pm. Always nice to visit a new fair, and this was good one!