I headed out to my first fair of the year on Saturday, April 29th – the Middlesex Fire Dept Fair in Middlesex, NJ. I headed over at like 8:30pm and parked in the nearby high school's faculty parking lot, which wasn't that full despite the fair being crowded. The rides were brought in by Campys Blue Star Amusements and the fair had…
Ring of Fire (Fireball)
Gravitron
Scrambler
Scat
Tilt-a-Whirl
Scooter
Yo-Yo
Ferris Wheel
Berry-Go-Round
Dragon Wagon
Super Slide
Several kiddie rides (Carousel, Frog Hopper, Rio Grande Train, Speedway, Tea Cups, Puppy Chase, maybe some more)
Several games including chance wheels, knock over the X, money wheel, and water race)
Lots of food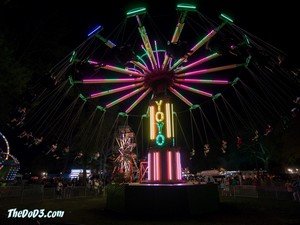 Same rides as last year it looked like. The only real difference being that Yo-Yo was placed near the front of the fair while Scrambler took up the spot in the center of the midway. Tilt-a-Whirl was also moved to the back left of the lot. Campy's Yo-Yo was renovated last year and has got to be one of the nicest looking Chance Yo-Yo rides on the road today.
The Wheel was planted near the food stands and had a pretty lengthy line wrapping around in front of the ride. The wheel was one of the few rides that didn't have LED lighting, opting for a more classic look with florescent light tubes and Turbos. The kiddie rides and games were all in a section of the park off to the right. I saw a couple of kids spinning their kiddie teacup car faster than I've ever seen one go before. This did not happen, however.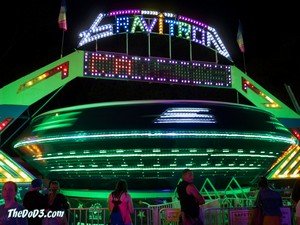 I like the location of this fair, being setup in a park with trees around the rides. The Scat ride basically sat under a tree with the leafed out limbs slightly hanging over the ride. I did a few laps of the fair taking photos and video. I had my two fast lenses tonight (Rokinon 12mm, F2 & Panasonic 20mm F1.7) which helped out with some of the night time shots. Tried to get some Scrambler tracking shots but it didn't work out (well, one did, but the focus was off. Blah.)

I headed out at around 10pm. Apparently there was some action at the fairgrounds not too long after I left. Some fights broke out around the lot which caused enough of a concern that the police decided to shut the fair down at 10:30pm, a half an hour before closing. I remember seeing one teen try to take a swing at another but it looked more like kids being jerks rather than a real fight. Welp, leave it to the hooligans to mess things up, I guess.

Here's some photos. I'll have a video coming soon as well.

And here's that video!