I headed down to some of the southern shore points in New Jersey this past weekend (January 28 & 29 to be exact) to see what was going on. Here's what I saw.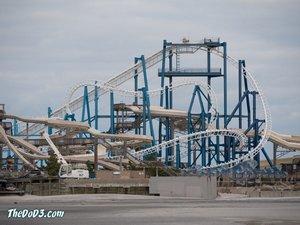 Looks like construction is mostly completed of Morey's Piers' big off season project in the re-tracking of Fly – The Great Nor'Easter. It's a Vekoma SLC that was added in 1995 and that has been rough since the get go (like all SLC coasters.) Around 2008, the coaster received new trains with vest style restraints which eliminated the headbanging, but didn't fix the overall roughness of the ride. The new track looks the same but was manufactured more recently with modern technology and tolerances and should be smoother. The coaster also sports a slightly new color scheme with teal supports instead of the white supports/white track color scheme. The supports actually seem to be dark teal/navy blue on the far end and light teal on the boardwalk end. Interesting. It sure looks better than its salmon color scheme of old. Pieces of Nor'Easter's old track sat on the beach to the south of the old Hunt's Pier.
Not much going on in Ocean City other than boardwalk construction. GaleForce, Castaway Cove's 2016 addition that has yet to open, looks like a pretty neat coaster. Not entirely sure what the hold up is on opening, but I'll have to get down there and ride it once it does. Wild Waves, a new family coaster surrounding GaleForce, looks to be mostly completed. I actually didn't know it was a 2017 addition until now. There was some minor beach erosion in front of the dunes from the nor'easter that occurred less than a week before.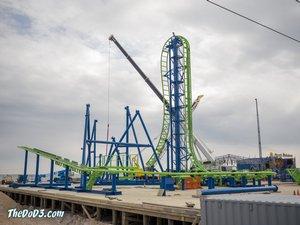 Seaside Heights and Seaside Park had quite a bit of construction going on. The Casino Pier expansion is nearing completion with their 2017 Gerstlauer coaster addition partially erected on it. I also saw some pieces laying on the pier for their new, 40 meter (131 foot) Technical Park manufactured Ferris Wheel.
Down in Seaside Park there were some foundations and structures surrounding the boardwalk near The Sawmill along with some pilings out on the beach. Nice to see some action taking place down that way. It's been relatively desolate down that way since Sandy in 2012 and even more so after the fire in 2013.