On Sunday, March 18th, I took a trip down to Wildwood and shore points northward for a little off-season sightseeing. I arrived in Wildwood at about 12:30pm and parked near Sportland Pier. Looks like there's some construction going on at the old Seaport Village location. A quick search says that it's going to be Seaport Pier, a "year-round multi-purpose venue for regional and tourist guests of North Wildwood, NJ" according to the website. Looks like it'll have some restaurants, bars, a music venue, and a swim club.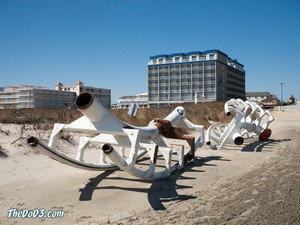 I headed south on the boardwalk, walking to the end. There were some people on the boardwalk today. It was like mid 40s out without a cloud in the sky; a really nice day. A couple pizza joints, a collectibles shop, fudge shop, Gateway 26 Arcade, and a couple t-shirt shops were open with the majority of places closed. Next to the dune at the end of the boardwalk were two pieces of Great Nor'Easter track that had been seemingly dumped there. I know Morey's Piers had been laying track pieces on the beach near the old Hunts Pier during their Nor'Easter rehab last year, but never saw any pieces this far south.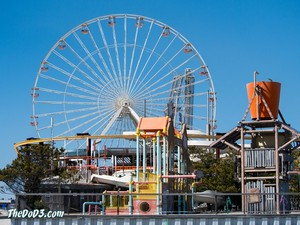 I headed back up the boardwalk to the Convention Center and walked north on the beach from there. The Convention Center had some activity that day, a bridal show I think. It wasn't too windy on the boardwalk, but was very windy on the beach. Not a whole lot seemed to be going on at Adventure Pier and Mariner's Landing. They had every other gondola removed on the Giant Wheel. Don't know if they're working on the gondolas or if it's for a wind break of sorts. There was a little bit of action on Surfside Pier with some work being done on Great Nor'Easter. There was a worker up on one of the supports, grinding something down it seemed.
I took a ride down to Wildwood Crest, which was basically deserted this time of the year. Some guy I know that operates one of the restaurants on the boardwalk once noted that the Crest gets so dead during the off-season that "you could roll a bowling ball down the street." Sounds about right.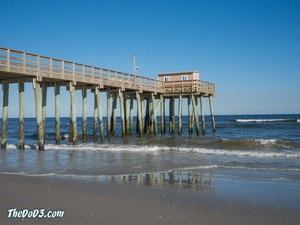 I left the Wildwoods at around 4pm and headed up Ocean Drive through Stone Harbor to Avalon where I made my second stop. Avalon is kind of a quiet shore town. There's no rides, only a small walkway sized boardwalk, and I don't think there's much entertainment. The beach is very nice and sort of secluded feeling due to the substantial dune system. You could see the coasters and wheel down in Wildwood from the beach in Avalon; it's about 8 miles away according to Google Earth. I walked along the shoreline to the fishing pier on 32nd St.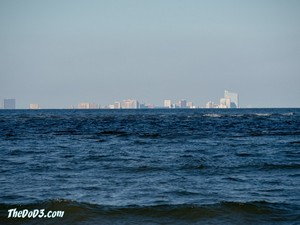 I continued up Ocean Drive, through Sea Isle City before stopping at the north end of the island in Strathmere. I've only been through this town once, but never actually stopped. Like Avalon, Strathmere is another quiet shore town with only a few restaurants and such. It's also a small town, less than a mile long with a population of like 150. I took a quick walk out onto the sandy peninsula that makes up the northern end of the island. Across the inlet, you can see Ocean City and Atlantic City farther north. Atlantic City was far enough away that it looked like it was floating on the ocean. I could even see Steel Pier's new wheel peering over the horizon. The tide started coming in while I was out on a sandbar-like feature; wonder how much of that area gets covered up at high tide? It's worth noting that aside from a couple cars passing over the bridge, I did not see anyone down here.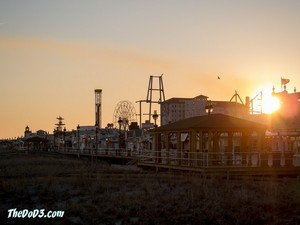 My final stop was Ocean City, which I arrived at about 40 minutes before sunset. I parked near Castaway Cove and got a good look at their Gale Force coaster, or the lack of coaster. This ride was supposed to open in 2016 but ended up opening in May of 2017. Now it's being completely retracted due to alignment issues which made the coaster too rough for the park's liking. As a result, the coaster was simply a support structure with some track pieces near the street.
I walked down past Gillian's Wonderland to the jetty and took some photos and video of the sunset. I ended up leaving at around quarter after 7. I drove up through Margate and Ventnor but decided to bail out onto Black Horse Pike before going through Atlantic City. Nice trip overall!
Have a happy Easter!
Here's a video of the trip.
And here's some photos: