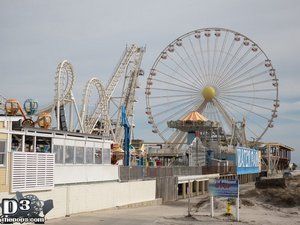 On February 20th, I headed down to the southern shore points of New Jersey to walk around and take in the off season sights. I left at around 12pm on Saturday for my first stop, the Wildwoods.
I arrived at around 1:20pm. It was in the mid-50s that day and there were quite a few people on the boardwalk for a day in February. Sam's Pizza Palace, one of the few food joints that was open on the boardwalk, had a big line of people waiting to grab a slice. This is something you might see in August, but in Feb? According to their Facebook, they had only started opening the week prior for weekend operation until the summer season starts.
Aside from Sam's, there weren't a whole lot of other stores open. A few T-shirt/random items shops, Sand Jamm surf shop (open all year apparently), and maybe one or two other food places. Some of the arcades were open, namely Gateway 26 in front of Morey's Piers. Several places had their shutters open but were just getting things ready for the vacation season.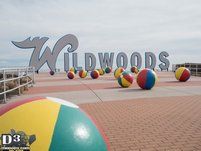 I walked all the way down the boardwalk to the Wildwoods sign at the end of Rio Grande Ave. I headed to the Convention Hall and walked down the side veranda that leads to the beach. A few weeks prior, the Wildwoods, along with many southern shore regions, were battered by storm surge during the nasty blizzard that tore through the Mid Atlantic (which I got 26 inches of snow from, not fun!) The beach didn't look too bad, but you could see some areas of beach erosion, mostly in the North Wildwood beaches.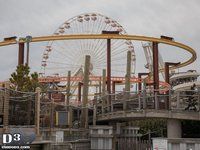 I walked down the beach and around the perimeter of the piers. Not a whole lot going on as far as construction, but there was some worth noting. The Sky Ride on Adventure Pier looked like it was all but gone with just the tallest support still standing. While between Surfside and Mariner's Landing piers, I saw a guy walking the beach with a metal detector. He was dragging a shovel behind him so you could see where he had walked and he had made lines up and down the beach from Surfside Pier to about halfway to Mariners. Wonder if he found anything cool? On Surfside Pier, I noticed that the top of the Zoom Phloom lift was taken off. Probably just rehabbing or replacing that section. Sportland Pier looked like it had some mild storm damage, notably a fence along the north side that had been blown down.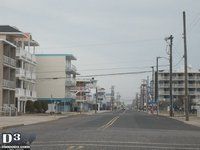 After walking the boards, I took a ride down through Wildwood Crest, the southernmost of the four 'Wildwood' towns, and where my family used to stay when we vacationed down there. Didn't look like there was too much motel demolition going on, which is good. During the early to mid 2000s, many "Doo Wop" styled motels were being sold and demoed left and right in favor of summer condos. For those who know the Crest, the two motels we used to stay at were Tangiers and Imperial 500, both still going strong it looks like.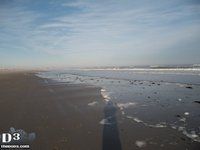 I headed out through North Wildwood and took Ocean Drive into Stone Harbor and Avalon. Not a whole lot going on around those parts and I saw only a handful of other cars driving through. I pulled onto 40th St to have a quick walk to the ocean. Avalon has an extensive dune system with some areas having a quarter mile of wetlands between the path entrances and actual sand beach. It's really cool and probably what the entire island looked like before development took place. You can sometimes see the Giant Wheel in Wildwood from these beaches, but it was kind of hazy that day. There was one other person that I could see as a dot about a half mile down the beach.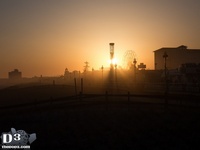 I headed to Ocean City next, opting to take the Parkway instead of the bridge and through Sea Isle City. I know some of the bridges have been closed, so I didn't want to risk wasting time if one happened to be. I pulled into Ocean City just before sunset, which was exactly what I was planning. While walking to the boardwalk, I saw the under construction GaleForce at Playland's Castaway Cove. Playland has really gone all out in recent years and this kind of seals the deal on them being the better park in Ocean City. Here's a promo video of the ride: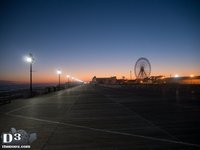 The boardwalk between Music Pier and Gillian's Wonderland was closed off for construction, so once back to the car I drove down to the opposite end of Wonderland and took a quick walk. It was getting dark now with just a band of orange on the horizon. While on the boardwalk looking north, I could see the last remnants of sun gleaming off of the casinos in Atlantic City.
I left Ocean City at around 6:15pm and headed back to Brick. I thought about heading through Atlantic City, but that's a kind of a waste of time if you're not stopping to play some slots or go boozing.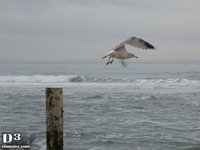 The next day, before heading back north, I stopped by at Seaside. Again it was in the 50s or so and like yesterday there were a lot of people on the boardwalk here. There were also many stores and eateries open, more than Wildwood the other day. To be fair Seaside is closer to civilization, and on top of that the Polar Bear Plunge was the day before, so many stores may have opened up for the swarm of people that brings to the town. One thing I noticed was that the Alfred E Neuman looking Muffler Man statue (pic for reference) was laying on the roof that he usually stands on. Not entirely sure if it got knocked over by wind or what. Still nothing happening down on the south end, where Funtown Pier used to be.
In less than a month, parks will start opening around here.