I headed over to New York City on Sunday January 1st, New Years Day, to go on a little sightseeing excursion. I always like taking a walking trip to the city around this time, before all of the holiday decorations are taken down. It's also nice to just go and walk around with no real destination instead of the usual "get off train, go to X, leave X, go back to train" deal. I arrived at Penn Station at about 1pm and hopped on the A train to Downtown for my first leg of the trip.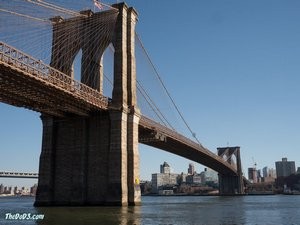 From Fulton Center I headed east on Fulton to South Street Seaport where a large Christmas tree stood; the first of four large trees I'd see today and the least crowded of the bunch. There wasn't much going on it seemed; I think a lot of the smaller shops in the area closed for New Years Day.
I headed up to Pier 15 and took a few photos, then took a short walk to the Brooklyn Bridge for a few shots before heading back to Water Street and continuing south to Wall. While heading up Wall, I came across a gaggle of people taking photos of a building that I never noticed had much action in the past. One person was taking a photo with their arm outstretched in front of the camera while flipping the bird to the building. I looked at the building in question only to see "The Trump Building" emblazoned across the entranceway. FYI, this isn't the building that The Don reputedly hangs out in, but it's good enough for a photo op I guess.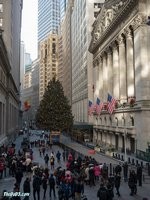 I stopped by at the Stock Exchange and Federal Hall for a few photos. Tree number two was situated on Broad Street in front of the Stock Exchange. I continued up Wall and headed inside Trinity Church for a minute which has a nice interior and was decorated with wreaths, lighted trees, and poinsettias. Heading down Broadway, I passed the bronze Charging Bull sculpture which had a ridiculous amount of people crowded around it. I didn't know until recently that this was a piece of art that was just plopped down by the artist and some buddies one night.
I arrived at Battery Park in front of the Staten Island Ferry terminal. I really should take a ride on this one day as it's free and offers some great views of Downtown, but I'll do so at a less crowded time. Let me repeat that, it's free. Anyone trying to sell tickets for the Staten Island Ferry is a scammer.
There's a few sights around Battery Park, notably a view of the Hudson River with Statue of Liberty in the distance, the East Coast Memorial – a World War II memorial, Castle Clinton – a fort built in 1812, The Sphere – a sculpture that (somewhat) survived the 9/11 attacks, and SeaGlass Carousel – a ride thats sort of a strange merry-go-round/teacups hybrid.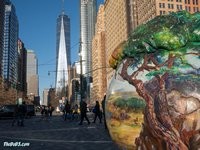 Next, I headed up the Hudson River Greenway en route to the World Trade Center complex. Not a whole lot going on at this side of Downtown in stark contrast to how it is on a typical weekday. One World Trade Center had a long line of people for the observatory, though not as long as I've seen it in the past. I've yet to go to One World Observatory but I hear it's very good. Of the ones I've been to, Top of the Rock is wonderful while Empire State Building is crowded and overrated. I did a once over of the 9/11 memorial; I always find it a little strange seeing people taking selfies or happily posing for a photo at the memorial pools.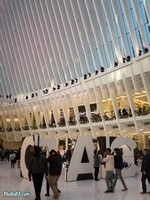 The Oculus mall (technically called Westfield World Trade Center) was open this time around, so I checked it out. Really cool structure; I think it's supposed to look like a dove. The inside has a sort of spinal structure leading down to the PATH station…ehh, it looks more like a dinosaur skeleton inside than a dove. Architecture aside, in the end it's really just a shopping mall with an Apple Store, Banana Republic, and other typical mall stores.
I took a stroll up the Battery Park City Esplanade before heading down Chambers Street and to the 2 train for the Midtown portion of the trip.
Here's the first batch of photos, all taken Downtown.
I rode the 2 to Penn Station and headed over to 6th for my trek northward. Macy's had decorated their windows for the holidays with one window having a little pinball type game with flippers that could actually be controlled. I headed up 6th to Bryant Park and did a little walk around the Holiday Village. The skating rink was empty save for a Zamboni driving around; it was like 42 degrees out so the ice was probably getting wrecked much faster than normal.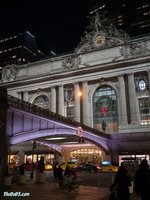 Next was a walk down to Park Ave where I hung a left to Grand Central Terminal. I've been to New York City so many times but I think I've only ever went inside this building once or twice and not in recent memory. It's quite a structure and almost feels like stepping back to the late 1800s when stepping inside. Apparently, Penn Station used to be similar but was replaced by the ugly, subterranean mall that it is today. The ceiling has a cool constellation mural featuring some Zodiac constellations along with Pegasus and Orion.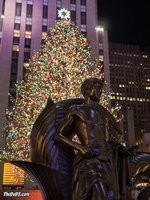 After exiting, I headed down 5th Ave to Rockefeller Center which was insanely packed near the plaza entrance on 5th. Across the street, Saks 5th Avenue featured a light show on the building accompanied by music, so lots of people were standing around waiting for that begin. I kind of wormed my way through the mass of people into the center plaza. The inner plaza, save for the rails that surround the rink, wasn't as packed. Crowded, but I could at least move. Like at Bryant Park, a Zamboni was on the ice when I arrived but finished up after a few minutes, letting people back on the rink.
I headed up 5th and hung a left on the road in front of Central Park, passing Trump Tower on the way. In the past, Trump Tower was my secret/not so secret bathroom spot. The bathrooms are located on the lower level, down a nondescript corridor and are miles better than other public restrooms. Now with Trump as the president-elect, the building looked like a pain in the ass to get into with security checkpoints and barriers on the corners flanking the building. A Fox News camera crew and reporter was planted across the street doing a live on-location segment it seemed.
I passed near Columbus Circle before heading south on Broadway. I stopped at some pizza place called Famous Amadeus Pizza on 8th Ave. The pizza wasn't bad, a little overpriced but hey, it's on 8th near Times Square. Continuing south on Broadway led me through Times Square which less than 24 hours ago was filled with folks ringing in the new year. There were little pockets of confetti hanging around, but they did a really good job of cleaning up the tons of it that was there. For the record, I've never been to the ball drop and don't think I ever will with the security measures implemented after 2001. Waiting in pens with no bathrooms for 8+ hours in the cold with no re-entering allowed just doesn't seem all that fun.
At this point, I realized that I needed to hurry up if I wanted to catch the 9pm train, so I hustled the pace down 7th ave back to Penn Station, set to ignore anything on the way. Weeell, I passed this van and had to stop for a photo. The dude in the van was even jingling a bag of lollipops out the window at passersby. According to other sites, the candies won't get you high – surprise surprise.
I caught my 9pm train at Penn; it felt so nice to sit down for a bit. I had my cycling app running most of the time to log how far I went and I ended up walking about 9.6 miles in total. Nice!
Here's the second batch of photos, all Midtown: