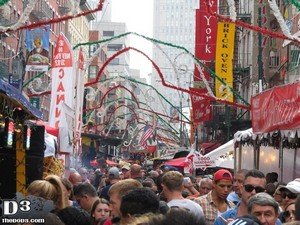 On Saturday, September 20th, I took a trip to New York City to hit the Feast of San Gennaro in Little Italy, and Coney Island. In the past I'd either drive into Coney for a day trip or visit the San Gennaro festival at night to grab dinner with someone, again while driving in. Now I just do them together, using some form of public transportation, because screw driving into NYC.
I took the 12:42pm train from Summit into Penn Station before hopping on the subway. Now, it's been in the news around here recently that some of the subway lines are experiencing a bedbug "outbreak." I seriously doubt it's a big problem, but me being paranoid about bedbugs had to find an alternate route than the usual Q or N trains (the biggest impacted lines.) So I took the D train down to Grand Street. While waiting, I couldn't help noticing all of the Yankee shirts across the way on the uptown platform, obviously going to the Derek Jeter game…er, Yankees game that day.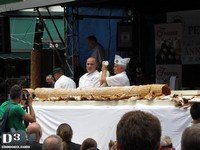 For those unfamiliar, the Feast of San Gennaro is an Italian festival in Manhattan's "Little Italy." The feast, now in its 88th year, is to celebrate the Patron Saint of Naples, but it's turned into a massive, seven block long street fair over the years. When I got to the festival, I was greeted to a mass of people all watching a couple of chefs from Ferrara Bakery prepare the "world's largest canoli." Yep, this about sums up the festival nowadays.
I shuffled my way north on Mulberry Street past the carnival games, vendors, and food trailers. I've been to the city many, many times over the years and still consider myself a "tourist" of sorts, but I almost feel like this festival is too touristy even for me! I just know what to expect now: slow crowds, being offered a free try at each game, being offered to see the menu at each restaurant, clouds of sausage smelling smoke, and tons of canolis. Still, it's just something I do each year; even just making an appearance qualifies. It just doesn't feel right if I skip it. I grabbed a slice of pizza at some stand and perused another that had like 1000s of magnets. I would have also gotten a bit of the giant canoli that they were now handing out for free, but getting through the gigantic glob of people wouldn't have been worth it.
Towards the Canal Street side of the festival is the Church of the Most Precious Blood, which features a statue of San Gennaro that people pin dollar bills onto. This might be one of the few original things left of this event. On Hester Street, one cross street up from Canal, are game and food stands along with several inflatable rides. One street up, Grand Street, had the aforementioned stage as well as a handful of rides. The Festival Wheel sat next to an apartment building while a little rocking ship ride sat in front of the wheel. A Frog Hopper and I think one other ride rounded out the amusements at this street fair. I remember way back when there was a Gee Wizz ride and a few freakshows setup in a courtyard area across from the church.
Now, I know that I've sort of painted this festival as touristy and superficial, but I would hate to see it go by the wayside after all this time. Little Italy basically exists in name only, long removed from a time when the area was made up of Italian immigrants. The adjacent Chinatown has all put swallowed Little Italy, which is pretty much confined to just Mulberry Street now. On the north end, residents of NoLIta (North of Little Italy) have been chirping about their disdain for the festival. In 2011 they even went so far as to propose cutting down the festival by three blocks. Here's a story about it, but TL;DR yuppies and overpriced boutiques don't like greasy treats and tourists.
After making my once over of the festival, I set out to Coney Island…to be continued!
Here's a batch of photos!