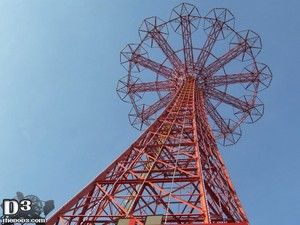 My sister was nice enough to get me a 4 hour, Luna Park  wristband off of Groupon earlier in the month. $19 bucks for an unlimited rides wristband and one ride on The Cyclone. That's dirt cheap as a wristband is originally $29 with Cyclone not included, which is another $9 if you want to ride. I didn't realize it, but the Groupon deal ended on June 23rd, so instead of sitting on the pass until later on in the summer, I decided to head down on June 21st, the first day of Summer.
I took the train from Summit, NJ to NY Penn Station and then hopped on the N train to Coney Island. I eventually arrived at around 3:30pm and headed to Luna Park to redeem the pass. The park was moderately crowded, but the lines weren't bad.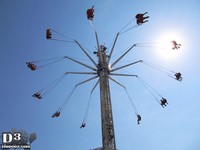 I decided to hit some Luna Park rides first and then use the Cyclone pass later on in the day. The first ride I went on was Brooklyn Flyer, a Zamperla Vertical Swing. Really, I don't even have to mention the ride manufacturer as every ride in Luna Park is a Zamperla Rides creation. After all, Zamperla owns the park! The ride gives a great view of Coney Island. Not as good as Wonder Wheel at Deno's Wonder Wheel Park, but it's currently the second best thing. It was a bit windy so my swing was turning inward and outward as the gusts hit it. I wonder if any of those swings had ever turned all the way around from a wind gust. Having that happen would be somewhere between fun and WTF. I'd hate to see how a Windseeker would handle the conditions at Coney!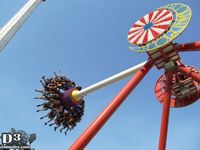 Next, I got in line for Luna 360, a Mini Discovery ride. Wasn't this ride called Eclipse at one point? Luna Park must have done a ninja re-theme. These rides have popped up in a few places; Jenkinson's Boardwalk in Point Pleasant has one of these as did Funtown Pier in Seaside Park, NJ. It always looked like a neat ride, even though my tolerance for pendulum rides is rapidly dwindling, but I never cared to buy tickets just to ride it. I waited about 8 minutes before hopping on. The ride doesn't swing as high as a KMG Fireball but the outward facing seating is a lot better than inward facing.
Instead of riding Air Race, I decided to walk over to Scream Zone, where two other attractions that use wristbands resided; two roller coasters no less. I got in line for Steeplechase first, which turned out to be a 10 minute wait. The wait wasn't due to crowds, but due to the fact that the ride capacity is 12 per train! Steeplechase is an interesting little coaster. Riders sit on horse shaped cars and are launched up a curving hill to start the ride instead of being hoisted up a lift. It's basically a souped up family coaster but it was pretty fun! I also like how it's a homage to the old Steeplechase ride that used to reside in Coney.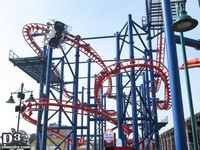 Following Steeplechase, I headed over to Soarin' Eagle, a Zamperla Volare coaster. This one also has a strange seating configuration. Actually, you don't sit at all, you lay on your stomach like your riding a hang glider. I got into a seat next to a bigger dude which immediately made the ride more interesting since the harness device, which holds both riders, didn't sit all the way down on my back. The chance of falling out was nil, but having quite a bit of room was still a bit unnerving as the car navigated two inversions throughout the layout! I kind of wedged myself between the foot holders and handlebars during the inversions and ended up not being jostled around much. Hell, I probably could have done it with no restraint at all…although that would undoubtedly be terrifying. I've heard people say that these Volare coasters are not comfortable at all, and I'd have to agree with that sentiment. Those tight turns are pretty nasty!
I headed back to Luna Park to get some photos and then queued up for Air Race. This was probably the longest wait at a little over 10 minutes. I have to say, this ride is fun but if it went any longer than it did, I'd come off sick as a dog. The horizontal loops are really disorienting for some reason.
At this point, I had ridden everything I wanted to ride and paid off the wristband a few times over, so started making my way over to Nathan's for some grub. I walked through Deno's Wonder Wheel Amusement Park and grabbed some photos in video. The Spook-o-Rama facade looks great this year with dragon statues and other things added. There was a fear that the ride was done for after being flooded by Sandy, so it's nice to see it, and Deno's as a whole, going strong.
I walked past 12th Street Amusements next. Ghost Hole, another dark ride that was threatened by Sandy, was running this day, as were all of the amusements on this street. Polar Express, an older Reverchon Himalaya, is the top attraction in this collection of rides and the owners know it, charging $10 bucks to ride! Let me say this; Polar Express is great. It has such an awesome, old school vibe, always has a great mic-man and there's always people gathered around it, dancing, hanging out and having fun. The ride is a treasure to Coney Island and one of the few "real" Coney Island attractions left. But $10 bucks is really pushing it. I mean, Cyclone is $9 bucks for crying out loud! I know they're independent and it costs a lot to run a ride, but $10 might be turning away quite a few potential riders simply from sticker shock. Then again, it's apparently been $10 for some time now, so maybe it's working out for them.
Speaking of high prices, Nathan's cost me a cool $11 bucks for a hotdog, large soda and medium cheese fries. They pretty much can at this point as it's the original Nathan's and practically synonymous with Coney Island. Afterwards I walked down the boardwalk for a bit. I headed west for a change, passing Abe Stark Skating Arena and the landmarked Child's Restaurant building, which I hear may be revived with a restaurant and amphitheater in the future. I also stopped to check out the newly refurbished, circa 1919 built B&B Carousell (it's so old, the official name has an extra L) in its brand new building. The ride was threatened to be broken up and sold off in 2005, but was bought by NYC's Economic Development Corporation and then painstakingly refurbished to its, somewhat,  original state. Here's an article about the carousell that details its history and refurbishment.
By the way, that giant space that was once the site of Thunderbolt will see some action next year! Zamperla plans on building a looping ,steel coaster that will be aptly named Thunderbolt. Check it out!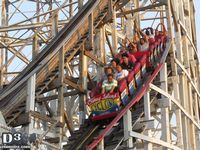 I headed back to ride Cyclone after a bit of milling around. I ended up getting the back seat as it was the only one open. Anyone who knows The Cyclone knows that the back seat is notoriously out of control. I had never ridden in the back, only second to last. To my surprise, the ride is markedly different between the two seats. The first part of the ride, up until the second turnaround, is pretty smooth as the track had been recently replaced by Great Coasters International. After that, hooo boy! The usual areas of snapping airtime are maximized back there and each fast paced bunny hop felt like a riding a bucking bronco. I can't imagine what the first drop and subsequent turnarounds were like in the back before GCI got to them.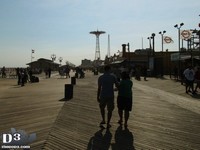 I eventually got back on the subway around 8:30pm to head back to Manhattan. Later on, I found out that if I had stayed an hour more then I would have seen the Parachute Jump's new lighting debut along with some fireworks. I knew that it was getting revamped lighting, and even saw the LEDs all over the tower when I was near it, but didn't know they were lighting it so soon! I took the Q train back and originally thought that I'd be on it forever as it was a local train with 22 stops in between my destination, but it turned out to be a bit quicker than the N line. I arrived home at around 11:30pm. Great way to spend the first day of Summer, I'll say that!
I took quite a bit of video, but I'm going to hold off on making a 2013 Coney Island video until I get more footage later on this summer. This seems like a good point to plug TheDoD3's YouTube channel! I sometimes post videos there that aren't on the site, so make sure you subscribe for updates!
Here's a final batch of photos: