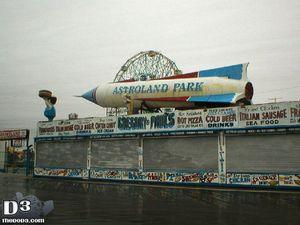 Two days ago marked the fifth anniversary of the closure of Coney Island's Astroland Amusement Park. The park was closed on September 7, 2008 when their lease with Thor Equities was not renewed for the 2009 season. Joe Sitt, founder of Thor, had big plans for the property (not good plans, but big plans nonetheless) but we all know how that dog and pony show turned out. Luckily, Zamperla stepped in to bring rides back to the lot, albeit not without some controversy along the way, namely the chopping down of Astrotower.
With the tower gone, there is effectively no remaining artifacts of Astroland left in Coney Island aside from the park's former bumper car ride which currently resides at Deno's Wonderwheel Park. However, as the Coney Island blog Amusing the Zillion points out, there is one part of vintage Astroland that was promised to be returned to Coney Island…the Astroland Rocket.
The Star Flyer (later Moon Rocket) was originally a ride at Astroland that opened along with the park in 1962. It was similar to the Wisdom Astro Liner rides in which riders sit in seats and watch a film while the rocket moves up and down. It was basically one of the early motion simulator rides. Eventually, the ride was dismantled, but instead of going to the scrapyard, it was placed atop Gregory & Paul's, a boardwalk concession on the Astroland property that currently goes by the name Paul's Daughter.
After the closure of Astroland, the rocket needed a new home or face certain doom by Thor. Despite being fielded by various interested parties, Carol Albert, former owner of Astroland, decided that the rocket should stay in Coney Island. The Astroland Rocket was donated to the City of New York in January of 2009, with a promise by the Bloomberg administration that the rocket would be put on display in Coney Island as "a centerpiece of the new, revitalized amusement and entertainment district."
And that is still where things stand today, over four years after the fact. As Tricia at Amusing the Zillion notes, with the New York City mayoral election quickly approaching, the time to press this issue is now before a new administration takes office. One option that has been proposed by Steve Vourderis, co-owner of Deno's Wonderwheel Park, is to bring the rocket to Deno's where it would be restored and put on display as a public exhibit designed by the Coney Island History Project. For now, all we can hope is that the city decides to #BringBackTheRocket.