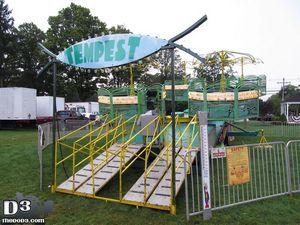 Once again I was informed about a fair to add to the carnival list. It was in Mendham which is a fairly quick, back road drive from my place. I didn't have much time to visit, on top of that scattered showers were popping up throughout the day, but I pressed on. It would likely be the final fair of 2013, after all (but not the final carnival trip report!)
I did a once over on Google maps, and headed off, confident in my newly found navigational skills. Well, I took a wrong turn and had to load up the GPS on my phone…hrmph. As I drove into Mendham, it started to rain. Wonderful. So I grabbed an umbrella from the backseat and ventured out to the fair. McDaniel Brothers Shows was doing the spot, and the fair had:
Tempest
Swinger
Octopus
Gravitron
Scrambler
Ferris Wheel
Merry-go-Round
Super Slide
Sooper Jet (kiddie coaster)
Kid Power (tiny funhouse)
Quite a few kiddie rides
An assortment of games
A handful of greasy treats
Upon entering, I immediately marched over to Tempest in the now steady rain; I seriously haven't seen a Watkins Tempest ride in over 15 years. I didn't make it the the Warren Lions Expo this year but it looks like Tempest was there as well, leading me to believe that McDaniel Brothers Shows now has a Tempest instead of Hustler. Anyway, it wasn't running, nor even had a ride operator present, so I snapped two quick photos. It looked pretty cool with a green and yellow color scheme, white and yellow lighting, and those umbrella decorations above the cars. Depending on how fast they run this ride, I definitely want to take a spin at some point in the future.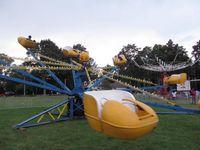 To the left was an Eli Bridge Ferris Wheel which seemed to be fully loaded despite the rain. Perhaps they were in the process of unloading, I don't know; I basically just glanced at it, snapped a picture, and did a 180 to check out Octopus. Much like my futile adventures in photographing a Tilt-a-Whirl, getting a good Octopus photo also seems to be a crapshoot.
Rain was blowing under the umbrella a bit now, so I rattled off a few photos of Swinger, Scrambler and Gravitron before plodding back to the car. I spent a grand total of 15 minutes at the fair. It was a good carnival, but the conditions sucked. That's about all there was to it!