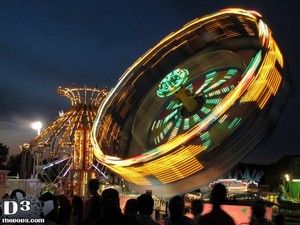 On Saturday, May 17th, I embarked on a rare double carnival trip. I mean, it's not like that opportunity arises with the same frequency as a solar eclipse, I'm usually just too lazy to plan double trip. However, it was impossible to pass up on this occasion as my route to St Matthias in Somerset, NJ literally went past the Bound Brook Fire Dept Carnival in Bound Brook, NJ.
I decided on hitting St. Matthias first as they closed earlier. I arrived at the fair at around 8pm and parked in St. Matthias' auxiliary parking lot, better known as the school's soccer field. The fair was done by Amusements of America, who brought in their "smaller fair" unit as I like to call it. Make no mistake, it's a pretty decent sized fair, after all it had:
Vertigo
Zero Gravity
Pharaoh's Fury
Flying Bobs
Scrambler
Trapeze (Yo-Yo)
Tilt-a-Whirl
1001 Nachts
Ferris Wheel (Big Eli)
Merry-go-Round
Dizzy Dragons
Go Gator
Crystal Lil's
Fun Slide
A myriad of kiddie rides
A wonderful amount of greasy treats
A selection of games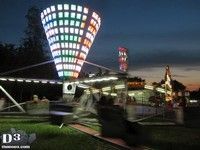 For a church fair, this isn't a bad one at all! Seems like Amusements of America has done a lot of work on this unit since I last saw it. A lot of the rides have LED lights that are all set to flash in wild sequences. Conversely, there were some rides that looked like they could use some TLC in at least the lighting department (the one that matters the least in the grand scheme of things.) I have to assume that in time they'll get their upgrades.
Vertigo was the first ride that I saw when approaching the carnival, towering over the rest of the fair. This is an ARM 8 seat, 80 foot model, I believe. In front of it was an Eli Bridge Scrambler with sequenced LED lighting on the center ornament. Now that's something I've never seen before! The lights were spaced so close together that patterns could be flashed across them. This ride ran on a very long cycle.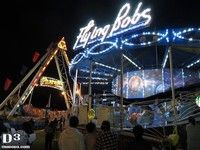 Flying Bobs was on the other side of Vertigo. This too had been adorned with LED lighting.  They also played music on this ride; I mean, you can't have a Bobs ride without music, right? The ride was also jacked up to an incredible height off of the ground to compensate with the humpy terrain I'd guess. The entrance ramp must have been a solid four feet off the ground with some temporary stairs connected to the ends.
Pharaoh's Fury had sequenced lighting riding up the supports. With this and the other three rides sitting right at the front of the lot, the fair was impossible to miss from a distance! Zero Gravity sat in the middle and ran a super short cycle. I have to admit, Zero Gravity has a lot of G-force compared to older Round Up rides and seems almost as forceful as Gravitron. All I'm saying is that a short cycle ain't necessarily bad!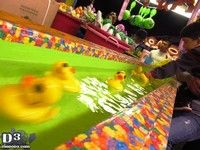 Trapeze was also in the middle of the midway; it's a Chance Yo-Yo ride. I'm sure it looked fine during the day, but it had a lot of lights out at night. Same with 1001 Nachts which looked exactly the same as it did when I saw it back in 2010.
Most of the games were put on one side of the carnival and featured virtually the same games as OLP and a few other fairs I've seen in the past. I believe these are provided by a company called Paladin Amusements, but I could be wrong. The food area was near the back of the fair and had a lot of tents and stick joints selling your usual fairground sundries. I had eaten some delicious Portuguese barbecue before heading out, so I didn't grab any food.
I left the fair at around 9pm and made my way to Bound Brook for the second carnival of the night. To be continued…
Here's a photo gallery from the fair!