I went over to the St. Matthias Parish Carnival in Somerset, NJ on Saturday, May 20th. I had actually gone to this fair last year but never did a report on it for whatever reason; maybe I'll post the photos from last year sometime. Anyway, I got to the fair at around quarter after 7 and got a spot in the parking lot as opposed to the back overflow lot (aka their soccer field) or street parking. The rides were brought in by Amusements of America and the fair had…
Chaos
Rock and Roll
Pharaoh's Fury
Trapeze
Zero Gravity
Scrambler
1001 Nachts
Century Wheel
Ramrods
Carousel
Crystal Lil's
Ferris Wheel
Tornado
Several kiddie rides (Windjammer, Hampton cars, Go Gator, bounce house, at least one more that I forgot.)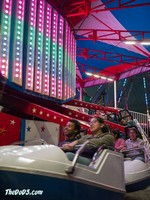 Despite being a very nice Saturday night, the fair wasn't as crowded as I thought it would have been. I think a lot of people come during the afternoon/early evening as I remember it being much more crowded at that time when I visited last year as well as several years in the past. Amusements of America seemed to have done some upgrades this year, the most notable was a complete revamp of Rock and Roll, their Chance Thunderbolt ride. All of the light panels were replaced by sequenced LEDs, and the ride sported a red, white, and blue color scheme with stars and stripes graphics. The ride was blocked up way high due to the uneven ground and seemed to tower over the midway. The Century Wheel next to it was similarly blocked high which made the typically medium/large wheel look massive.
Pharaoh's Fury had some upgrades done with an LED sign and pyramid decoration. The supports and sweeps were painted red white and blue. Trapeze, a Chance Yo-Yo, had been redone the year before with LED light bars on the sweeps and some neat swirly graphics on the tower. The Trapeze signage retained its Turbo lighting. Again, this ride had a predominantly red, white and blue color scheme. Amusements of America after all.
Two of their kiddie rides looked like they had some new lighting as well. One of which was Windjammer, a ride by Sellner that looks similar to those old Allan Herschell Helicopter rides only with hang glider looking cars. The lights on the sweeps continuously flashed in an almost a strobe-like fashion. 1001 Nachts, an A.R.M. Ali Baba, sat near the back (front?) of the midway. This was fully decked out in LEDs along with some chaser sequenced LEDs on the signage.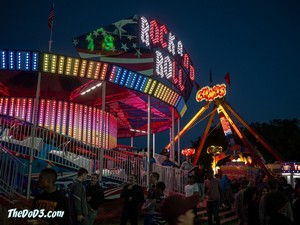 Chaos, a Technical Park Street Fighter, was tucked in the corner between Rock and Roll and Scrambler. Great looking ride with all Turbos. Doesn't look like it swings as high as its KMG counterparts. Coincidently, this fair actually used to have AoA's Fireball in that spot many, many years back.
I did a few laps of the fair getting video and photos. While getting video of Tornado (a Wisdom model) one of the riders threw up. It was like perfectly timed to have the vomit stream go right through the shot (and, no, it's not included in the video below. lol) The games and concessions area were on the right side of the midway in a parking lot area. Ramrods, a bumper car ride, was also plopped down here. The back end of the fair had tents serving grilled food, a raffle tent and a few other stands. I headed out at around quarter after 9.