On Friday, August 30th, I decided to head over to the Queen City's own fair, the Great Allentown Fair. I actually had no idea that Allentown had the nickname "Queen City" until I saw it on a sign heading into the area. Very interesting…yep.
I left at around 4:30pm and got into Allentown about an hour later. I navigated to my preferred parking place next to Wawa on Gordon and 15th, only to find that the once family owned lot was now run by the local health care institution. The charge was now $10 bucks instead of $5 despite being further away from a closer $10 lot (also owned by said health care company.) Let's all give a nice round of applause for capitalism.
The midway was done by Powers Great American Midways and the fair had:
Vortex
Freak Out
Vertigo
Swing Buggy
Wave Swinger
Rock Star
Zipper
Orbiter
Alien Abduction
Fire Ball
Genesis
Zero Gravity
Sizzler
Tilt-a-Whirl
Haunted House
Super Shot
Giant Wheel
Fun Slide
2x funhouses (Cuckoo Haus, Magic Maze)
Crazy Copter
Merry-go-Round
Cyclone Tunnel
Looney Lagoon (kiddie coaster)
Kiddie rides (Quadzilla, Ships Ahoy, Wiggle Wurm, Samba Balloon, many more)
A vast selection of games
An unfathomable number of vendors and food stands
Concert venue
A few shows (Robinson's Paddling Porkers, Wolves of the World, Paul Bunyan Lumberjack Show, etc)
Animals and 4H happenings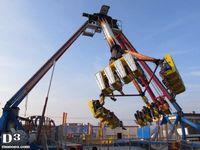 I really underestimate this fair, I should go earlier next year to take in the full experience. I had purchased a pre-sale wristband earlier in the week for $17 bucks, so my first stop was the general admission booth. I then walked down the midway and decided to hop on Fire Ball for a change. I was a little concerned that I might get nauseous (rides with a pendulum movement seem to get to me) but it turned out fine. This particular Fire Ball runs very fast and, strangely enough, I think that helped.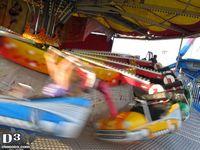 I saw that Freak Out was about to load, so I got in line and took an end seat. Powers runs a somewhat lengthy cycle on Freak Out; certainly longer than most other pendulum style rides I've been on. Afterwards, I scrambled up the steps of Swing Buggy, which was getting ready to close the gates and get going. I sat on the inside seat, hoping that the weight distribution would swing the car higher than normal (yeah, I've been watching too many insane, Euro funfair Matterhorn videos recently!) Really, it didn't help that much. I felt a tad nauseous after the ride, probably due to not taking any sort of break after Freak Out, so I walked around for a bit.
There's a lot of stuff to see at this fair. The main thing happening that night was the Luke Bryan concert. Actually, the moment I walked into the fair, I stumbled across the massive line extending from the grandstand entrance. As with most country acts, I had no idea who Luke Bryan was. I used the patented Youtube video views method to see just how out of it I was with the country music scene; 16 million views for his most popular video. Other artists and acts performing this year were Toby Keith, Zac Brown Band, John Mayer, Austin Mahone/Bridgit Mendler, and Jeff Dunham.
I walked through the area under the grandstand, which is a market type of place when the fair isn't happening. As usual, there were various organizations handing out pamphlets about their mission. I did a once over of the animal barns before grabbing a couple slices of pizza and a soda. On the midway, pizza slices were going for $4, on the outskirts it was $3. I strolled around the "Agriplex" while finishing off my soda. This is where all of the agricultural and arts exhibits are along with a huge number of vendors. I didn't stick around for too long, but one thing that stuck out was a cake decorated with different internet memes…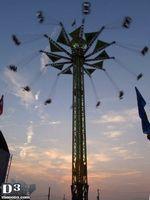 I made my way back to the midway and got on Vertigo, an ARM sky swing ride. I should mention the blocking on these rides about now as Vertigo had some Jenga type stuff going on. Since the lot is on a slant, rides have to be level. The way to do this is to shove blocks underneath the jack stands. Almost all of the larger rides had blocks stacked 2 or 3 feet high holding up one side. One side of Vertigo was set so high that they had a little step ladder on hand for persons that couldn't hop into the swing. Zipper was so high off the ground that the side entrance was roped off!
A couple of other observations was that Rock Star, Powers' newest ride, was down for the entirety of that night. They did have the lights on and man, it looked great! Definitely one of the better themes I've seen for an ARM Ali Baba style ride. Also, Cuckoo Haus, Haunted House and Magic Maze all seemed to have new artwork (looked like wrap instead of paint) on the facades. They all looked very clean, especially Cuckoo Haus with a largely pink color scheme.
I went on the other swing ride, Wave Swinger, next. This was a Zierer Wave Swinger that has been outfitted with LEDs. Paired with the wheel, which has similar LEDs on the sweeps, they make for a pretty stunning sight. I took an outer seat and was treated to a some five minute ride. I think they ran it long in order to give time for a line to build. I decided to take a spin on Alien Abduction next. I hadn't been on a Gravitron ride in years and, like Fire Ball, wasn't sure how I'd handle it. Well, it turns out I'm fine on Gravitrons! I didn't really know what to do with my backpack but ended up simply sticking it to the wall. Hey, good 'nuff! I got on Tilt-a-Whirl next and attempted to get some good spins, but no dice. Sometimes I can get those whipping around and other times I get bupkis.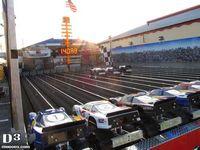 I took a walk around the game area before heading out. I think this fair has more shoot out the star games than any other fair I've been to. There were also some more unique games like a coin pitch where people could win household items, Bingo, I Got It, and a massive remote controlled truck race game. The best one I saw was a mouse game. It was a flat wheel that had several colored panels with a hole at each end. Once everyone had placed their bets, the wheel was given a light spin and a live mouse was let loose from the center. Whichever hole it ran into was the winner!
I eventually left the fair at around 10:30pm. Before leaving earlier in the day, I found a slick way to get back to Rt. 78 that saved some time. I had it memorized, but not well enough as I found myself in the suburbs of Allentown. I ended up taking the exit out by Dorney Park. Well, it was better than taking the silly route I took last year that led me down Rt. 22 and 33.
Here's a couple of videos. First is a video of the midway that I uploaded in 2020:
Next is a music video that I originally uploaded in 2013:
And last, but not least, is the usual photo dump! There's quite a few, but you can start at the beginning and hit the next button at the bottom to cycle through all of the photos.