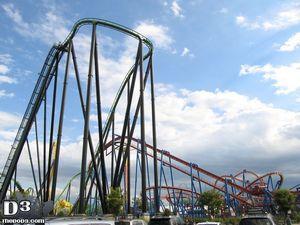 I don't know what happened this season but I took my first trip to Six Flags Great Adventure this season on September 5th. I had a 2013 season pass since last year. Literally! I got it at the end of last season and paid about the same as a single day admission at the gate for the pass itself (the parking pass is akin to three trips.) Basically, if I go to the park at least once more, I will have paid off the season pass. This is why I'm not upset at all about having a season pass and not going till now! Funny thing is, next season's pass is going to be cheaper if I get the Gold Season Pass instead of Regular.
I arrived at the park at around 4:30pm. The park closed at 8pm so I had limited time to nab as many rides as possible. As I exited the car, I was greeted to the sight of Nitro's train stuck on the lift. Guess I'm heading left once I enter the park! Being a Jewish holiday when many school are off, the park was moderately crowded. Not bad, but not great either. I got in line for Bizarro first. While walking to the entrance, I snapped a photo of the train coming out of the zero-g roll only to see that the train was empty. Uh-oh, that's not good! Turns out that they had just put an extra train on the track…eh, no biggie. The wait ended up being about 20 minutes. Looks like they restored the last row this year; previously the back row had two seats with a box containing sound equipment in the middle. The track that played during the ride was barely audible amongst the roar of the train, and didn't make any sense anyway, so it was taken out.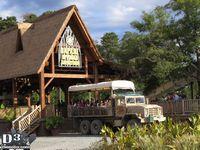 I walked through Frontier Adventures and saw that the spot formerly occupied by the giant Conestoga Wagon food stand was now the station from Safari Off Road Adventure. In one aspect, they did good in filling that spot. On the other hand, SORA is in Frontier Adventures…the wild west themed area. I guess with Bizarro technically in Frontier Adventures as well (or it could be in its own autonomous region of Bizarro World, I have no idea) SF just stopped caring!
I walked to the other side of the park, taking the Lakefront path instead of going through the fountain area. Super Roundup, Fantasy Fling, Tornado, Swashbuckler had a full queue, so I passed. That sucker will be a walk on come certain nights in September and October. Plus, riding a Round Up in ~50 degree weather is much more fun. I got in line for Skull Mountain instead, which had a line extending just out of the station. I waited maybe 10 minutes before securing a second to last row seat. As usual, I left a liberal distance between myself and the lapbar to heighten the thrill of the only good part of Skull Mountain, the drop.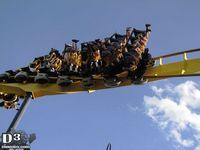 I sauntered (yeah, pulling out the thesaurus now) over to Nitro to see that the ride was still closed with a line piling out in front of the entrance. They all can have fun waiting for that ride to open up while I head for Batman: the Ride. Batman had a line starting at the top of the stairs. I've been spoiled by walk ons in the past (even a front row walk on last season), but this wasn't a bad wait. B&M has gone on to make some pretty lofty coasters, but these old Batman rides pack quite a bit more punch than their newer creations. The helix after the second loop is notorious for getting riders to gray out.
I started making my way back to the other side of the park to Rolling Thunder. For once, I can say that I basically went to the park to ride Rolling Thunder as it'll be closing on the 8th. I made a stop at Deja Vu, an Eli Bridge Scrambler, on the way, which had a single load line. This ride is pretty fast! It has a lot better snap than Sizzler rides thanks to the gear driven sweeps. I should add that while walking around the main pathways, I saw lines of tables setup on either side of the paths. I took a closer look at the papers taped to them and found that they were there for vendors. I'm going to guess that they were there in preparation for the private event (Great Muslim Adventure Day) the next day.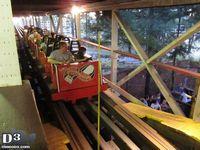 I eventually got to Rolling Thunder and resigned to waiting whatever I had to wait to ride. The line started out side of the tunnel underneath the brake run. Oh man, this is going to suck! The line ended up being about 40 minutes. That is the first, and consequently the last time I'll ever wait that long from RT. I cannot imagine what a full queue would be like. I ended up taking a front car, third row seat. The ride is pretty rough, but not any worse than Thunderhawk or Coney Island Cyclone. The train stampeded down the track to a cacophony of wooden rumbling and metal on metal squeals. On the bunnyhops, the noise would be broken up by complete silence as the car literally caught air before slamming back down onto the track. This is why I took a spot in the front car! I've warmed up to Rolling Thunder in recent years, so I'm a bit ticked to see it go; not nearly as much as Scream Machine though.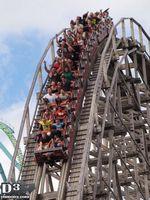 Once off Rolling Thunder, I had 35 minutes before the park closed. I saw that El Toro had no line, but walked over to Golden Kingdom instead to take a picture of Rolling Thunder from that angle while scoping out Kingda Ka's line. Unfortunately, KK had a half full switchback, so I went over to Green Lantern instead and just got in line. I didn't expect much of a wait, but was pleasantly surprised to see that it was a walk on. I got into a center row; aside from the front row, positioning doesn't really matter on Green Lantern.
Afterwards I decided to make my way to the exit and was on my way out at exactly 8pm. Wish I got on more more, but I got on Rolling Thunder, and that's what really counted on this trip!
Here's some photos from the trip. The first half is mostly Rolling Thunder.