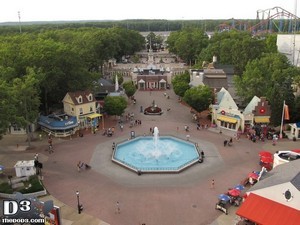 I have a season pass to Six Flags Great Adventure, however I've only went once back in April. I didn't do a trip report because it was somewhat crowded, I didn't get on too many rides, and I knew that better trips would likely be had this season.
I saw that Great Adventure was opening on the Tuesday and Wednesday after Labor Day. I heard from a trip report on GAdv Online that the Tuesday after Labor Day last year was pretty dead, so surely the Wednesday they added this year would see even lighter crowds. Right?
I got to the park at around 3:30pm. They closed at 8pm on this day so I was kind of banking on short lines. While driving down the entry road, I saw that Hurricane Harbor was open, but had super light crowds. My Gold pass includes Hurricane Harbor so I really should gotten there earlier to hit some water slides before going to the park. Noted for next year…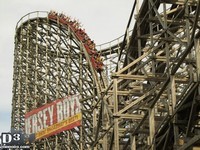 After getting through the park gates, I went to El Toro first, my favorite coaster in the park. I got to the entrance and saw the line…the non-existent line. I literally walked into the station and picked one of the various empty rows and was on the next train. This same scene ended up playing out for every single ride that day. The temps were in the mid 80s, no rain, and light crowds. These types of days are what my season pass was bought for.
After El Toro, which was great as always, I decided to head into Golden Kingdom to get on Kingda Ka and Zumanjaro. I decided on hitting the latter first. The line for this ride is huge, it practically spans the length of Rolling Thunder's old footprint. Actually, a single track piece of Rolling Thunder still exists under El Toro. Here's the pic that I took, which also got me heckled by some asshole kids. Let me take my nerd photos in peace, dammit!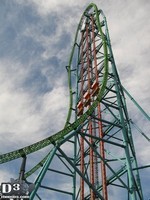 The wait for Zumanjaro? Ha…what wait? I got to the turnstile and the person just waived me over to the middle row of seats. I can't imagine the wait if the queue was entirely full as there were four or so long ass switchbacks underneath the tower. That being said, they do have a single rider line. Seems like they don't run Kingda Ka and Zumanjaro at the same time, instead they would wait for one or the other to complete its cycle before starting. While waiting to go up, I heard and felt one of the Kingda Ka trains rumble into the top hat; it was pretty awesome, it sounded like a giant blast of wind. The trip up the tower takes about 40 seconds and rises slowly at first, picks up the pace about 1/4 of the way up before slowing down again towards the top. The view from the top was great. When you're on Kingda Ka it goes by too fast, but on Zumanjaro you get to take it in for about 10 seconds before the carts drop. The drop is about what you'd expect on any drop tower, but at 400+ feet it seemed to last forever. Definitely a great ride!
Afterwards, I hopped on Kingda Ka as the entrance is right next to Zumanjaro's entrance/exit. I waited one train and sat in the fourth car, front row. Kingda Ka is great, but man it's gotten kind of rough. "Rough" really isn't the right word, more like a vibration. I was going to get on Bizarro next, but after being rattled around I decided to walk to the opposite side of the park for a bit.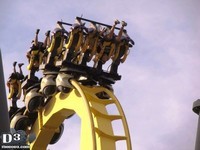 I eventually got on Batman, which of course had a station wait. Hell, not even, it was a one train wait! I think I took the third or fourth row. Really, I should have waited for the front row which was at a whole three train wait or so. Batman is a really powerful little coaster. The turns are taken very fast and the corkscrews kind of whip the train over the top.
My next stop was Nitro, which had a one train wait for the back. For once I didn't get stapled in and caught major air on the first drop. Yes, it's safer to have the lapbar as far down as possible, but when it's not…hooo boy, what a ride!
I got in line for Fender Benders, which proved to be the longest line of the day at a two cycle wait. I almost didn't make it on the second cycle, but a few cars were open, so the attendant let two ~12 year old kids and myself in. One of the kids tried to push me out of the way while I walked to a car. Really? It's not like you're not getting a car if you don't grab it right away! At one point, I made my way out of a traffic jam and turned the corner only to see the same kid who pushed me before spinning around in circles at the opposite end of the floor. Oh, this is perfect! With no one in front of me, I got up to ramming speed (these cars are fairly fast mind you) before smashing into the front side of his bumper car right as it was whirling around in my direction. It was kind of like this. I laughed maniacally on the inside.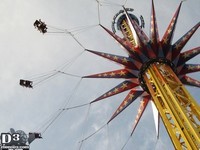 I continued with flatrides, getting on Sky Screamer next, waiting one cycle simply because I didn't get in line quick enough. Seems like they've changed the cycle. Now it goes to the top before lowering, then rising only 3/4 of the way while slowly spinning before lowering without any pause. While the ride lowered, I couldn't help noticing the incredible amount of hats and even phones strewn about the roof of queue line and surrounding buildings. I'm not even joking, there must have been over a hundred items.
I stopped at Deja Vu next, an Eli Bridge Scrambler with music. They played "Take On Me" by a-ha, but the song barely made it to the refrain before the cycle ended. Come on, that's the best part! I jumped on Swashbuckler next, a Super Round Up that's had more names than I can remember now (including 'Super Round Up' way back when.) All of these were ridden within a time span of like 20 minutes. On a normal day, that would be the wait for one of them…double for Sky Screamer.
I took a spin on Skull Mountain, grabbing the back seat. If it wasn't for repeat riders staying in their seats I would have been the only one on the train. I took the Sky Way back to the opposite side of the park afterwards. I don't think I've ever had a walk on to the "Fantasy Forest" Sky Way station until that day.
After exiting, I went over to Bizarro, which had a small line for the front with open rows behind it. I decided to wait two cycles for the front. Got to say, Bizarro is pretty good in the front, although slightly rougher than I remember it. During the dive loop, I completely forgot about the flamethrowers before seeing two flames come shooting out right in front of me!
I ended the day with another go on El Toro, Zumanjaro, and Kingda Ka before heading out at about 7:45pm. What can I say? Probably the best trip to Great Adventure in years! I'll likely take at least two more trips to the park in October for Fright Fest.
Here's a batch of photos!