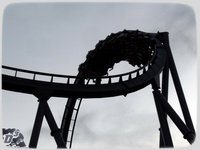 Fall Family Fun Night occurred this past Friday (September 25th) at Six flags Great Adventure; it's basically a code name for 'season pass night' as only passholders can get in that day. I decided to make it an overnight trip by hitting Six Flags on Friday, staying over at my families sparsely used 'shore' house in Brick, NJ, and then stopping by at the Seaside boardwalk and other shore points the next day.
I tried to get to GAdv a little after the 5pm opening, but of course I was stymied by relentless Garden State Parkway traffic. I usually take the Turnpike to Six Flags but I opted to stop at the house first to drop off my stuff and make a pit stop so to say. I made it to the house by a little after 5pm…so much for getting there just after the opening. Luckily the trip from the house to Six Flags took a mere 20 minutes or so. When I arrived I was met by a modest amount of cars in the lot, I parked pretty close to the gigantic 'VIP parking' area which is extra. While walking in I got my first view of the newly painted Parachute Jump…not bad looking!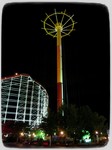 I headed for El Toro first, however before getting there I noticed that Houdini's Great Escape, a Vekoma Mad House, was open! This ride had been closed inexplicably by GAdv this past year taking away another flatride that the park desperately needs. The ride also had a nice queue line formed; great for the ride, but not for me! Instead I continued my march to El Toro which ended up having a nice short station wait; I think I waited only one trainload.
Next I headed for Bizarro which also had a station wait. I decided on the back row, which only has two seats, and waited one train. I still cannot make heads or tails out of the audio being played during the ride, mostly because it's hard to hear over the roaring of the train. It's not a bad ride though, I think I like it a bit more than Medusa despite all the crap I gave the proposed change during the offseason.
Afterwards I headed to the other side of the park and rode Skull Mountain, Nitro and Batman: the Ride; all three being 'air gate' waits. Dark Knight had a line, so I passed and walked over to Fantasy Fling, the park's Round Up. Unfortunately that was down with a couple of employees checking out the underside, so I went to Great American Scream Machine instead. As expected, Scream Machine had no wait and since there weren't many people in the station when I came back around, I simply got up and moved to another seat for a second spin!
Afterwards I headed to Kingda Ka where I got to cut most of the lines since they were looking for a single rider. Kingda Ka wasn't bad at all, especially considering the 2 minutes or so that I waited to ride. Next I went over to Rolling Thunder which actually had two trains 'racing' each other; incredible…I should have taken a photo for hard proof. I took a ride on the left side first which wasn't too bad, then I headed around to the right side where I was soundly pummeled by the horrific roughness. They really need to do something about the right side, it's just wildly awful due to the bumps.
Finally I headed over to El Toro for another one train wait. Let me tell you, El Toro absolutely flies at night; I was sitting near the back and the airtime over the drop was insane. Also, I must have been bent over a little when the train leveled out because I suddenly found my face near my knees after the drop; nothing says a good coaster like being forcibly scrunched into a ball position!
I left the park at around 9:20pm, picked up a couple of pepperoni slices at my favorite pizza place, and was back at the house at around 10:00pm. The next day I'd be off to Seaside and a a few other shore spots.