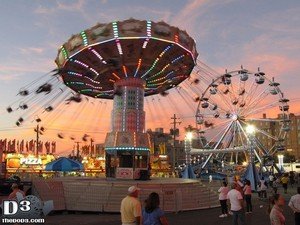 The Great Allentown Fair in Allentown, PA is one of the very few fairs that I'll travel out of state for and the last "big" fair I attend each year. Now, at the beginning of the week I didn't even know if I was going to head over to this as I unfortunately had to put my dog to sleep on Monday. We had a chihuahua that was 15 years old and her numerous ailments finally got the best of her. So needless to say I was kind of bummed and not really in the fairgoing mood. However, as the week went on, I eventually decided to head over on Friday, August 29th.
I left at around 3:30pm and hit a mound of traffic on Route 78. I ended up getting to the fair after 5pm. This time I tried to get field parking offered by the fair, but they reached capacity right as I got there. Luckily there was a lot across the street that was offering $8 for parking, the same as the fair. The midway was done by Powers Great American Midways and had…
Freak Out
Stampede
Vertigo
Wave Swinger
Flying Bobs
Rock Star
Genesis
Cliff Hanger
Fireball
Zipper
Tilt-a-Whirl
Spin Zone
Alien Abduction
Orbiter
Sizzler
Super Shot
Gondola Wheel
Pharaoh's Fury
Scooter
Merry-Go-Round
Dizzy Dragon
2x Funhouses: Magic Maze, Club Scene
2x Slides: Fun Slide, Super Slide
Numerous kiddie rides: Samba Balloon, Fire Chief, Quadzilla, Ships Ahoy, Rockin Tug, Rally Racers, Wiggle Wurm, Cyclone Tunnel, many more.
A ton of games
An incredible amount of food
A menagerie of vendors
Several shows
Animals, agricultural, and horticultural happenings
Nightly live music with big name artists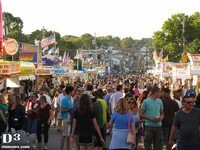 It's pretty big! I wouldn't haul my butt out there each year if it wasn't! There's a concert each night and that night was Tim McGraw. No need to do my Youtube Video View Method to see how out of touch with music I am this time, I knew damn well who Tim McGraw was…and so does everyone else. What I'm getting to is that the place was pretty crowded. However, the crowds mostly congregated in the vendor and food areas on either side of the fairgrounds. Other nights saw shows featuring Pitbull, Lady Antebellum, Hunter Hayes, The Fresh Beat Band, and last but not least, Motley Crue.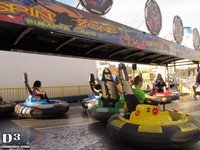 I first did a loop of the midway before heading into the other areas. There were a few changes this year, including two new rides. The first was Stampede, a modern version the Watkins Rampage ride made by Wisdom. The second was Spin Zone, a bumper car type ride with hovercraft cars. I'm pretty sure it's called Spin Zone because nobody seemed to know how to drive them correctly, simply spinning around instead. A couple of rides were also replaced: a fully tricked out Cliff Hanger with LEDs and a neat pink and red color scheme replaced Zero Gravity, and Flying Bobs replaced Swing Buggy. Vertigo, Powers' Fabbri Jr. Booster ride, did not make an appearance this year.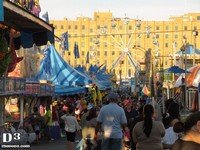 The games area of this fair is one of the biggest I've ever seen, right up there with the Meadowlands. This fair has an alley of games, three joints deep, that spans nearly 1000 feet (thanks Google Earth.) They also have unconventional fair games like I Got It, Bingo, and once again the Mouse Game. The animal areas weren't as extensive as, say, the New Jersey State Fair, but had quite a bit. One long open sided barn housed pigs and cows. a couple smaller ones held sheep and goats, while an enclosed building had smaller animals such as rabbits, birds, and guinea pigs.
This trip report has the most photos of any this season, so here's the first group of photos, all random fair shots.
I eventually grabbed something to eat, two pepperoni pizza slices and a soda, before heading into the Agriplex building to check out the vendors and contests. The vendors were pitching a random collection of things ranging from light up butterfly toys to leaf guards for gutters. Next I walked through the building underneath the grandstand, which is pretty much a collection of stores and eateries. This place used to be packed with various groups and religious organizations handing out brochures, but not so much anymore.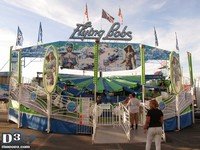 I decided that I wanted to ride some rides, but didn't really want to marathon rides. Instead of getting a wristband, I opted for 22 ride tickets. The first ride I went on was Flying Bobs. This had been at the fair years ago but was replaced with Swing Buggy for the past several years. Flying Bobs is an open air Bobs ride. I think it's a Chance model, but not 100% sure. It looked nice before, but Powers had redone it since I saw it last, giving it a green and blue color scheme with snow scenes, polar bears, and women that look like they came straight from some RPG video game. The ride also had LEDs, strobes, and a siren. The ride itself was all right, it went at a decent speed and has some speed variation throughout the cycle. One thing I was ticked about was that my car wasn't swinging like crazy! The last time I rode this Flying Bobs, I thought I was going to be pitched out of the car because it was swinging so much. This time, while some cars were swinging, mine unfortunately wasn't. I can't really complain about it though, it's not like it's something the ride was intended to do.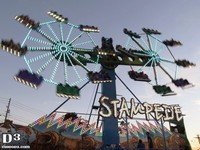 Next I headed up the midway to hop on Stampede. Like Flying Bobs…and basically every ride that Powers owns, it was so full of lights that it was almost too bright! Both wheels have sequenced LEDs that cycle through colors and patterns very quickly. The cars have three seats each and load two at a time. Two platforms roll underneath the cars to stabilize them and act as a ramp for people to hop off. While waiting for other cars to load, Pharaoh's Fury started; it was pretty cool seeing the boat swing towards me from below (seen in the video below.) The ride was on the slow side, but I think it's more intended for families rather than as a thrill ride. If it did run faster, oh man…it would be harrowing indeed!  Cool ride overall, I liked it a lot.
Here's a bunch of photos of Stampede.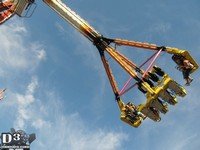 The next ride was where I made my mistake. I wanted to get on a thrill ride, so I got on Freak Out. I know darn well that my tolerance for pendulum rides is rapidly dwindling, but hey, the ride only lasts a minute or so, right? I mean, it really is a fun ride, but I totally walked off feeling nauseous. Ugh, I'm glad I didn't get a wristband now!
I ended up walking it off a bit, taking photos and such, before hopping on Wave Swinger. Powers' Wave Swinger is among the nicest I've seen with RGB LEDs everywhere. The ride lasted a good four minutes; that's another thing, Powers always runs this ride on a longer than average cycle. I had my fill of rides after this, with 5 tickets left over for next year.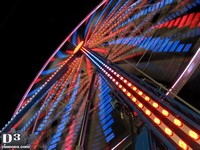 I exited the fair at about 10:45pm, 15 minutes before closing. The drive home was relatively uneventful save for one instance. While in western NJ, I saw the flashing lights of a police car up ahead. Whatever, I guess someone got pulled over. However, as I got closer, I noticed that the cop was moving slowly in the left shoulder. In front of the cop was a car he was trying to pull over…the driver thought it was best to pull over in the relatively nonexistent left shoulder. As I went by, I heard the cop yell on his bullhorn "Get over to the right! The right!!" Haha, that guy was screwed.
Here's an on and off ride video of Stampede.
And an on/off ride of Flying Bobs!
And here's the final dump of photos.