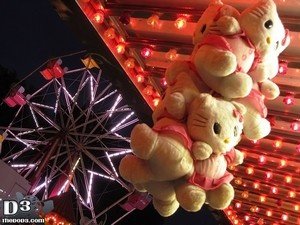 On Saturday, August 23rd, I headed over the Fire Department carnival in Kenilworth, NJ. I had found out about this fair last year and it was pretty tough to pass up being a relatively quick ride.
I left for the fair at around 7:30pm, arrived 20 minutes later and parked a few blocks away from the fair. Blue Sky Amusements was doing the fair (my third BSA carnival this year!) and the fair had…
Himalaya
Round Up
Sizzler
Chair Jet Swinger
Scooter
Ferris Wheel
Fun Slide
Circus Town funhouse
Several kiddie rides: Dino Saucers, Buzz Buzz, Safari Train, Tubs of Fun, Hampton Cycles (I think?)
A selection of games
An assortment of greasy treats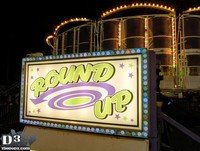 There was one difference about this fair that I could discern, Gondola Wheel was replaced with their 12 seat Ferris Wheel. I've never seen BSA's smaller wheel in person, so this was quite the event…yeah I'm easily pleased. The wheel had LEDs on the spokes and red, purple and yellow cars. Round Up sat near the entrance to the fair and had a constant stream of riders while I was there.
Himalaya was running nearly full each cycle. It sounded like they were playing early 2000s dance music while I was there. Sizzler was next to the Himalaya with the Chair Jets beyond that. Both were being filled each cycle with random walk ups that would congregate while the op was checking restraints.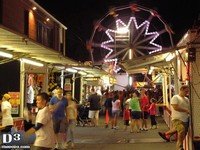 Scooters and a funhouse rounded out the "larger" rides. Scooters definitely has LEDs on the sign now. I also saw that their Hampton umbrella ride had LEDs on the center mast and umbrella sweeps. I don't think I've ever seen that done before…then again I don't really pay much attention to Hamptons. After routinely running a Hampton one summer that still had the buzzers on the cars intact, I could never see one of those ever again and be just fine.
I took a quick stroll down the alley of games and food. I watched the Frog Bog for a bit as people who seemingly had no idea how to play were playing. One guy placed his rubber frog on the catapult and then hit it about as hard as he could. The frog soared up into the stuffed animals hanging from the ceiling before dropping in front of the pool of water. Another person did the same thing only to have the frog go tumbling forward, skipping over the water and flying out the other side of the tent.
After hanging around for about 45 minutes, I picked up a bag of zeppolies and headed out.
Here's some photos!